iPhone 6 Rumors Spin Out of Control
In one week Apple's iPhone 6 launch event that is so big Apple needs to build a new structure to handle everything that they may announce on September 9th.
iPhone 6 rumors and leaks date back to 2012 with talk of an iPhone 6 prototype and reports that Apple will finally move to a higher resolution screen.
Over the past two years, iPhone 6 rumors slowly came together to show us what the new iPhone 6 will look like and what it will offer consumers. Although we still don't know everything there is a very complete picture of the iPhone 6.
Now that Apple officially confirmed an event on September 9th, next Tuesday, we'll likely see more information leak out in the home stretch to the official iPhone 6 unveiling that will lead to one of Apple's traditionally quick iPhone 6 releases.
For the last two weeks iPhone 6 rumors swirled online pointing to an iWatch companion making an appearance at the iPhone 6 event and more support for an iPhone 6 that you'll be able to use as a credit card this fall.
Along with the iPhone 6 we will see the public iOS 8 release date arrive in the coming weeks to bring new features to old iPhones, offering a free upgrade to users that don't plan to buy a new iPhone in the coming weeks.
iPhone 6 Launch Event
We shared Apple's plans to hold an iPhone 6 event on September 9th, and a day later the company sent out invites teasing the iPhone 6 launch. The invitations show an Apple logo and say, "Wish we could say more." leaving the small clues about what Apple might announce off the invitation.
The iPhone 6 launch takes place at 10 AM Eastern on September 9th at Apple's Flint Center for the Performing Arts. Apple is in the middle of adding a new structure or renovating part of this building for the launch. MacRumors shares photos of a three-story structure surrounded by security guards that will likely be part of a major launch.
After teasing amazing products for the last year and Apple VP Eddy Cue boasting, "Later this year, we've got the best product pipeline that I've seen at Apple in my 25 years at Apple.", it's clear Apple is planning a big event. 
Just ahead of Apple sending out invitations Re/Code reported the iPhone 6 event is also where Apple will announce a wearable that is rumored as the iWatch. Soon after Bloomberg backed this up with a separate report that the iPhone 6 is not alone at the September 9th Apple event.
We've reached out to Apple to see if there is an iPhone 6 event live stream planned, but
iPhone 6 Release Date
The one thing you can count on about an iPhone 6 release date is that Apple will not let the special Apple Event in September end without announcing when you can buy the new iPhone. We may not know the exact date for a second larger iPhone 6 release date, but if that is the case you can count on some type of estimate from Apple CEO Tim Cook.
Another thing you can count on is a fast U.S. iPhone 6 release date. Even though China is a bigger part of Apple's plans this year, U.S. customers will be among the first to buy an iPhone 6. You can expect to see the UK, Canada, China, France, Germany, Japan, Australia, Hong Kong and others on the first slot as well.
When do you need to schedule your vacation day to take off for the iPhone 6 release? Even though Apple did not include that date on the special event invite, it is very likely that the U.S. iPhone 6 release date is set for September 19th. Apple normally releases a new iPhone the second Friday after an announcement.
We expect a 4.7-inch iPhone 6 and a 5.5-inch iPhone 6 and reports suggest the larger model may arrive later. If that is that case we could see it arrive the following week or in October. If Apple indeed shows it off on stage we expect a ballpark release date and for it to arrive this year.
We don't know if the new iPhone release date will include iPhone 6 pre-orders. Apple normally offers pre-orders, but in 2013 they did not offer any for the iPhone 5s. Apple wants to sell more iPhones in Apple Stores and they know the value of long lines in drumming up additional press coverage so we may see Apple keep iPhone 6 pre-orders off the table to drive more users to the store on the iPhone 6 release date.
You can count on Apple Stores and carriers like T-Mobile, Verizon, AT&T, US Cellular and Sprint to open early for the iPhone 6 release date and for there to be limits to what you can buy and how you can buy them.
Smaller carriers like Cricket, C-Spire and Straight Talk will likely be on track for a later iPhone 6 release date.
iPhone 6 with NFC
Each new iPhone in the last few years included rumors of NFC support, which is a common feature on Android phones that allows users to share files and more importantly to make mobile payments.
With NFC, you can tap your phone on the credit card reader at stores where you see a small pad above the credit card slot and use any card you have electronically stored on your phone. It makes using multiple cards easier, but readers are not common enough that you'll be able to leave your wallet at home just yet.
An iPhone 6 with NFC and support for mobile payments could push more retailers to upgrade systems to accept mobile payments by tapping your phone.
iPhone 6 rumors long pointed to NFC in the new iPhone, but last week the details exploded with a report from Wired that the iPhone 6 will use NFC for mobile payments. John Gruber, an Apple insider, shared that NFC is also likely a feature for the iPhone 6, and that if you want to use mobile payments you will need to upgrade to the new iPhone. Re/Code, the initial source of many important iPhone 6 rumors this year, also backs up an iPhone 6 with NFC.
We don't know what Apple will call the service or if there will be any restrictions, but if it is like current options you will be able to add any credit or debit card to the system, with checks in place to prevent fraud, and then choose the card you want to pay with at the time of purchase and tap the iPhone to the terminal to complete the sale.
iPhone 6 Parts
During the last week multiple iPhone 6 parts leaks show off new SIM card trays, home buttons and other items that match up to the iPhone 6 leaks.
The most important detail from these iPhone 6 parts leaks is the SIM card tray is not straight, but curved to match the curved iPhone 6 design. Leaked Apple logos, speakers and other parts also appear as we near the iPhone 6 event next week.
We could see more iPhone 6 parts and details leak this week in the run up to the iPhone 6 event on September 9th.
This week Motorola announces the Moto X+1 and the Moto 360, their beautiful new smartwatch that will go head to head with the iWatch. It would not be a shock to see a planned leak from Apple arrive right as Motorola shares the official details.
Samsung also announces the Galaxy Note 4 this week which is a prime competitor for the 5.5-inch iPhone 6, so we could hear more about Apple's biggest iPhone ever soon after Samsung's event.
For the latest iPhone 6 rumors and details you can check out our current iPhone 6 coverage above, and the iPhone 6 slide show below will catch you up on the most likely iPhone 6 rumors including screen size, details, features and iOS 8.
iPhone 6 Release Date & Feature Video Roundup
iPhone 6 Release Date Rumors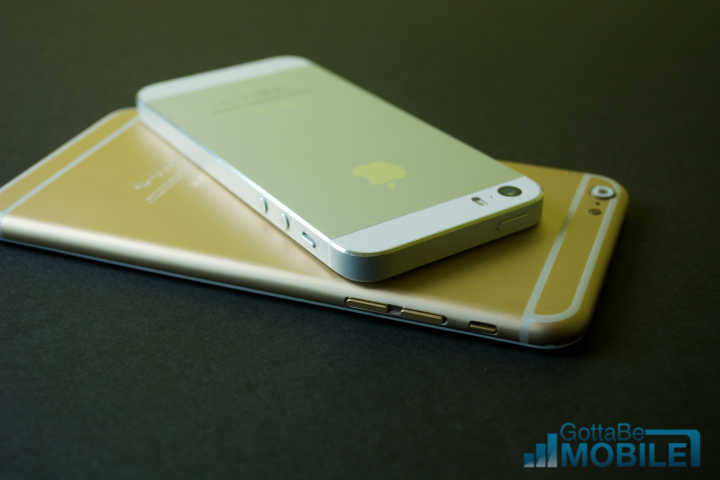 The iPhone 6 release date is September 19th according to Apple's traditional timeline and our best prediction based on current rumors and plans. This may change and there is a chance that we will see two iPhone 6 release dates thanks to a slower start for the 5.5-inch iPhone 6.
Here's how we get to an iPhone 6 release date on Friday September 19th.
Re/Code and The Wall Street Journal report Apple's plans to hold an iPhone 6 event on September 9th.
From this date we can work out that the iPhone 6 release date is roughly a week and a half later, on September 19th. This is the timing Apple used for the last several iPhone releases.
If Apple decides to offer iPhone 6 pre-orders expect them to go live at midnight Pacific on September 12th, but this is not a given.
The larger 5.5-inch iPhone 6 release date may arrive later on the last Friday in September or even in October.
Expect to see Apple Stores and carriers open early on the iPhone 6 release date with lines around the store to get an iPhone 6 right away, even in small towns.

As an Amazon Associate I earn from qualifying purchases.