Keep Your Financial New Year's Resolutions With Apps & Your Phone
If you need help keeping your New Year's Resolutions for money and finances in 2012, consider turning to your iPhone or Android smartphone for help. These powerful companions will do better than a rubber band on your wrist or freezing your credit cards.
With a small collection of apps and online services you can turn your iPhone into a personal assistant that tracks your money, saves you trips to the bank and teach you and your family more about money.
Read More New Year's Resolution Tips and Apps
The key to keeping New Year's Resolutions related to money is to have a support system in place, and to track your results. If you track what you are spending and what you are saving, you have a much better chance at making 2012 the year you get your finances under control.
Apps to Help You Keep Your New Year's Money Resolutions
Mint
The best personal finance app I have found is the Mint app. This free app connects to Mint.com so you can see all of your financial life in the palm of your hand.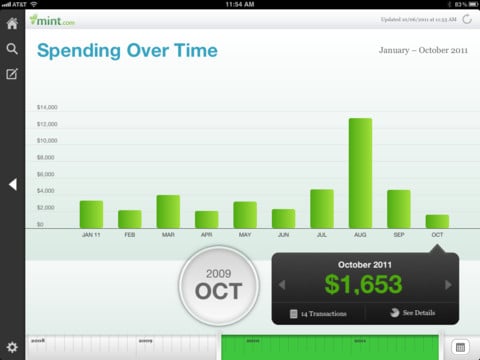 You can link your checking, savings and credit card accounts to Mint, and most of them will update automatically so that you always have your current financial outlook with you.
The Mint service can be accessed on your iPhone, Android and iPad. This app is a personal favorite, and an integral part of tracking my expenses.
The built in reporting tools make it easy to see where you are spending money so that you can adjust your spending easily. When you synch up, it will import your past several months of spending and automatically categorize many of your purchases so that you can look for places to cut back on right away.
MoneyStrands
MoneyStrands is another great personal finance app that works on your phone and online. The MoneyStrands tool allows you to track your expenses and much more.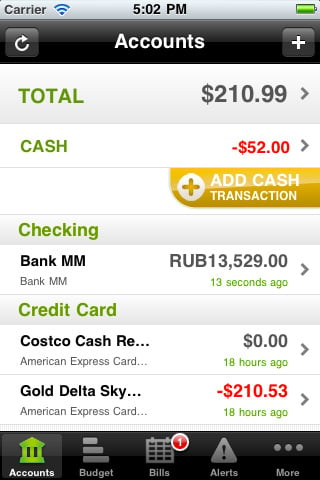 My favorite features of the MoneyStrands service and app are the ability to create a budget that works, including 12 months of spending plans. It also lets you collect all of your bills in one place.
The MoneyStrands iPhone app allows you to check your account balances on the go and get push alerts if your accounts get too low, that way you can avoid overdraft fees.
PayPal
If your bank doesn't have an iPhone or Android app that can capture checks, you need to get the PayPal app and link it to your bank account. With this app you can use your iPhone or Android camera to deposit your check.
https://youtu.be/YXrmxAvPC18
Just sign your check, take photos of the front and back and it will be deposited in your PayPal account within a few days. From there you can transfer the cash to your bank account.
Read: 9 iPhone Check Deposit Apps
I use this all the time to save a trip to the bank, and it works great.
FoolProof
Getting a better grip on your finances during the new year isn't just for you; it can also be a good time to share smart financial advice with your entire family. The FoolProof financial lessons are aimed at teens, college students and adults.

If you want to learn as a family, check out the Educate your Kids option, but if you want to learn by yourself, chose FoolProof Solo.
This program is fun and informative, and one of the best ways  have found to learn about finances, tricks used by financial companies and to take control of your spending.
Your Bank's App
Instead of just getting your current balances in Mint, your bank's app will allow you to transfer money to avoid overdraft fees.
I suggest keeping some small amount of savings available in a second checking or a dedicated savings account so that you can easily transfer this to your checking account if things start to run low. This can be tough to start if money is tight, but even $100 in backup is enough to help you avoid expensive overdraft fees.
If your bank doesn't have some form of mobile access, now might be a good time to change banks for one that does offer an app or mobile banking.
—
When making New Year's Resolutions about money, you'll need more than your iPhone or Android to succeed. The best advice I can give it is to get your friends or family on board and to set realistic goals.
Just like crash diets fail, so do crash budgets. Use these tools to set realistic budget goals for 2012, then use these iPhone and Android apps to help you keep your new financial goals.