Is the Madden 20 Ultimate Superstar Edition Worth Buying?
The Madden 20 release date is almost here and it's just around the corner if you buy the Madden 20 Ultimate Superstar Edition. EA switched to two special editions this year, and this is the $100 version. With a high price tag and a lot of extras, gamers are asking, "Is the Madden 20 Ultimate Superstar Edition worth buying?"
We're going to break down what you get when you spend an extra $40 on Madden 20 and how that compares to buying MUT packs or spending cash in the game later.
Even with the Madden 20 deals, you will pay a lot more for the Madden 20 Ultimate Superstar edition. You can upgrade with some options later, but if you want all of the extras, buying the Ultimate Superstar Edition is the only way to make sure you get everything included in this bundle.
You can buy the Ultimate Superstar edition of Madden 20 for $99.99 at GameStop, Best Buy, Newegg and digitally through Microsoft and Sony.
The Madden 20 release date is July 30th for the Ultimate Superstar Edition. That means you can play three days before people who buy the standard edition of Madden. It's still not as early as the EA Access and Origin Access Play First Trials that start on July 25th. Here's more on how to play Madden 20 early.
Madden 20 Ultimate Superstar is all about Madden Ultimate Team bonus items. This is the real reason you will want to spend $40 more on Madden 20 than on the base edition. This will help you unlock more players faster and get started with a better team. Keep in mind, EA loves to add in newer and better players over the course of the game.
You get the following bonus items;
15 Gold Team Fantasy Packs
1 Unique Superstar Ability
1 Large Training Quick Sell Pack
1 Past and Present Elite Player Pack
1 Madden Championship Series Pack
What this actually breaks out into is a little more complicated, but once you start looking at it, you can understand if this is worth buying.
No products found.
You can pick 1 NAT 82 OVR Elite player from your favorite team. From there, you can pick one Superstar ability for your created player in the Face of the Franchise QB1 mode. These include;
Gift-Wrapped: Kurt Warner was the quintessential field general, whose poise and accuracy changed offensive football forever. Passers with Gift-Wrapped have a better chance to complete passes to uncovered receivers.
Gunslinger: John Elway built his legend by making impossible throws with one of the strongest arms in NFL history. Passers with Gunslinger have faster passing animations and increased velocity on bullet passes.
QB Playmaker: Steve Young's combination of athleticism and accuracy allowed him to improvise his way out of any bad situation. Passers with QB Playmaker can elicit immediate and precise reactions from any receiver on the field.
Gutsy Scrambler: Randall Cunningham's elite speed, agility, and vision set a new standard for scrambling quarterbacks. Passers with Gutsy Scrambler won't be adversely affected by pass rush pressure while throwing on the run.
The Gold Team Fantasy packs include at least 2 Gold or Better and 3 Silver or Better players from the team you chose. You also get a Past & Present Elite pack that includes an 84 OVR NAT Jerry Rice and an 84 OVR NAT Jalen Ramsey.
The Madden Championship Series Championship pack includes MCS uniform sets and Head Coaches from Madden 2019 Major winners. There is also a Large Training Quick Sell Pack that is worth 1,150 Training.
GameStop charges $19.99 for the Madden NFL 20 Kickoff Ultimate Team Pack that includes 7 Gold Premium Packs. If you think you are going to spend $40 on packs, the Ultimate Superstar Edition is a good value because you get 15 Gold packs and a lot of other bonus items.
If you want these extra items and you play a lot of Ultimate Team, this is a good option, and you do get a lot for your money. The biggest catch here is that the Madden 20 Superstar Edition for $79.99 is an easier price for many gamers to pay, and you get a lot of value. I'm leaning towards the Superstar edition.
4 Reasons to Buy Madden 20 Today & 2 Reasons To Wait
Buy if You Love to Grind MUT Challenges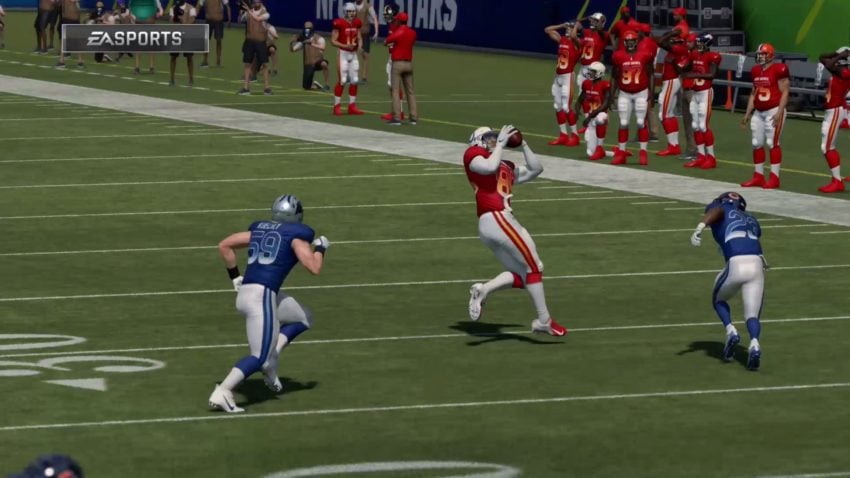 Do you love to play MUT and grind out those challenges? This is how I tend to play Madden Ultimate Team and after playing Madden 20 for the first time I'm a big fan of the new system that makes rolling through challenges much easier.
When you complete a challenge in a series, you can roll right into the next challenge. In Madden 19, you had to go out, collect rewards, go back in and it was a lot of loading and a lot of time wasted. With Madden 20, you go right into the next Challenge in a series.
I also enjoy the new options to choose the difficulty for challenges to earn more stars. This makes it easier to get through missions quickly when you are starting, or to really challenge yourself.
You can buy Madden 20 for PC, Xbox One and PC starting at $59.99 at GameStop, Best Buy, Amazon and digitally through Microsoft and Sony.
Last update on 2023-09-28. This post may contain affiliate links. Click here to read our disclosure policy for more details. Images via Amazon API

As an Amazon Associate I earn from qualifying purchases.