How to Play Madden 20 Right Now
The Madden 20 release date is July 30th if you buy one of the special editions, and August 2nd for everyone, but you can play Madden 20 right now spending $20-$40 more on a special edition.
EA released the Madden 20 Play First Trial on EA Access on July 24th, a day early and it is available to download now. It is a 37.7GB download. There is a problem downloading the trial on Xbox if you already digitally pre-ordered, but it should be fixed on July 25th.
With EA Access and Origin Access, you can play Madden 20 early on the Xbox One, PS4 and PC. This is the first year that you can play Madden early on the PS4, so you may want to take advantage of it and at least try this option out.
You don't need to pre-order Madden 20 to play early, so this is a great way to test the game out, try the new Madden 20 features and see if you like it since there is no Madden 20 demo.
You'll need to subscribe to EA Access or Origin Access to play Madden 20 five days early. This is a $4.99 a month subscription, or you can pay $30 for a year. This offers up a Madden 20 trial and you get access to loads of full games from EA. If you buy the more expensive Origin Access Premier, you get Madden 20 included with the price of your subscription as long as you are a subscriber.
Another benefit is that you can save 10% on Madden 20 and your other EA purchases with these subscriptions. That includes money spent on MUT packs. Check out the best Madden 20 deals to find out the best way to buy this year's version.
You can pre-order Madden 20 at GameStop, Best Buy and digitally through Xbox, Origins and the PlayStation Store.
Early Madden 20 Release Date & Time
The official Madden 20 release date is July 25th. EA confirmed this in communications about pre-order, but the exciting news is that the game is available to download right on Xbox One, PS4 and PC.
How to Download the Madden 20 Trial
To download the Madden 20 trial, you need to be signed up for EA Access or Origin Access. The easiest way to get the trial is to open the EA Access Hub or Origin Access app and look under trials.
You can also simply look in the store on your console or PC and then choose Try Now if it shows up for you. This will download the game to your console or PC.
If you pre-ordered Madden 20 digitally on the Xbox One, you cannot download the trial yet. You should be able to do this sometime on July 25th. EA Access appears to be working on the issue.
Madden 20 Trial Time Limit & Workarounds
No matter which service you use to get the Madden 20 trial, you are limited to 10 hours of playtime. This is designed to let you test out Madden 20, not replace a purchase or to let you play Madden 20 nonstop until the release date.
When you are done playing the trial, make sure you quit the game from the dashboard so that you don't end up wasting trial time while you are not playing.
Some people will create multiple Xbox Live accounts and subscribe to EA Access multiple times to play more than 10 hours. This typically works, but it is a major hassle for most players.
Madden 20 Trial Bonus
We expect that if you play Madden 20 on EA Access or Origin Access before August 2nd, that you will get a free player pack.
Last year EA gave players an Elite Player Fantasy Pack, and you can count on something similar in 2019.
No Madden 20 Trial Pre-Load
While you can play the Madden 20 trial a little early, this isn't a pre-load. You can play as soon as the download is complete.
The upside is that the trial is basically a pre-load for the full game, so once you download it, you won't need a repeat to play the full release when it arrives.
Expect Almost All of Madden 20
Typically you get almost all of the full game during the Play First Trials. For the last two years, this didn't include the Longshot story mode, but that's not part of Madden this year.
We expect that you will get all of the main Madden 20 game with this play first trial. Use this time to start building your Madden 20 Ultimate Team since all progress will carry over, or jump into the new game modes and play some college football for the first time in years.
4 Reasons to Buy Madden 20 Today & 2 Reasons To Wait
Buy if You Love to Grind MUT Challenges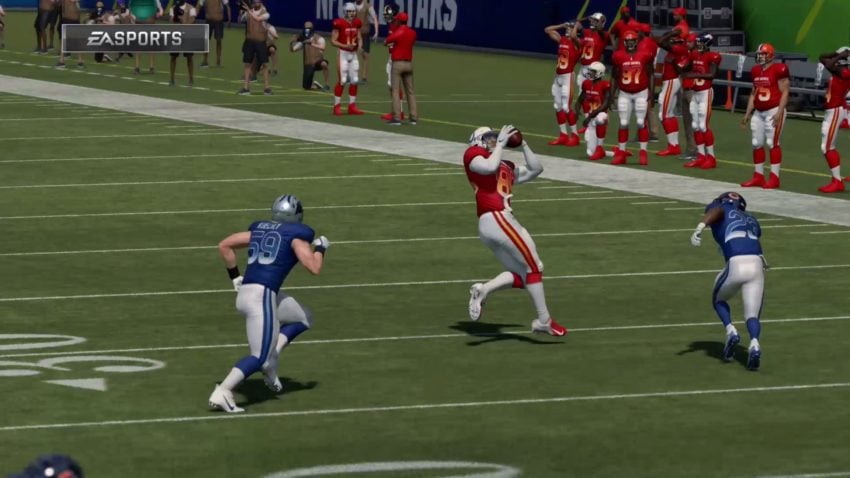 Do you love to play MUT and grind out those challenges? This is how I tend to play Madden Ultimate Team and after playing Madden 20 for the first time I'm a big fan of the new system that makes rolling through challenges much easier.
When you complete a challenge in a series, you can roll right into the next challenge. In Madden 19, you had to go out, collect rewards, go back in and it was a lot of loading and a lot of time wasted. With Madden 20, you go right into the next Challenge in a series.
I also enjoy the new options to choose the difficulty for challenges to earn more stars. This makes it easier to get through missions quickly when you are starting, or to really challenge yourself.
You can buy Madden 20 for PC, Xbox One and PC starting at $59.99 at GameStop, Best Buy, Amazon and digitally through Microsoft and Sony.