Is This iOS 5's Deep Twitter Integration?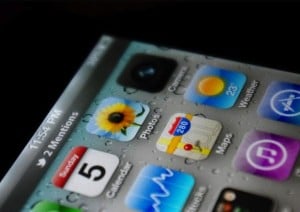 Deep Twitter integration has been rumored in the last few weeks leading up to WWDC, an event later today where Apple is slated to reveal new features of iOS 5 to developers in San Francisco, California. However, ahead of the 10 AM Pacific Time announcement, a new image surfaced on TechCrunch revealing Twitter alerts–mentions and direct messages–on the top status bar of the phone. The placement of the alert is similar to how Apple alerts users that they are tethering currently.
Unlike the tethering notification, which shows the status bar in a blue hue, the Twitter notification displayed is on a grey status bar; the normal status bar on iOS 4 without any alerts is translucent.
It's unclear if the image is authentic, but it does show a potential for the announcement later in the day today.
Another area that Apple is rumored to be building Twitter into is within the camera app for photos. Now users can send their images to Twitter directly, perhaps to be hosted by Twitter rather than through third-party image hosting services that tie into Twitter like Twitpic. The process for sharing your captured images would be similar to sharing videos currently to YouTube.

As an Amazon Associate I earn from qualifying purchases.