January Star Wars Battlefront Update: 5 Things to Know Now
EA and DICE recently rolled out a January Star Wars Battlefront update. The update brought new features and bug fixes but its left many Xbox One, PS4 and PC gamers unsatisfied.
As we enter the new year, Star Wars Battlefront gamers and buyers are keeping an eye out for game updates and Star Wars Battlefront DLC.
EA recently revealed a ton of details about paid Star Wars Battlefront DLC for consoles and PC but it looks like we'll get some free Battlefront DLC before the first paid content arrives.
While paid Star Wars Battlefront DLC release information is still a little vague, EA has confirmed a brand new update for Star Wars Battlefront that should have gamers excited.
The Star Wars Battlefront 1.04 update is more than a bug fix update. It also delivers some new features, nerfs Boba Fett, and brings some trouble of its own. This roundup looks at everything you need to know now about the new update.
January Star Wars Battlefront Patch Size
This week, EA and DICE confirmed plans to release a January update for Xbox One, PlayStation 4 and the PC. The two companies also confirmed a specific release date.
The January Star Wars Battlefront patch 1.04 is now available for all three platforms and it appears to be a massive update for PC, Xbox One and PS4.
This update is a shade over 1GB for the Xbox One and PS4. On the PC, it's a shade under the 1GB mark and checks in at 951MB.
If you are using a slow connection, it might be wise to plug your ethernet cord directly into your console or PC to see if that helps.
If you are running out of space on your internal or external hard drive where you store your games, it would be wise to do a little bit of cleaning before you attempt to install this update. You'll need some empty space.
January Star Wars Battlefront Update Features
EA and DICE recently told gamers that they were cooking up some rewards in the January Star Wars Battlefront update. EA and DICE recently confirmed exactly what those features are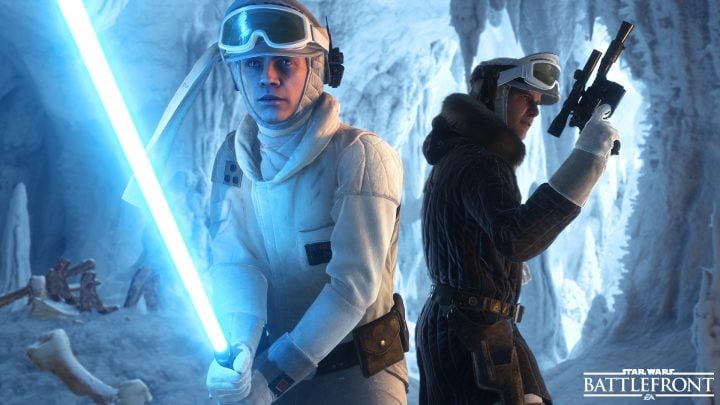 The January 1.04 update comes with a number of bug time features and changes. Here is what you can expect from the update for PC, Xbox One and PS4.
Multiplayer modes added to the Tatooine Survival map. (Blast, Droid Run, Hero Hunt, Heroes vs Villains, Drop Zone)
Hoth Luke Skywalker skin added
Hoth Han Solo skin added
Private match functionality added
Daily challenges added
Setting for actively choosing server site added
That's not all either. The update is bringing Star Card changes, Weapon changes, Vehicle changes, Game Mode changes, and Hero Changes. Here are those changes in full:
Weapon and Star Card changes:
EE-3 Explosive shot damage decreased from 10 to 4 per shot
SE-14C Explosive shot damage decreased from 10 to 5 per shot
Homing Shot lock on time increased from 0.4 to 1.5
Homing Shot lock on distance decreased by 10 meters
Homing Shot projectile speed decreased slightly (30 -> 23)
RTC-97 overheat value is increased
Bowcaster replenish time tweaked (Normal 18 -> 25 and Upgrade 15 -> 20)
Flash Grenade replenish time tweaked (Normal 16 -> 20 and Upgrade 12 -> 15)
ION Torpedo replenish time tweaked (Normal 15 -> 25 and Upgrade 12 -> 20)
Thermal Detonator replenish time tweaked (Normal 15 -> 20 and Upgrade 10 -> 15)
Impact Grenade replenish time tweaked (Normal 16 -> 25 and Upgrade 12 -> 20)
Explosive Shot active time tweaked (Normal 7 -> 5 and Upgrade 10 -> 7)
Scan Ping recharge time tweaked (Normal 8 -> 10 and Upgrade 5 -> 8)
Cycler Rifle bullet dropoff reduced
Cycler Rifle damage increased from 90 to 100 at close range (10 meters)
DL-44 overheat tweaked and fire rate changed from 250 to 180.
Bounty Hunter trait card Level 2 reward percentage lowered from 100% to 85%
Bowcaster explosion damage lowered from 50 to 15 per shot
ION Torpedo lock on range decreased from 600 to 500 meters
Smart Rocket lock on range changed from 1000 to 500 meters
RTC-97 spread is increased when firing for a longer period
Scan Ping tweaked to have 50% shorter spotting time
Vehicle Changes:
Starfighters pickups have a 20 second respawn delay
T-47 Airspeeder pickups have a 10 second respawn delay
Millennium Falcon and Slave I health decreased by 30%
Game Mode Changes:
Removed a turbolaser on Sullust which could be used for spawn killing
Turbolaser respawn time has been increased with 15 seconds
New friend zones and additional spawn points for Supremacy maps
New friend zones and additional spawn points for Walker Assault maps
New friend zones and additional spawn points for Turning Point on Jakku
Bugfix for crashing instantly when spawning in a vehicle on Jakku
Fighter Squadron hero vehicle pickups have more randomized timing
Fixed a Heroes vs Villains bug where players could use their cards in pre-round that got corrected by server
Updated spawn management between big and small game modes
New game mode minimum player count thresholds:
– Walker Assault 20
– Supremacy 20
– Dropzone 4
– Blast 4
– Cargo 4
– Fighter Squadron 4
– Hero Hunt 4
– Droid Run 4
– Heroes Vs Villains 4
– Turning Point 20
Hero Changes:
Han Solo weapon damage over distance is lowered. (Damage goes from 70 to 30 between 10 and 25 meters)
Boba Fett weapon damage over distance is lowered. (Damage goes from 30 to 20 between 30 and 60 meters)
Boba Fett wristlauncher explosion radius decreased from 4 to 3, maxiumum damage tweaked from 1 to 0.8 meters
Boba Fett missile doesn't lock on anymore
Boba Fett wristlauncher explosion damage slightly increased in damage to compensate for the removing of tracking
Boba Fett is arguably the most powerful hero in the game and this update attempts to balance things out with some rather big changes.
Bug Fixes
The January Star Wars Battlefront update will also bring some needed bug fixes for the game. Star Wars Battlefront problems have been swirling around since launch and this update will address some of the glaring problems with all three versions of the game.
Stun inducing attacks now properly trigger stun animation loop
Fixing an issue where melee'ing at nothing completly stopped your movement
After the transition from the AT-AT the user screen could remain black, this is now fixed
Several instances of rocks that players could get stuck on have been fixed
Speederbike – Inconsistence between the range when you see the prompt button and when you could actually use the vehicle
Jakku – Invisible collision located on the landed rebel transport ship
Users with the most kills will now not be prevented from get the Trophy / Achievement "Playing the objective" in Blast
Unfortunately, it doesn't address everything.
January Battlefront Update Problems
It's still early but we're already starting to hear about problems with the 1.04 patch. EA's forums are starting to fill up with new complaints about the 1.04 patch and we expect complaints to pick up as more people download the update.
Early problems include issues with the Blast Trophy that EA and DICE supposedly fixed in this update. There are also reoccurring issues with sound, complaints about weapon balance, crashes, and various other bugs that continue to linger.
Before you blow a fuse, it's important to remember that this is a sprint and not a marathon. EA and DICE continue to work behind the scenes and the February update should address at least some of these remaining problems.
In response to complaints about lingering issues, EA and DICE are telling gamers that "the team is working to bring a lot of these fixes in our February update, and we will provide specific details as we get closer to that launch."
The company also says:
We're aware that some of you within the community do not agree with some of the balance changes, and I am working with our team to provide more insight in the coming week around those changes. We are also aware that some of the bug fixes outlined seem to have not resolved some reported issues (looking at you 'Playing the Objective'). I am looking into these reports and again will follow up as soon as I have details to share.
The February Star Wars update is currently without a release date.
How to Fix January Update Problems
To help, we've put together a list of fixes for some of the most common Star Wars Battlefront problems on Xbox One, PS4 and PC. It's a great place to start if you encounter a problem on the current version of Battlefront.
If you can't find a fix there, you'll want to key in on EA's Technical Support forums. We've seen several successful fixes emerge there so you'll want to keep an eye out if you do run into trouble after installing the 1.04 patch.
Remember to report bugs as you see them so that DICE's engineers can get to work on bug fixes for all three versions of the game.
The company is also encouraging users to leave feedback about the A-Wing and the game's other fighters on its forums.
Star Wars Battlefront DLC: 5 Reasons to Get Excited
The Death Star
EA and DICE will be releasing four paid expansion packs for Star Wars Battlefront. The first will be Outer Rim, a DLC that focuses on the planet Sullust and Jabba's Palace in Tatooine. After that, it's Bespin, which will focus on Cloud City (and probably include Lando).
After that comes The Death Star DLC. The Death Star DLC arrives this Fall and that's all I really need to say about that.
The Death Star is one of the iconic locations in Star Wars and it should provide intense close quarters combat that's perfect for Heroes vs. Villains and Cargo.
EA is saying that it's not going to be releasing space battles in Battlefront but I'm still holding out hope for a Fighter Squadron type game mode that takes us outside the massive space station.
Remember, the company also said that it wouldn't have a Death Star map so anything is possible at this point. Space battles or not, I'm excited.

This article may contain affiliate links. Click here for more details.