Star Wars:Jedi Challenges Brings Lightsaber Battles to Life
Until now, battling Darth Vader with a life-sized Lightsaber was something that required a bit of imagination. That's no longer the case thanks to Star Wars: Jedi Challenge, a new product that combines an augmented reality headset, your smartphone, and some software that lets you fight against members of the dark side, including Kylo Ren, Darth Vader and Storm Troopers.
I got a first-hand look at the Star Wars: Jedi Challenges set at a Disney event last week and was very impressed. Anyone that's ever pretended to use the Force will want it the moment they try it themselves.
This is Disney's first foray into augmented reality and it's quite impressive, especially considering that it's relatively cheap compared to other companies' forays into virtual reality. At $199,  Star Was: Jedi Challenges will surely be one of this holiday season's hottest gifts. That isn't exactly cheap, but Star Wars fans spend a much more than that on Star Wars games, accessories and souvenirs that aren't nearly as cool as this.
The best way to quickly understand what Star Wars: Jedi Challenges is all about is to watch the above commercial. In the video, you can get an idea of what it looks like to have a lightsaber battle, play Holochess and command Jedi forces in Strategic Combat.
One word of warning: you won't look anywhere as cool as the Jedi trainee in this video. Most people, including myself, flailed around during demos at the Disney event. One thing that impressed me is that you actually have to move around quite a bit to fight. That's a good thing in my book as most video games encourage a completely sedentary lifestyle. Battles get more complex than simply fighting a single character as you progress through the game.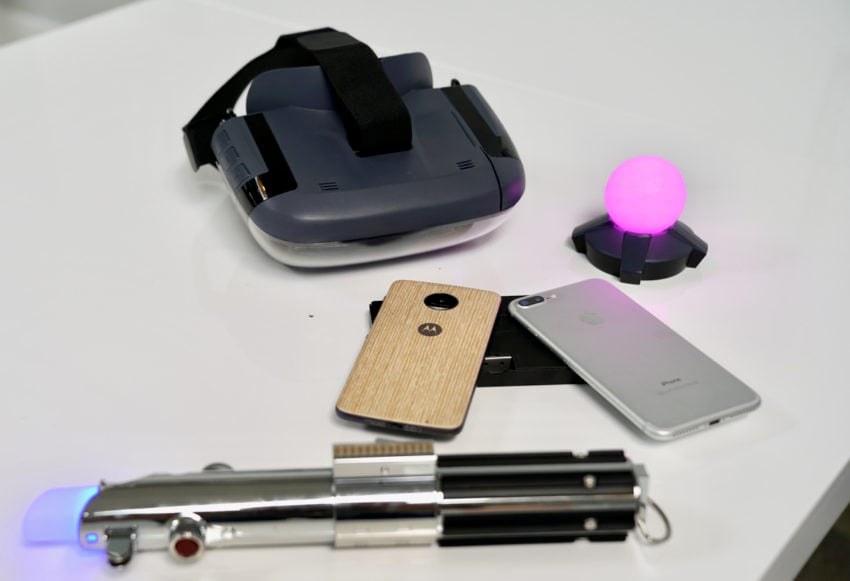 The headset that's part of the kit is built by Lenovo, a company that's best known for its notebook computers, tablets and Moto smartphones. The Lenovo Mirage AR headset has a tray that accommodates a range of iPhones and Android phones. The phone's display is reflected into the user's field of view in a way that overlays the action in the game onto the surroundings, whether that's a living room or a sidewalk.
The transparent headset allows users to be aware of their surroundings.  The above view shows Kylo Ren getting ready to strike the Jedi trainee wearing the headset. Disney opted to create an augmented reality experience that overlays the games on the real world, rather than closing users from it with virtual reality.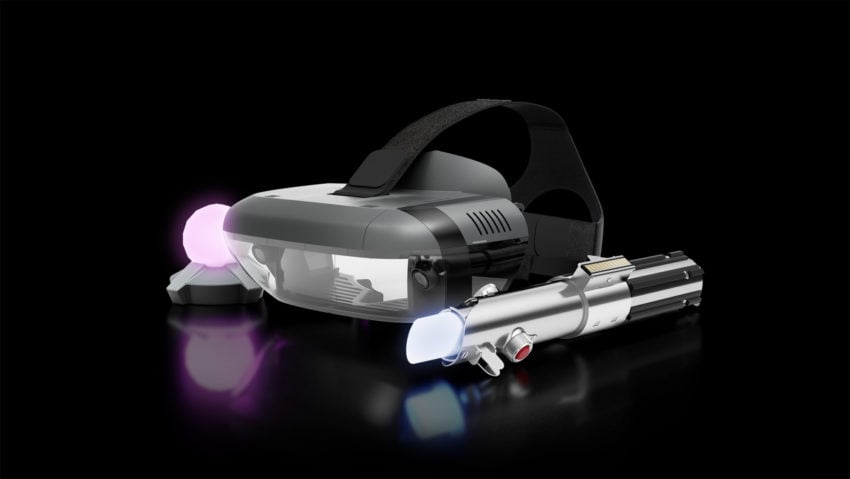 The Lightsaber in the Jedi Challenges kit is modeled after the one that Anakin Skywalker, Luke Skywalker, and Rey all use in various Star Wars episodes. As you can see in the above photo, there's a piece of illuminated plastic sticking out of the top of the Lightsaber's hilt. In a bit of real-time magic, the headset tracks the precise position of the Lightsaber and projects a beam into the game. The result is that it looks like you're using a real Lightsaber.  It is substantial and much larger than it appears in the photos. Besides battling with the Lightsaber, users will be able to navigate the app with it.
The final piece of the set is a glowing tracking beacon. It serves as sort of a home point for the player and the game, helping the system track movement. Pricing and availability for Star Wars: Jedi Challenges will vary from country to country and the product will be available beginning in November in certain markets.
Star Wars: Jedi Challenges will retail for $199.99 online and at Best Buy stores nationwide starting in November. If your heart is set on buying one of these for yourself or your kids, we suggest pre-ordering a set as soon as possible. Pre-orders begin on September 1, which just happens to be Force Friday. Star Wars: The Last Jedi, also know as Episode 8, will be in theaters on December 15.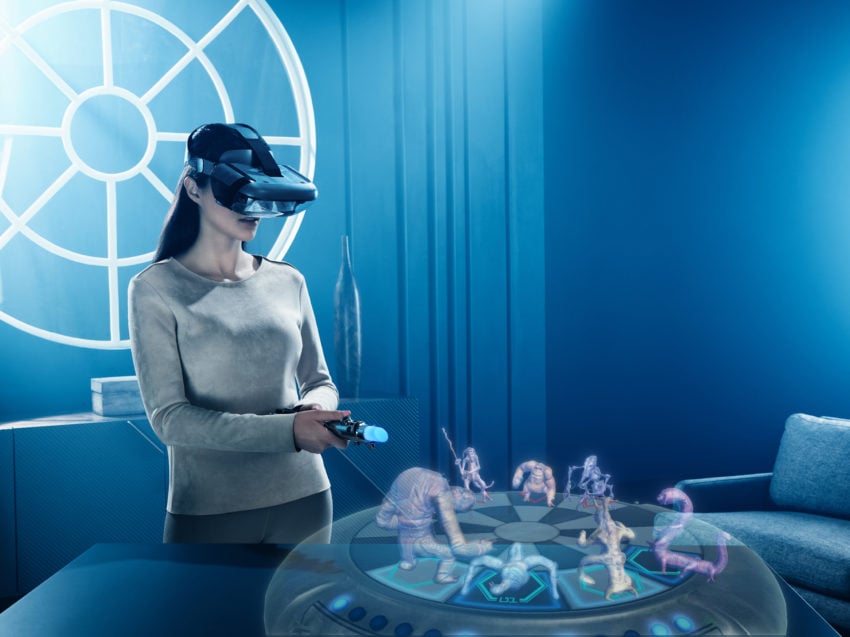 The Jedi Challenges set's main draw for most people will be the Lightsaber battles. However, both Holochess and Strategic Combat look very interesting.