R2-D2 by Sphero: The Droid You've Been Dreaming Of
The R2-D2 app-enabled droid by Sphero is going to be at the top of Star Wars fans' shopping lists this holiday season. Disney and Sphero unveiled the new droid to the public today, but we shot a sneak peak of it last week in San Francisco with Sphero founder Adam Wilson. The droid is available for $179.99 at Amazon.com and other retailers.
Various manufacturers have released countless R2-D2 toys, games and accessories over the past four decades, but this is the first one that is a believable clone of the original.  There's an amazing amount of technology packed into this miniature R2D2, but it mostly blends into the background as you control it with an iPhone, iPad or Android device.
In the above video, Adam Wilson demonstrates how you can control the R2-D2 droid with an iPhone and much more. The R2-D2's head can spin around, a built-in speaker beeps and chirps with the same sounds from Star Wars movies, and it can even react to Star Wars movie scenes. Users can retract and extend R2-D2's front leg so it can scoot around on either two or three legs.  You can also explore explore holographic simulations with the app.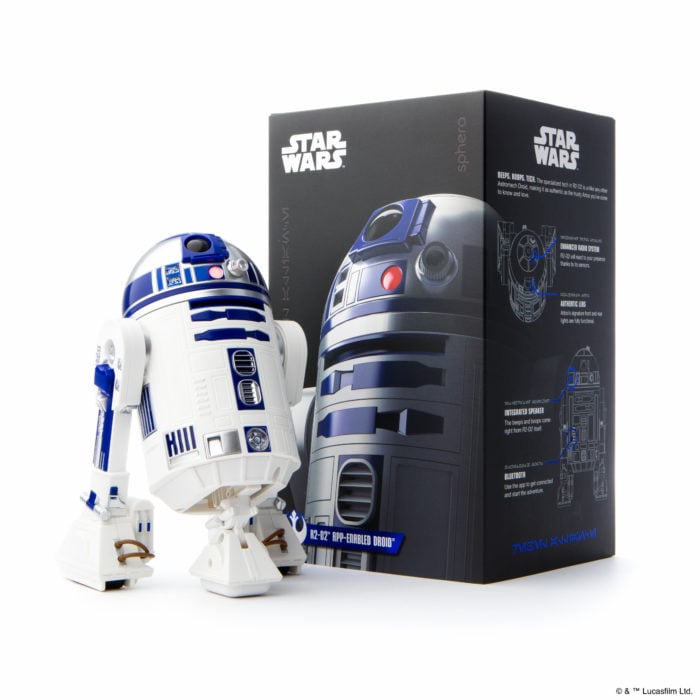 The $180 droid is designed to be more than just a toy. Yes, $180 is a lot to spend on a toy, but it will still likely sell out this holiday season according to Sphero reps. Star Wars fans had to scramble to get the company's BB-8 droid two years ago in the wake of Star Wars: The Force Awakens.  The next installment of the long-running franchise, Star Wars: The Last Jedi, will land in theaters on December 15.
If you need to justify the price to yourself or someone else, you can think of the R2-D2 droid as a learning tool. It is compatible with Apple's Swift Playgrounds app, which teaches users how to code for iOS. Once you learn the basics of coding with the app, you'll be able to program R2-D2. There's very basic programming available in the Sphero app, but you'll want to dig into Swift Playgrounds to make the most of it.
Above is the official Sphero R2-D2 promo video, which shows the droid moving about a house. It also shows  a BB-9E droid, which mimics a new character debuting in Star Wars: The Last Jedi. BB-9E is on the dark side and it will be interesting to see how the two droids treat each other in your home.