25 Hot Kindle Fire Cases, Covers, Skins and Sleeves
The Kindle Fire is bringing up the sales chart at Amazon, and is set to be a big holiday hit.
With any hit, you need accessories, and there are no shortage of Kindle Fire cases and covers to keep your Fire protected and stylish.
The Kindle Fire has a nice look and feel to it, so you king not feel the need for an always on case, especially for reading in bed, so you can also find some nice slip covers in the Kindle Fire case roundup.
Read: 7 Things to do When You Get Your Kindle Fire
Because the Kindle Fire has a glossy display, you may want to add on a pack of anti-glare screen protectors when you order a case.
Amazon Kindle Fire Zip Sleeve – $29.99
Kindle Fire protection in multiple colors.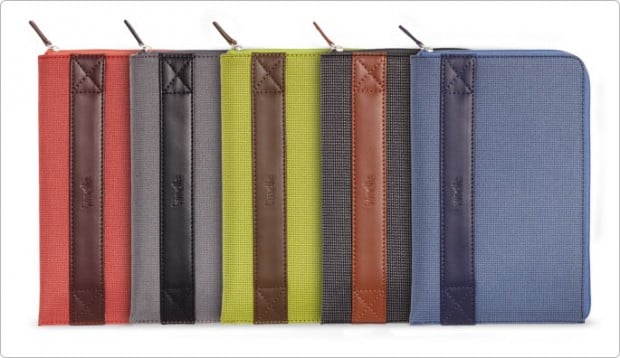 If you want the official Amazon Kindle Fire case, this is it. You get a L-shaped zipper and your choice of 5 colors from the ostentatious Lime to subdued Grey. A nice choice for users who want to keep their Kindle Fire protected while in a larger bag.

Speck Kindle Fire BookWrap
Available exclusively at Target, this wrap protects in style.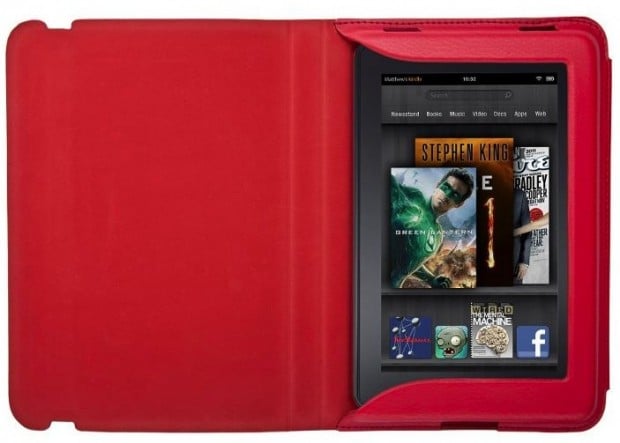 This case comes in several colors and keeps your Fire safe from scratches. You can use the Fire inside the case, or slip it out for case-less use around the house. You can only purchase this case at Target stores. No pricing is available yet.

Marware Folio Kindle Fire Cover – $39.99
A Smart Cover for your Kindle Fire.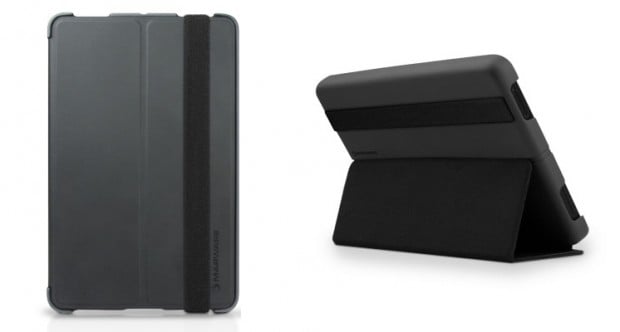 If you want an iPad-like Smart Cover for your Kindle Fire, the Microshell Folio from Marware gives you a very similar look. The lid is kept in place with an elastic band, and you also get a hard back to protect your Kindle Fire. The front protection folds up to give you a stand for watching Prime movies and Netflix.

Marware C.E.O. Hybrid Kindle Fire Cover – $44.99
Leather padded Fire cover with a stand and a handle.

If you want a Kindle Fire cover with a leather finish and several useful features, check out the Marware C.E.O. Hybrid Kindle Fire Cover. You get a nice finish, soft interior, 2 stand angles and a hand strap that allows you to keep a good grip on the case while holding it.

Marware Axis Kindle Fire Cover – $39.99
Delivers 6 angles and the ability to tilt and rotate.

If you like flexibility, the Marware Axis Kindle Fire Cover may be the best choice in the bunch. You can tilt and rotate your Kindle Fire in the case, allowing you to stand it up in portrait mode for hands free reading. There is also a hand strap and elastic strap to keep the case closed when not in use.

Case-Mate Kindle Fire Tuxedo Case – $40
Leather-esque case with magnets to wake your Fire.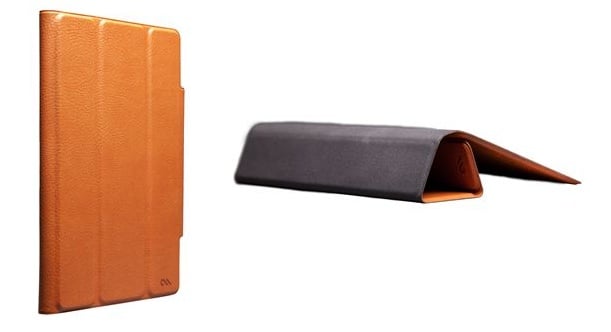 The Case-Mate Tuxedo case comes in black and a nice looking caramel and includes the ability to wake your Kindle Fire from sleep when you open it. The case allows you to place the Fire at an incline while reading in landscape mode. The case uses tape to keep your Fire in place, so you may want to wait for reviews to roll in on this one.

Case-Mate Kindle Fire Venture Case – $50
Sharp red and black case for the Kindle Fire with built in stand for movies.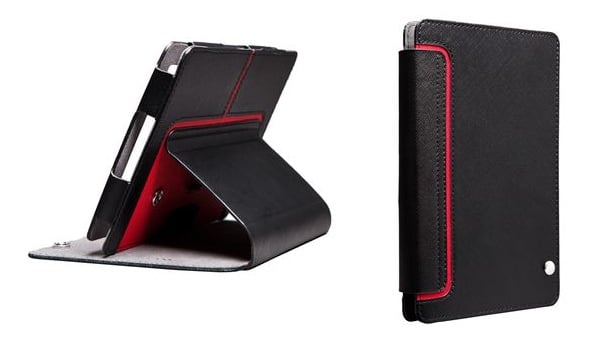 Case-Mate's Kindle Fire Venture case delivers a leather look, and allows you to prop up your device to watch movies or read in landscape mode. Your Fire is kept in place with velcro, and the case closes with a button snap.
Belkin Verve Folio for Kindle Fire – $39.99
Leather folio with multiple viewing angles.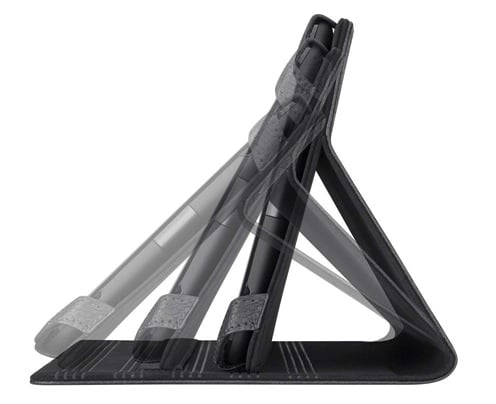 The Belkin Verve Folio for the Kindle Fire will be available soon, and offers a leather finish and the ability to angle your Fire in just the right so you can avoid the glossy reflection of the screen while reading or watching movies. When you are done, you can close it up for complete protection.

Belkin Verve Tab Folio – $29.99
Purple, Pink and Black covers for the Kindle Fire.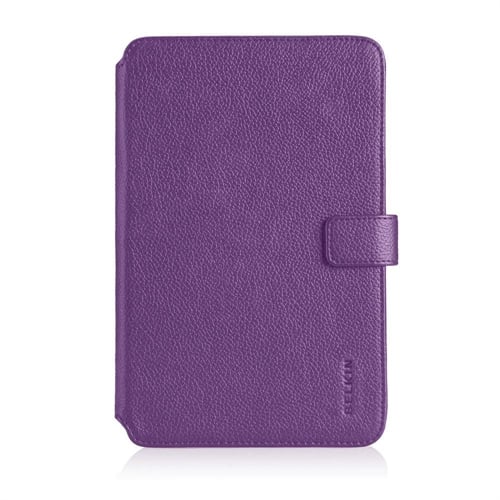 The Verve Tab Folio protects your Kindle Fire in an array fo colors and stays shut with a magnetic latch. There is a small inner pocket to keep some paper, or that bookmark you have sentimental feelings for.

Belkin Grip Sleeve for Kindle Fire – $25
Kindle Fire sleeve with fun patterns.
The laser etched design on the side of the Belkin Grip Sleeve for Kindle Fire give you a better grip and add a bit of style to your basic Kindle Fire cover. Available in black, teal and pink.

M-Edge Incline Jacket for Kindle Fire – $39.99
Stylish case with 3 landscape angles and one portrait stand angle.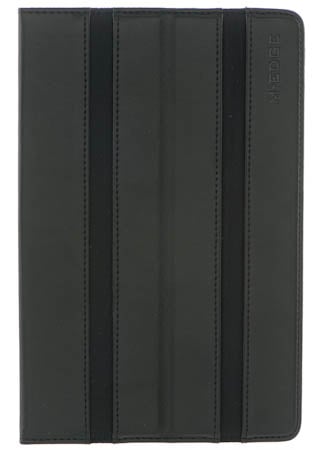 M-Edge delivers another nice looking Kindle Fire case with the Incline case. You can choose from four colors and you are able to stand your Fire up at three landscape angles and in portrait moe for reading. The case secures with a magnetic closure.

M-Edge Slip Sleeve for Kindle Fire – $34.99
Thin and colorful sleeves for the Fire.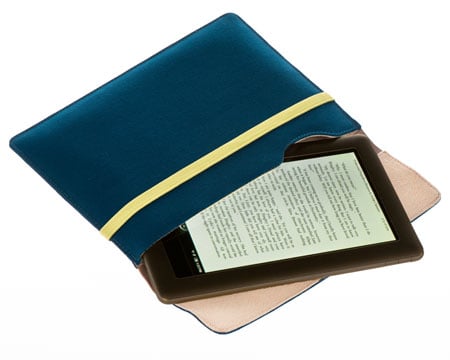 Currently you can only get the Slip Sleeve for the Kindle Fire in black, but colorful options appear to be on the way. The minimal case looks nicer than many of the sleeves we have seen, and it is ScotchGuarded to keep dirt from damaging your cover.

M-Edge Hampton Jacket for Kindle Fire – $39.99
Book-like cover for your Kindle Fire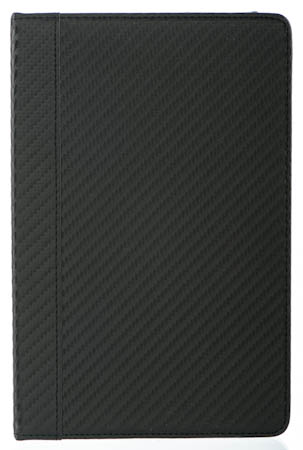 The Hampton Kindle Fire case is a book style cover for the Fire, but you can choose a carbon fiber style finish that looks quite nice. There are other color options coming.

M-Edge Design Your Own Cover  for Kindle Fire
Put your own images and photos on the front of your Kindle Fire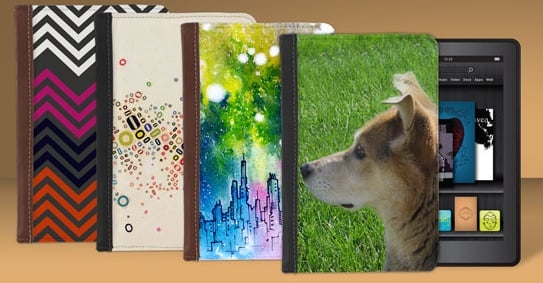 The MyEdge for Kindle Fire isn't available yet, but if you want the cover of your favorite book, kids pictures or just a favorite scene on your Kindle Fire, you should circle back to M-Edge in the coming weeks.

Pad & Quill Fire Keeper – $59.99
Our favorite iPad book-case comes to the Fire.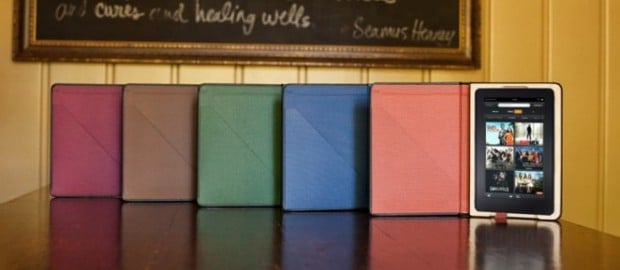 the Pad & Quill Fire Keeper case for the Kindle Fire is hand-made in the U.S. and finished with a leather book cover. You can choose from a collection of interior colors and add a pocket to keep a but of paper with you .

Incipio UnderGROUND Felt Sleeve for Kindle Fire – $19.99
Affordable and stylish looking case for the Fire.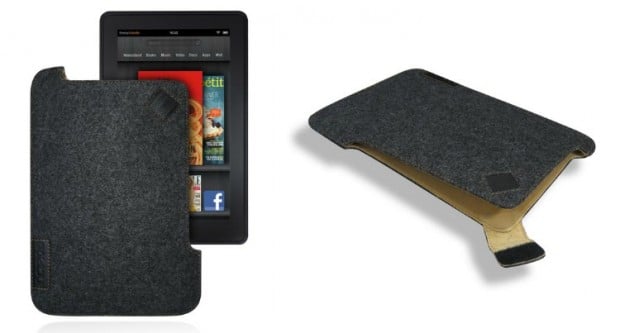 The Incipio Kindle Fire UnderGROUND Felt sleeve is one of my favorites thanks to the subdued looks, felt finish and slip shape. It doesn't hurt that you can get it for $20.

Timbuk 2 Kindle Fire Element Sleeve – $40
Read your Fire anywhere with the clear front and hand strap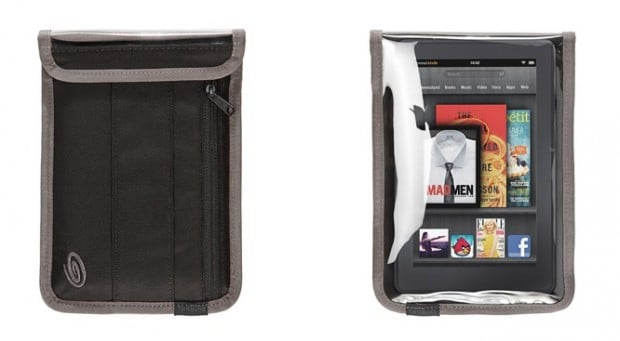 The Timbuk2 Kindle Fire Element sleeve has a clear plastic front so you can read your books in the rain, or wherever your life takes you. There's also a small external pocket if you need to carry a charging cable or headphones.

Timbuk 2 Kindle Fire Professor Jacket – $45
Typing or watching, this stand has you covered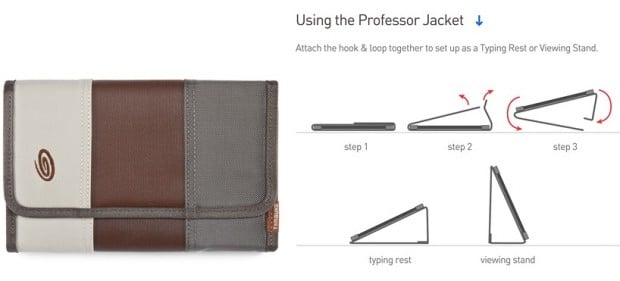 The Professor Kindle Fire Case has a tri-fold design that supports viewing in landscape mode, or places your Kindle Fire at a typing angle if you need to answer a few emails. The color options offer a trio of complementary colors.

Timbuk 2 Kindle Fire Envelope Sleeve – $25
Simple, but great looking sleeve.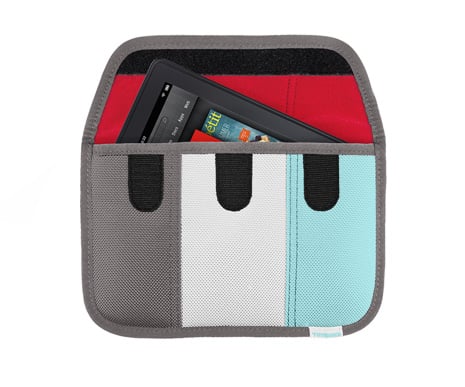 The Timbuk2 Kindle Fire Envelope Sleeve isn't going to win awards for originality, but you get an array of nice color options, the three panel look Timbuk2 is known for and quality protection for just $25.

Timbuk 2 Kindle Fire Cush Sleeve – $35
Memory Foam case for your Kindle Fire.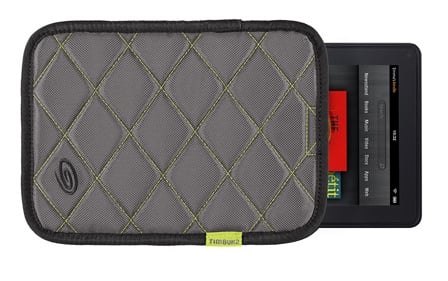 The Timbuk2 Cush Kindle Fire case is similar to the iPad Cush case, and as such offers a lot of protection in a nice slim design. At $35 this is a nice buy.

BUILT NY Kindle Fire Sleeve – $25
Colorful and lightweight, this sleeve will protect you on the road.
BUILT NY has always offered nice sleeves, and the 7″ eReader neoprene sleeve should be a good fit for the Kindle Fire. These sleeves earn a spot thanks to the dots and city grid designs that are both eye catching.

RocketFish MY WAY Kindle Fire Case – $24.99
Interchangeable straps let you change the color to fit your mood.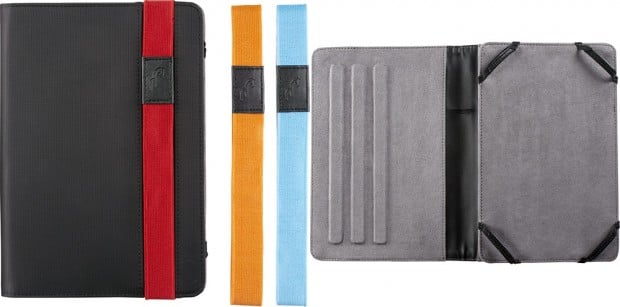 Best Buy offers the RocketFish MY WAY Kindle Fire Case with interchangeable straps that keep it closed. Inside, you get a slot for a pen. You can use the case to set your Kindle Fire at three different angles.

DecalGirl Kindle Fire Skins – $20
Cool looking skins that protect the front and back of your Kindle Fire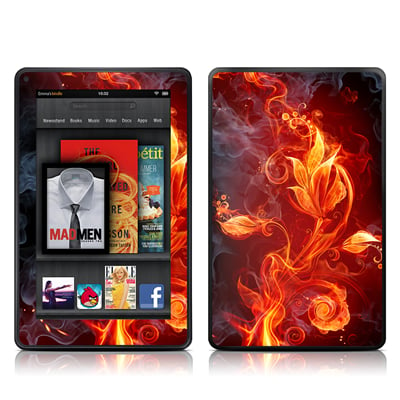 DecalGirl has been offering skins for devices for almost a decade, and the Kindle Fire skins bring the same broad range of images and illustrations. Top notch skins for just $19.99.

Waterfield Kindle Fire Smart Case – $59
Slim and trim, this case protects the Fire with minimal bulk.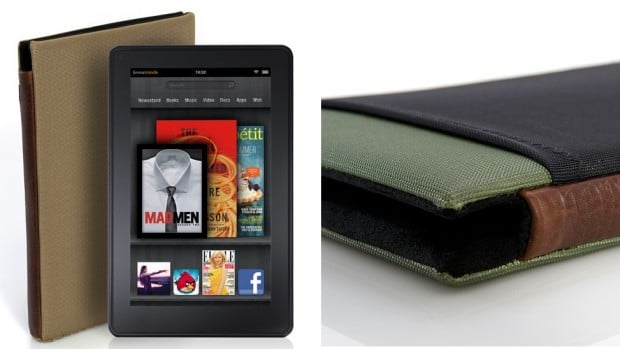 Waterfield makes some amazing bags and iPad 2 cases, so it is good to see a favorite come to the Kindle Fire so quickly. Just slide the Fire into this padded sleeve and you'll have protection. The microfiber liner will even wipe off many of your fingerprints when you take it out to read.

BodyGurdz Kindle Fire Armor Carbon Fiber Skin – $29.99
Carbon Fiber protection and an anti-glare screen guard.
BodyGuardz is another favorite skin maker, that offers nice protection and a great feel. The Kindle Fire Carbon Armor skin also comes with an Anti-glare screen protector, which believe me you will want. Available in black, white and red.

Stay tuned for more Kindle Fire Cases, Covers and Screens.