6 Amazon Kindle Fire Problems & Fixes
The Amazon Kindle Fire tablets are at the peak of their powers. Launched as cheaper alternatives to Apple's iPad mini, they've only grown more popular as they've evolved. What were once matte black luxury items used to consume books and movies have become colorful, reasonably priced ways to enjoy everything that Amazon has to offer. That's when Kindle Fire problems aren't ruining the experience.
Kindle Fire tablets may be innovative, but they suffer from the same problems that every piece of technology does. Their software can sometimes lock up for no reason. Apps that you install from the Amazon App Store can introduce issues that you hadn't foreseen. Sometimes, the Kindle Fire can have issues talking to the service that it needs to pull down your books, music, movies and television shows.
Here's a breakdown of Amazon Kindle Fire problems and how to fix them so that you can continue to enjoy your Kindle Fire.
Read: Kindle Fire vs. Kindle Fire HD
You Must Deregister a Device
One of the most commonly reported Kindle Fire problems is related to how the tablets download purchased content. Every time you add your username and password into a Kindle device, you're registering that device with your account. The link allows you to download new books and movies to your device for reading. Unfortunately, if you keep registering devices you may find yourself looking at an error message saying that you've already downloaded your books to as many devices as you can.
To fix this you'll need to deregister an older Kindle or a device that you've installed the Kindle app on. You can do this from Amazon's Kindle management site here. Note that you'll need to provide your Kindle username and password.
How to Remove Special Offers Ads
Kindle Fire tablets are inexpensive these days. The cheapest of them all, the current Kindle Fire, costs $49.99. Compare that to the $249.99 selling price that the original Kindle Fire tablet sold for. Amazon is able to sell the tablet at that price because of a program it calls Kindle Special Offers. All the latest Kindle Fire tablets can be had for slightly cheaper, as long as you're fine with receiving ads on their lock screens.
Read: How to Get Rid of Special Offers on Kindle Fire Tablets
You can remove Special Offers from your Kindle Fire if they bother you. Head here and log in with your username and password. Click the Actions button next to the name of the device you'd like to remove from the Special Offers program. Select Edit next to Special Offers and Ads.
You'll be billed a fee for removing Special Offers, Amazon says.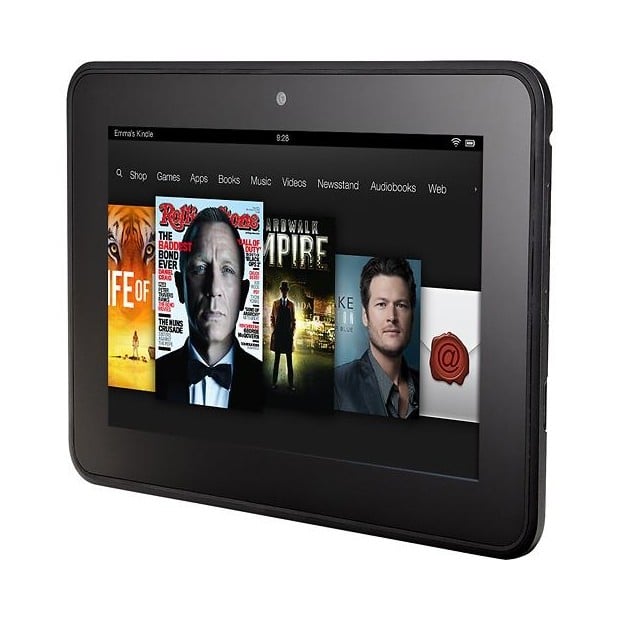 How to Fix Kindle Fire Problems Related to Wi-Fi
Kindle Fire tablets connect to Amazon's services through wireless internet, which means you'll want to keep your Kindle Fire talking to your router. Without it doing so you could miss new magazine releases or not have your progress in a book synced correctly.
When entering a new wireless network into your Kindle, be sure that it is your network and not someone else's that lives nearby. Also, check the title case on each of your Wi-fi password. Carefully enter each character, making sure to not mistake an O for a 0.
Swipe down from the top edge of the screen to get access to the Settings app. It's in there that you can connect to new wireless networks.
Read: How to Set Up Your Kindle Fire HD
Where to Get Help with Kindle Fire Problems
Head to the Device Support area on Amazon to get help with any Kindle Fire problems that you're having. You'll be asked to identify the tablet in your list of devices that are paired to your account, then provide a brief summary of what Kindle Fire problems you are having.
How to Restart a Kindle Fire
Press and hold the power button on your Kindle Fire for at least 40 seconds to force it to shut down. Now press the power button again to turn the device back on. This is for devices that have locked up.
If your device is still working but you think a restart might improve its performance, hold the power button down until you see a message asking you if you'd like to shut it down. Tap on the Shut Down option. Wait for a minute, then turn the device back on.
How to Reset a Kindle Fire
Swipe down from the top of your screen and select Settings. Tap Device or Device Options. Now select Reset Device or Reset to Factory Defaults.
Note that you should only reset your Kindle Fire if you're selling it or you have exhausted all other options for getting it to work properly. A reset will delete absolutely everything that's on your Kindle Fire. That includes books, movies, apps and television shows. You'll be forced to download them all again and make any settings changes that you made the first time again.
Read: 25 Hot Kindle Fire Cases, Cover, Skins & Sleeves
Good luck trying to fix your Kindle Fire problems.