Latest iPhone 6 Rumors Worth Believing This Week
The latest iPhone 6 rumors share new details about the possible iPhone 6 release date, specific iPhone 6 specs and much more about Apple's plans for the fall.
As we close in on September, and an iPhone 6 release, the latest iPhone 6 news and rumors start to add more detail to each leak.
There are still some iPhone 6 details that we remain skeptical of, but there are a some iPhone 6 rumors worth believing this week. If you want to know what's up with the iPhone 6 from the rumors this week, here's your stop.
Last week we shared 5 details on the iPhone 6 design and iPhone 6 specs based on leaks and rumors, and now we have more information to share about when Apple could announce the iPhone 6 and what that means for the iOS 8 release date and the iPhone 6 release date as well.
iPhone 6 Event Date
The iPhone 6 event date is set for September 9th, according to Re/code and The Wall Street Journal. Apple did not confirm the event date, but with two publications chiming in we are just waiting for Apple to send the invites.
Both publications point to two iPhone 6 screen sizes, but earlier reports suggest the largest iPhone 6 will not arrive at the same time as the 4.7-inch iPhone 6.
iPhone 6 Release Date Details
Thanks to the event timeline we know a possible iPhone 6 release date timeline and the possible iOS 8 release date. Our own Adam Mills breaks down the possible iPhone 6 release date details that come after we know when Apple plans to hold an event.
iPhone 6 announcement on September 9th.
iPhone 6 release date on September 19th. (Or September 26th, another Friday in late September.)
iOS 8 release somewhere between September 9th and September 26th
We think the iOS 8 release is planned for a few days before September 19th, on September 17th, but that is still up in the air.
iPhone 6 Specs Surface
A new report from Venture Beat is not confirmed, but it does fall into the iPhone 6 rumors we can believe. According to the publication the iPhone 6 will include two screen sizes with a 4.7-inch iPhone 6 release date in September and a 5.5-inch weeks later.
The iPhone 6 screen is not going to be as hard as Sapphire according to this report, but it will be stronger than Gorilla Glass. This is possible as Apple may include Sapphire into the display without a full Sapphire slab, but it is one thing that leave us skeptical.
For iPhone 6 specs, look for an Apple A8 processor clocked at 2.0GHz and faster 802.11ac WiFi in the iPhone 6.  The report also outlines space for NFC and improvements to Touch ID.
Sapphire Screen Drop Test Demo
If Apple does include a Sapphire display on the iPhone 6 it could help deliver a much more durable smartphone. The new Kyocera Brigadier includes a Sapphire Shield display that can withstand a lot. Watch the Sapphire Screen drop test video below to see how it handles a drop on to a sharp rock.
This is really impressive, though another report this week suggests the display may not be this strong. At this point we don't expect a water-resistant iPhone 6 either.
iPhone 6 Renders & Concepts
In addition to the iPhone 6 rumors, we see two stunning iPhone 6 concepts this week that we need to share. Martin Hajek is the source for realistic iPhone 6 concepts and this week we get two of them. The first is a gold iPhone 6 concept that shows off some of the iPhone 6 rumors. It's unlikely that Apple's gold iPhone 6 will look like this, but it is still amazing to see.
The next iPhone 6 concept to check out is also from Martin Hajek. It channels the latest iPhone 6 rumors and includes an impressive cutaway view to show what the inside of the iPhone 6 may look like as well. Check out the rest of these cool concepts.
Top 5 Phones to Consider Before the iPhone 6 Release [August, 2014]
iPhone 5s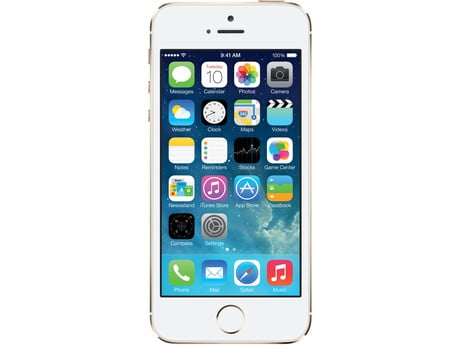 With the iPhone 6 release just weeks away, we're starting to see iPhone 5s deals emerge, deals that knock substantial amounts off the full price. The price drop certainly makes the iPhone 5s a worthy candidate for prospective iPhone 6 buyers but it also helps that the iPhone 5s is still a high quality smartphone.
The iPhone 5s remains one of the best smartphone options on the planet and it's a device that we still recommend to those looking for a brand new smartphone, regardless of the situation.
From its solid camera, to its sleek metal design, to its beautiful 4-inch Retina Display, the iPhone 5s packs a great all-around punch. It's not the iPhone 6 but it could be the next best thing. Those in the hunt for a new device would be wise to take a look at it, if only to rule it out ahead of an iPhone 6 purchase.

This article may contain affiliate links. Click here for more details.