Lenovo Legion Y520 Review
Finding a gaming laptop on a modest budget is hard. The Lenovo Legion Y520 gaming notebook drops some features that gamers love. In exchange, they get a great graphics processor and lots of ports.
The idea is both brilliant and dangerous. PC Gamers have a reputation for not compromising on anything. They want flashy designs that stand out in a room. They love ambient lighting along a PC's chassis and appreciate backlit keys that they can see in the dark. Some want to stream themselves playing their favorite games, which requires a good web camera. The Legion Y520 drops these features to get to its low $799 price. Buyers have to spend a little more to add some of them back.
A new generation of gamers is leaving consoles behind to get gaming PCs. These bargain hunters want comfortable keyboards, decent screens and graphics as good as their pockets will allow. The Legion Y520 delivers on all three points, even if Lenovo left some good things out to get to that $799 price.
Lenovo Legion Y520 Review: Design & Internals
The Legion Y520's lid is less angular and bulbous than the Lenovo IdeaPad Y gaming laptops that came before it. Almost all of it is covered in a textured plastic pressed to resemble carbon fiber. On top, there's a slight angle in the center of the lid. A shiny Lenovo logo sits on the left. The speakers are visible when the notebook is closed.
The Legion Y520's lock slot, USB 3.0 port, Gigabit Ethernet and headphone jack are on the left. A full-size HDMI port, two more USB 3.0 ports, a memory card reader and a USB Type-C port are on the right. Gamers won't put up with fewer ports just to get a laptop that's thinner and lighter. The Legion Y520 has every port they need.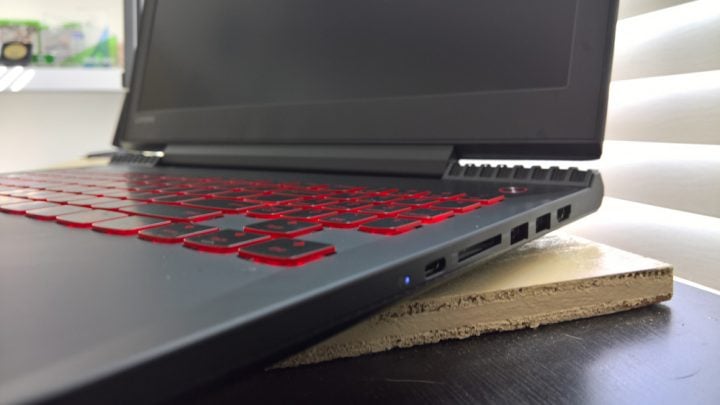 At 5.3 pounds and an inch thick, the Legion Y520 isn't the lightest or thinnest laptop for sale. You will notice it in your bag. However, it's not so outrageously hefty and heavy that you'll dread carrying it anywhere because of size.
Internals and Upgrades
New games constantly push the boundaries of the latest graphics processors. Picking a gaming laptop is hard because you need to find the right mix of internals to play the games you own today and the titles you might buy in the future.
There's no reason that you couldn't continue enjoying the latest titles down the road with the Lenovo Legion Y520. Gotta Be Mobile's Legion Y520 came with a NVIDIA GeForce GTX 1050 TI graphics card, 16GB of DDR4 RAM, a 2.80 GHz Intel Core i7 processor. The $779 model comes with 8GB of RAM and a 2.50GHz Intel Core i5 processor but keeps the GTX 1050 TI. It's a smart move on Lenovo's part. They've guaranteed that even the cheapest model will handle this year's biggest titles on medium settings just fine. On their medium settings, next year's games should run fine, too.
The things you lose to keep that graphics card are pretty obvious. You can't sign into Windows 10 with a fingerprint or a face scan. The Legion Y520 that sells for $799 doesn't include an integrated camera or backlit keys that glow red. To get either, you have to upgrade to the $919 model that Lenovo sells online. Even the more expensive models don't let you change the color of each key to highlight which buttons you need in your favorite titles.
Lenovo Legion Y520 Review: Experience
I didn't make use of the backlit keyboard or the missing web camera for the first week, despite the review model having both. I wanted to experience what budget-minded gamers would get without adding to the notebook's price tag first. Then I'd move on to using it with the enhanced features.
I'm willing to let some sacrifices go. Things had to go to get the Legion Y520 to its low price. Making the web camera optional is fine because gamers really interested in streaming have a separate camera for that anyway. These cameras aren't too big that they can't be stuffed in a bag to play a game at a tournament. Fingerprint readers and iris scanners for logging in are nice but not must-haves, either. Windows 10 does have PIN code options log you in quickly.
Not having backlit keys on the cheaper model is as frustrating as I expected it to be though. Like many adults, I don't get time in the day to game. As lazy as it sounds, having to get off the couch to turn on a light was frustrating the first week. Leaving out multi-color keys is one thing, but no backlighting at all seems like a step too far for any gaming machine.
Luckily, you won't need lots of accessories to improve your experience. The Legion Y520's 15.6-inch display is crisp and glare-free. You won't immediately find yourself in need of another display to play your games in HD. The built-in JBL speakers get loud enough, even if they don't have lots of bass. The keyboard is comfortable enough that you won't feel the need to run out and buy one. Every port you need is built in.
This machine needs an external mouse for lots of reasons. There's too much resistance with every press of the left and right buttons on the trackpad. I found myself adjusting my finger position again and again because of an awkward dead space in the center of them. There's no ridge in this dead space to give any tactile indication that your finger is wrongly positioned. Its glossy finish guarantees lots of fingerprints and smudges as you game. Also, the edges of the trackpad aren't straight like every other trackpad you've ever used. I attempted to scroll web pages a few times only to discover my finger was on the bezel instead of the trackpad.
Performance
The Legion Y520 did handle every game that I could throw at it. Windows Store blockbusters, like Halo Wars 2 and Quantum Break, held up just fine with their higher settings engaged. The system managed 60 frames per second with their mid-range settings enabled. The laptop gets loud, but not overwhelmingly so.
Gears of War 4 ran just fine on the notebook, too. I did need to use mid-range settings to keep the laptop in the 60 frames per second range consistently. Texture quality of the characters themselves was amazing, and the game looked gorgeous. The cheapest Y520 model has the same graphics card with 8GB of RAM. Sticking to medium settings should still get buyers of that model decent visuals.
The built-in Nerve Sense software gets you better performance by turning on an Extreme Cooling Mode. Extreme Cooling Mode speeds up the fans and expels lots of heat from the chassis. Gamers will want to push this notebook as far as they can, just to see how it performs. That's why Extreme Cooling Mode sounds useful. Planet Coaster, which is a very processor intensive game,  didn't necessarily have better looks with the mode on. However, the right side of the keyboard certainly cooled down because of the extra ventilation.
The Nerve Sense software has other tricks, too. It can turn off the trackpad and Windows key so that you don't accidentally find yourself looking at Windows 10's Start Screen. A dedicated recording button in the software and the keyboard act as convenient ways to save footage from games. You can also enhance sound and give your games priority over downloads and other web traffic. These features are useful, even if they aren't groundbreaking.
Battery Life
It's the Legion Y520's battery that makes you think twice before taking it anywhere. There's only a 3-cell battery in the Legion Y520; so count on carrying its charger with you. Lenovo says that the battery lasts for up to 4 hours. Windows 10 provided estimates of 3 hours and 30 minutes with the screen at 55% screen brightness. I was working in Microsoft Word and the Edge browser when it gave me those estimates. Resource heavy games had me ready to find a wall socket in half that time.
Lenovo Legion Y520 Review: Specs
Processor & Graphics
7th Generation Intel Core i7 processor, NVIDIA GTX 1050TI Graphics with 4GB of RAM
Memory & Storage
16GB of DDR4 RAM

2TB Hard Drive & 256GB Solid State Drive

Display
15.6-inch FHD 1920 x 1080p LED Display with Anti-Glare
Ports & Extras
·       802.11 AC Wi-Fi

·       Gigabit Ethernet

·       2 USB 3.0 Ports

·       1 USB 2.0 Port

·       USB 3.0 Type-C Port

·       1 HDMI Port

·       Audio/Microphone Jack

·       Headset Jack

·       Ethernet RJ45

·       4-in-1 Media Card Reader

·       Harman Speakers

(Optional Backlit Keyboard)

(Optional Web Camera)

Battery Life
4 Hours of Battery Life
Dimensions & Weight
14.96-inches x 10.43-inches x 10.1-inches, 5.3 lbs.
Lenovo Legion Y520 Review: Should You Buy?
Lenovo can't avoid the realities of gaming on a budget. Compromises were made to get the Legion Y520 to its rock-bottom price tag. Unfortunately, the missing backlit keyboard and camera mean that the Legion Y520 isn't the absolute best buy it could have been. If you have the money, definitely upgrade to the $849.99 model for all the trimmings.
To be clear, the Lenovo Legion Y520 at $799 is also a good investment. The model's missing camera and backlit keyboard don't ruin its performance or its decent screen, two things gamers care the most about. Yes, the battery life isn't impressive, but this is a gaming PC first and a productivity machine second. The trackpad is terrible. Get a mouse and enjoy your games for a reasonable amount of cash.
[letsreview]