LG Android 9 Pie Update: What to Expect
This quick guide details everything you need to know about LG Android 9 Pie updates. From what's new and which devices are still waiting for the update in the US and elsewhere. If you're wondering "will my LG phone get Android 9 Pie?" we have you covered. Including info on the LG G7, V40, and even V30 Pie updates.
Between Google's beta program and an official release of Android 9 Pie back in August of 2018 (last year) manufacturers have had plenty of time to prepare software updates. However, it took LG quite a while to deliver. Google already released Android 10, and LG is still delivering updates over 15 months later.
However, once they started they rapidly released updates for several devices in the US. Likely because customers were getting frustrated. In July of 2019, we received six LG Android Pie updates. And several others got it over the summer like the Verizon LG V30 Pie update in September. Yes, that's after the Android 10 release and near the end of 2019.
Popular smartphones from all major manufacturers will get a free update to Android 9 Pie when it's released by each company. So far, almost every major phone from the last few years is on Pie, except for a bunch of LG phones and cheaper budget devices. As a comparison of just how late LG is to this release, the OnePlus 3 released in 2016 got Pie before ANY LG device in the United States. That's bad.
Update: LG's flagship LG V40 smartphone on US carriers like Sprint are finally getting Android 9 Pie on December 30th, 2019. Yes, that's over 16 months AFTER Google released it. Right now almost every other phone is getting or already got Android 10, while LG's just getting around to Pie. That's sad.
Will My LG Get Android 9 Pie?
While we've heard from several manufacturers like Samsung, OnePlus and Motorola regarding Android 9 Pie updates, LG is still staying relatively quiet. Even as June of 2019 arrives, over nine months after Google released Pie, we're still not sure what LG is doing. However, every few weeks another update starts, so that's good news.
These are the LG phones that have or we believe will get Android 9 updates in 2019.
Again, this list is unconfirmed but we'll update it with more information as it becomes available. Basically, any phone released within the last 12-18 months by LG should get Android 9 eventually. We say should, but that doesn't mean they WILL.
So far, LG confirmed the G7 ThinQ Android Pie beta in Korea in December 2018, which concluded on January 17th in the region, and they released the G7 One update back in November. Then, finally, after a long wait, we're seeing the first LG V40 Android Pie update hit Verizon on May 23rd and the G7 at Verizon in June followed by T-Mobile in July. This is good news and now we're seeing the AT&T V40 update, plus others will follow soon.
Additionally, it looks like the V35 in South Korea is getting Pie, as are many carrier models in the US. On July 29th the LG V30 update started outside the US, but will spread to more regions shortly. We're even seeing the 2-year old Verizon LG V30 get Android Pie, which is good news. Verizon got it back in September, and now the AT&T and T-Mobile LG V30 Android Pie updates are available in October of 2019.
LG Android 9 Update Release Date
So when will your LG phone get the Android 9 Pie update? We're not really sure. This is another gray area for the company. We know a bunch of phones will get a slice of Pie here in 2019, eventually, but we have no solid date for those that haven't yet received it already.
High-end devices like the LG V40, V30 and the LG G7 are first on the list to get updates. Here's some information recently released from LG, which will leave a lot to be desired by owners.
It simply states the V40 and G6 are getting maintenance updates, while the LG G7 will see Pie sometime in Q1 of 2019. So anytime between January and the end of March. And that's only for the G7 in Korea. Ouch.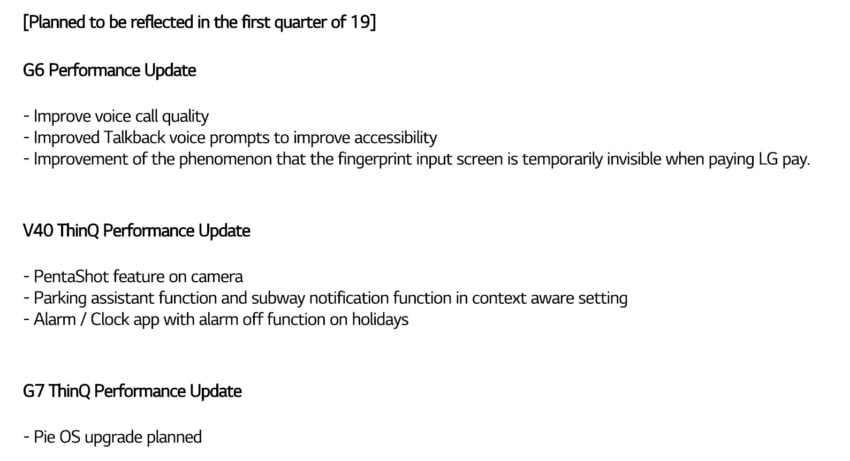 Google recently added something known as Project Treble to Android, which should help manufacturers like LG release updates faster than any other year. LG even opened a new upgrade center to speed up software, but so far we're seeing no signs of the situation improving.
So while we hope more LG phones will get Android 9 Pie in the next 1-2 months, we said that back in April and May, then again in July and were wrong. So, don't be surprised if you have to wait until October or November to get it.
LG Android 9 Beta
Right now we have no information regarding a potential Android 9 Pie beta for any LG phones aside from the LG G7 ThinQ in Korea, the Verizon G7 and the Verizon LG V35, which have since ended. In previous years, LG was one of the first to offer betas and quickly delivered software to owners. They had Android 8.0 Oreo betas in November last year, just 2-3 months after Google released the update.
We thought the company would push out a slew of Android Pie betas before the end of 2018 for multiple phones, but that simply never happened. Then, we thought most would arrive within the first 3-4 months of 2019, but that didn't happen either. Basically, your guess is as good as ours. Sorry.
And don't even ask about an Android 10 yet.
What's New in Android 9 Pie
Android 9 Pie is Google's best, fastest, smartest version of Android yet. Whether that's tools to make life easier like auto-fill, or AI to preserve battery life. New features that you can use to do more with your phone. Users will enjoy bundled and smarter notifications, auto-fill improvements, and tons of "smart" features and controls. Not to mention new gesture navigation, digital wellbeing options, Google Assistant improvements, themes, dark modes, and support for the notch on the G7. That's on top of the usual performance and battery life changes.
If you're wondering what's new or what to expect we have a detailed comparison and breakdown of everything that's new. Then, we've also compared it to Android 8 Oreo for those interested.
It's worth noting that LG adds a skin over stock Android, like Samsung. And while that skin adds extra features or controls, it also slows down the update process. That's because they have to blend both versions into one. Project Treble will help alleviate that slow process, but not until next year. Additionally, each LG update will deliver software and performance improvements, bug fixes, and new features specific to LG devices on top of everything else in our link above.
Final Thoughts & What's Next
In closing, we want to remind LG owners that updates are a slow process. And, sadly, slower than usual right now for LG. Still, high-end devices released over the last few years already got Pie, and we're expecting more throughout the rest of the year. So sit tight, the wait is almost over.
Considering Google released Android 9 Pie in August, developers like LG have had at least 12+ months to work on it. For now, be patient and we'll update this post the moment we learn more about LG updates for additional devices or anything else owners need to know. It's sad that Google was able to release Android 10 already, putting several LG phones an entire year behind in the software department.
On the flipside, we're just glad to see that LG is still updating devices. Better late than never.