LG G2 Android 4.4 KitKat Update Spreading Soon
The LG G2 Android 4.4 KitKat update still hasn't landed for devices inside the United States but it does appear that the update will start landing for at least one carrier in the near future.
For the moment, many LG G2 users reside on Android 4.2 Jelly Bean, an aging version of Google's Jelly Bean software that first arrived with the Nexus 4 back at the end of 2012. However, it looks like that will change in the near future, at least for owners of one version of LG's current flagship smartphone.
French carrier SFR, a carrier that is well known for publicizing its Android upgrade plans, claims that it will roll out the LG G2 Android 4.4 KitKat update on February 28th. This is just a few days after the start of Mobile World Congress and right around the time that LG is expected to debut the company's all new LG G2 mini, a smaller version of the LG G2.
That device is expected to run Android 4.4 KitKat and it could be that LG and its other carrier partners not called SFR will start pushing out Android 4.4 KitKat to the older LG G2 in an effort to bring it up to speed.
SFR provides a screenshot that clearly shows the update on board the LG G2.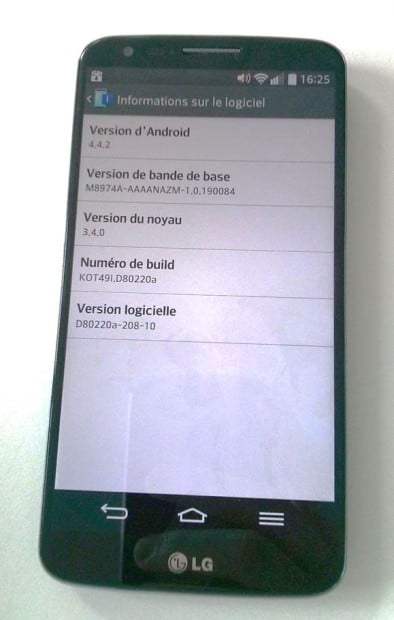 At the moment, it's not clear when it will spread to the United States. We know that AT&T recently pushed out an Android 4.2.2 update that it says brings "FOTA enhancement to support future updates" which seems to hint at a brand new update in its future. SFR is typically behind the curve when it comes to major Android software updates so it wouldn't be surprising if some carriers beat its February 28th release date.
American carriers typically remain silent in the buildup to a software update and that means that LG G2 users on AT&T, Sprint, T-Mobile, and Verizon will likely remain in the dark when it comes to a specific Android 4.4 KitKat release.
Still, the arrival of SFR's update is a great sign and it means that the device is one step closer to joining the likes of the HTC One, Galaxy Note 3 and Galaxy S4 on Google's brand new Android update.