LG G3 Leak Reveals Fake Metal Design Ahead of Release
With only a few weeks left before an official announcement and unveiling the LG G3 leaks continue to pour in ahead of schedule. Last week images revealed the Gold LG G3 variant, and this weekend another image is giving us an excellent view of the brushed aluminum-like design the phone will employ.
After initial rumors started late last year, the past two months have been completely flooded with LG G3 rumors and leaks. Speculating the device will offer one of the best mobile experiences for 2014 and compete directly with the Galaxy S5 and iPhone 6.
Read: LG G3: 5 Things Buyers Can Expect
While we've received nearly all the details this past few weeks regarding everything from the display, camera, size, and even a removable battery, this weekend another leak is giving us one of the clearest looks of all three colors yet. Read on for everything you need to know about the LG G3, as well as seeing a few more leaked photos of this upcoming smartphone.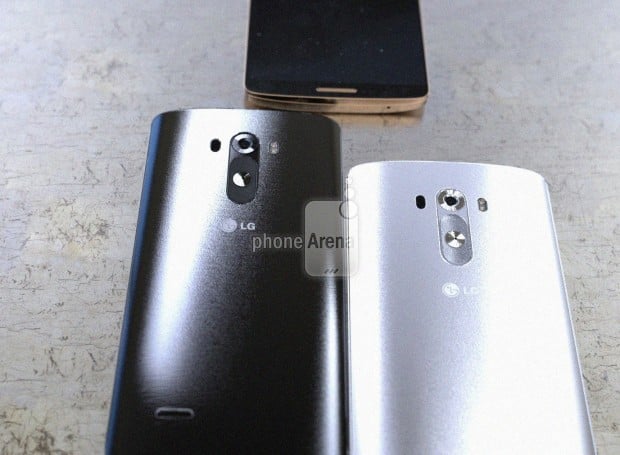 The LG G3 release date is scheduled for sometime before the end of Q2 2014. Last week LG confirmed the LG G3 smartphone would officially arrive in the United States and around the globe – and on shelves – before the end of Q2 which happens to be the end of June. Meaning the phone will be available in stores within the next 45 days or so.
Additional details and rumors have been arriving at an alarming rate, but everything will be officially confirmed and revealed to the world during the LG G3 launch event on May 27th. Meaning prospective buyers only have a few more weeks before LG makes it all official themselves and silences all the rumors.
So what are the rumors we continue to hear? Talks of an impressive quad-core smartphone with a brand new Quad-HD display, and some of the best visuals on a smartphone to date. Every leak and rumor has the LG G3 taking direct aim at the Galaxy S5, and it looks like Samsung could have some stiff competition in 2014.
Read: Galaxy S5 vs LG G3: 5 Things You Should Know
The brand new photo above, provided by PhoneArena, confirms the all-new LG G3 will be coming in white, black, and gold. Although we're hearing the white will be more silver or titanium, even if the device is still made from plastic.
This isn't the first time we've seen an "aluminum look" to the LG G3, as evleaks shared something similar earlier this month. However, all the details that have arrived thus far reportedly confirm the LG G3 will not be an aluminum smartphone, and instead be designed from a polycarbonate plastic shell. The LG G3 will still be plastic like the original LG G2 or Galaxy S5, but have a brushed aluminum look to the overall design.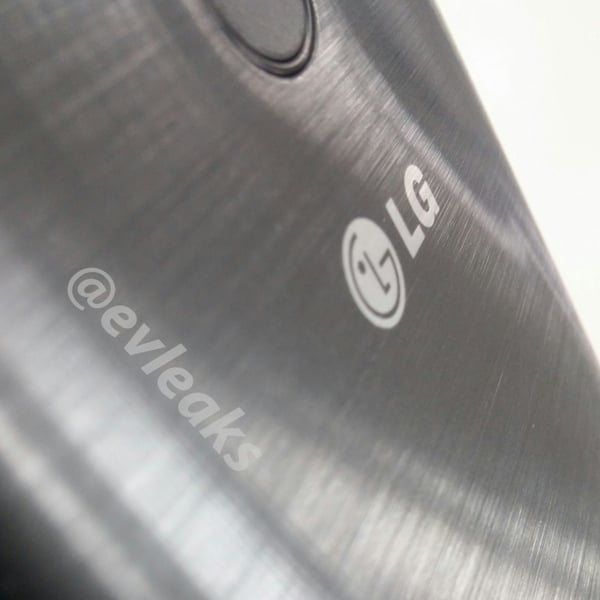 Another key detail that was revealed last week is the backside which looks like aluminum will actually be removable. The LG G3 will feature a removable and user replaceable battery, and we're hearing a micro-SD slot for storage expansion will also be included. Something that was left out of the LG G2 in 2013.
To round up the latest reports and rumors the LG G3 is stacking up to be a pretty compelling smartphone for buyers. At this point nearly all leaks have finalized the specs, even if there's still a few conflicting reports.
The LG G3 will employ a 5.5-inch 2560 x 1440 Quad-HD display, quad-core processor with 2/3GB of RAM, and come with 32GB of internal storage for apps, music, and games. LG reintroduced the micro-SD card for storage expansion, improved the 13 megapixel camera with a better optical image stabilization technology, and has redesigned the rear-facing buttons, as shown in the images above and below. The LG G3 will reportedly have a fingerprint scanner for enhanced security, as well as other features we've seen from Samsung and Apple, and a brand new infrared laser on the rear for improved photography is also around back.
Running on Android 4.4.2 KitKat we've been hearing talks and seeing leaks of a refined and tweaked LG software running over Android, and a few leaks suggested a Google-Now or Siri like competitor built by LG making a debut as well. We're hearing a 16 and 32GB version will be available, and the phone should employ a large 3,200 mAh battery for all-day usage.  There's a lot going on with this new smartphone, but all the reports, rumors, and details will officially be known on May 27th.
Read: LG G3 vs Galaxy S4: What We Know So Far
Today's leak didn't reveal any further details about the LG G3, but did give us another solid look at what to expect regarding the final design. The leakster essentially mirrored other details we've known for weeks, so at this point all we need is an exact release date and the announcement from LG themselves.
Early reports have the LG G3 being released within the first week of June, but that's yet to be confirmed. That said, LG confirmed the G3 will be the biggest mobile launch in company history, and be available around the globe and at least the five major US carriers. We'll know more soon, but the LG G3 could arrive inside the next 2-3 weeks on carrier shelves.

This article may contain affiliate links. Click here for more details.