LG G3 Update Arrives Ahead of Lollipop Release
Since being released earlier this year the LG G3 has yet to see any major software updates. Still running on Android 4.4.2 KitKat, many owners are patiently awaiting the upgrade to Android 5.0 Lollipop. Today though, news arrived that the LG G3 on Sprint is receiving an update but sadly this is not the Lollipop many are waiting for.
The LG G3 currently runs Android 4.4.2 KitKat, and appears to be skipping over Android 4.4.4 KitKat in favor of jumping straight to Android 5.0 Lollipop before the end of the year. LG confirmed the update was coming soon last month, and we've even seen some leaked video of it running and ready for a release.
Read: LG G3 Android 5.0 Update Details Emerge
While many owners are waiting for the official LG G3 Android 5.0 update to arrive, carriers are busy pushing out some small updates that will address a few key bugs, as well as potentially lay the ground work for the Android 5.0 Lollipop update once it arrives at a later date.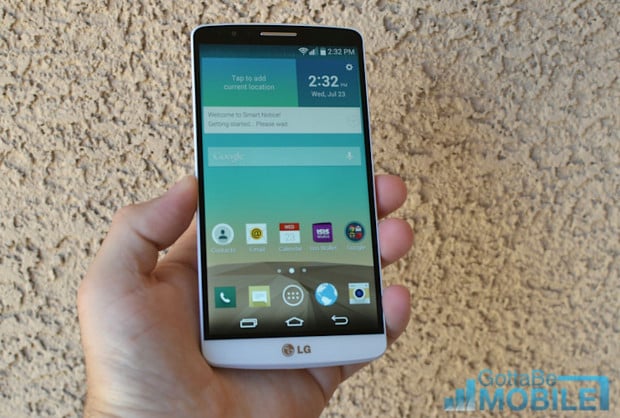 The LG G3 actually already received Android 5.0 Lollipop last month, as it was one of the first smartphones to see the new software released by Google on November 3rd. However, that was only a limited rollout for a few small regions, as well as in South Korea. The update in the United States remains MIA, and we have n solid release date thus far.
Today though, Sprint announced an LG G3 update is rolling out as soon as today for all users, and you'll want to know the details and accept the over the air update once it arrives.
Listed as software update ZV6 for the Sprint LG G3, users can expect a slew of changes, improvements, optimizations, and some tweaks to prepare for the official Android 5.0 update sometime later this month, or in early 2015.
Sprint confirmed the LG G3 update is rolling out as of this afternoon, and should start hitting devices soon and be finished before the end of the week. Some of the highlights to the update are the addition of WiFi Calling, security patches from Qualcomm and Google. The latter of which is likely the security patches and improvements delivered with Android 4.4.4 KitKat back during the summer months.
Since the LG G3 is skipping Android 4.4.4 and going right to Android 5.0, many of those changes are being pushed out today by Sprint, and from AT&T last month. There are fixes for the user interface and overall device performance, a change to how the G3 recognizes auxiliary cables for those having that issue, a new "data optimizer" and an improved compass application.
Read: LG G3 vs Nexus 6: Size Comparison
Last but certainly not least are two important changes from LG. Those are that they've improved the way the device locks, mainly in users pockets or purses, meaning the double tap to wake and other lock elements will work better than before. This should prevent unwanted unlocks and potential pocket dialing, among other things.
The second one is an overall sluggishness or laggy performance with the general user interface and homescreen, which we've seen reports of from many LG G3 owners. Some optimizations have potentially curbed this problem, and users can expect a better overall device after the update.
Again, this is rolling out today, but Sprint urges users to head into settings > about phone > and check for software updates to get it now. Next is waiting on the Android 5.0 Lollipop update, which should be here sooner rather than later.

This article may contain affiliate links. Click here for more details.