LG G4 Release Date Arrives
The LG G4 is now available in the United States and from Carphone Warehouse as the release continues to pickup steam ahead of the bigger launch during the first week of June. Since being announced on April 28th the LG G4 release date in the US has been a mystery until this week when a few carriers revealed their plans, and now it's finally available to purchase.
Late last month LG took the stage in New York City and announced the all-new redesigned LG G4 after months of rumors, speculation, and small teasers. It went on sale in Korea the following day, and it's coming soon to Verizon, AT&T, Sprint and US Cellular, with T-Mobile being first and offering the phone as of this morning.
Read: LG G4 Review
Just as promised yesterday, this morning the LG G4 officially went up for sale from T-Mobile, and now we have a few additional details regarding pricing, that impressive LG G4 deal, and the leather options. Check out our full review above, then read on for more details about the release of this new smartphone.
It's worth noting that before we start the LG G4 won't be in T-Mobile stores until June 3rd, but users are available to order it today online and get it shipped to them right away, making T-Mobile the first carrier in the U.S. to offer the device just as they did with the Galaxy S6 and HTC One M9 earlier this year.
More details regarding the LG G4 release date on all U.S. carriers can be found right here, and for those looking to snag it on T-Mobile and get a free 128GB micro-SD card will want to continue reading, or click here.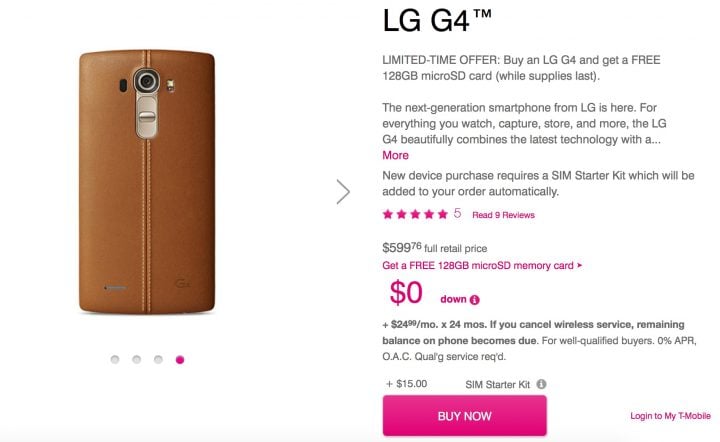 Just as promised the LG G4 is available right this moment from T-Mobile, and users will be able to get it for $0 down with 24 monthly payments of $24.99 per month, which comes out to the same $599 asking price we're expecting from all carriers.
T-Mobile is offering the LG G4 in the Titanium Silver plastic model, as well as the brown genuine leather back, all for the same price. Initially rumors suggested the leather options would cost more, but that doesn't appear to be the case, at least not from T-Mobile. These are the only two colors on T-Mobile, but we're hearing more could be coming soon, not to mention other carriers will offer different leather backs. US Cellular has the black leather, and we'll know more about all five major carriers soon.
Read: 30 LG G4 Tips & Tricks
As an added bonus, for a limited time while supplies last T-Mobile will be giving buyers a 128GB micro-SD card free with their purchase. That's one of the best free gifts with any smartphone purchase we've seen in a long time. This deal ends on June 21st. Add that to the fact that they aren't charging more for the leather back version, and this is shaping up to be a great purchase for many prospective buyers.
In the UK, Carphone Warehouse is currently offering the LG G4 is brown and black leather, as well as the silver model, and claims the black leather variant will be exclusive to them.
This is good news for those waiting for the LG G4. If you're in the US but not on T-Mobile, Sprint has confirmed they'll offer the new phone on June 5th, we're hearing June 4th for Verizon, and AT&T is rumored to be last dropping the phone on June 12th, but we'll update as those dates become official and announced by each individual carrier.
15 Best LG G4 Accessories
LG G4 Cases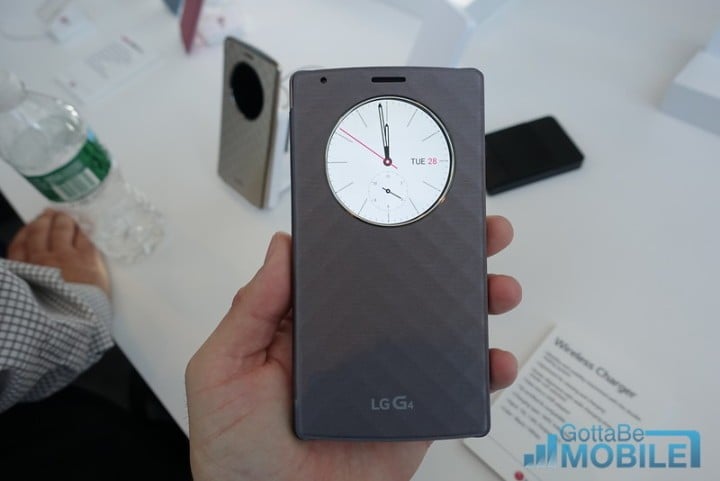 While we've already detailed tons of cases, two worth considering are the official LG Folio Circle Case, and the Spigen Air Cushion with a built-in kickstand.
The G4 Folio case protects the entire device as usual, but then has a flip cover that protects the 5.5-inch screen. The trademark circle window cutout in the flip cover shows a clock, the weather, incoming call or text message information, quick access to the camera and more all without ever opening the case.
Then opening it instantly wakes up your device. This case makes your phone durable, offers additional features, and protects the screen all in one. Last but certainly not least, there's also a second version of the Folio Case that enables wireless charging, making it more than worth the more expensive price point. They should retail for $49 and $59 for the wireless charging version.
Grab the Folio case from LG's website, or the Spigen Kickstand case from the link above.

This article may contain affiliate links. Click here for more details.