LG G6 Release Date, Features, Specs & Rumors
The upcoming LG G6 will be one of the first premium phones unveiled in 2017, likely around the end of February. It's shaping up to be a great smartphone too. Offering a completely different design than the LG G5 while battling the Galaxy S8 at the same time. Here's what we know about LG G6 specs, rumors, release dates and more. Including newly leaked photos, or a delayed release date.
As 2017 moves forward all attention will be on a few new smartphones. Like Samsung's Galaxy S8, the next iPhone and LG G6. They are all coming soon, although the G6 may be the first flagship phone released. Rumors are still few and far between, but we do have some exciting details worth sharing.
Read: LG G5 Review: A Flawed Idea
The company confirmed in January its modular design from the G5 won't continue. Instead, offering a clean and simple premium experience. Similar to the popular LG G4 or Galaxy S7. Following a few leaks and additional details here's the latest news and rumors regarding the LG G6. This is what we're expecting to arrive in March or early April.
While Galaxy S8 rumors have been swirling for months, reports on the LG G6 are just starting to arrive. What has surfaced though, is very promising. The design might not be too different, but the fit and finish certainly will be.
The modular design and removable bottom of the LG G5 didn't fare well with consumers. Having to completely turn off and reboot the device every time was frustrating. Not to mention the lack of modular and interchangeable accessories for sale.
As a result LG will not offer the same option this year. In fact, two big aspects will be much different. LG has confirmed that the G6 will have a bigger 5.7-inch Quad HD+ display with a unique 18:9 aspect ratio. Which means it will be taller than most and easier to hold. The 5.7-inch screen will have a resolution of 2,880 x 1,440-pixels, rather than 2,560 x 1,440. Additionally, it will be super thin coming in at less than 1mm thick. It will also use a premium aluminum frame.
Based on what was said above, and the LG G6 teaser video released by the company, users should be excited. Here's a new G6 video that was just released ahead of Mobile World Congress.
https://www.youtube.com/watch?v=wr-N5cZBcl0
Essentially promising a bigger screen, easy to hold phone, thin bezels, water resistance and a great camera. All things buyers want. They end with an outline of a phone saying all of that, along with "reliable". Suggesting highly improved battery life.
Another exciting detail is extremely small bezels. Smaller than the LG G4. Similar to recent leaks of the Galaxy S8 showing basically all screen on the front, with minimal bezels. Rather than the face of the phone being about 80% screen and 20% body, it will be around 91-94% screen with a sliver of metal on top and bottom. Exciting stuff. Before we continue with LG G6 specifications, here's what to know about the release date.
LG G6 Release Date
Right now we have no concrete details as to when the LG G6 will be released. That said, the company has continued to release phones earlier with each new year. Following previous generations, the LG G6 should be announced in February at Mobile World Congress.
In fact, recently LG sent out invitations to a big event on February 26th in Barcelona, Spain. That is when Mobile World Congress starts. A big trade-show in Spain every year. We're almost 100% certain the LG G6 will be announced on February 26th, and released near the end of March or the first week of April.
The image above teases exactly that. See More, Play More. Suggesting a huge screen with tiny bezels. Turning up the exposure on that screenshot you'll see the outline of the LG G6. Give it a try. You're welcome.
In 2015 the LG G5 was announced on February 25th in Spain and open for pre-order a month later. Then released in early April around the globe. However, we're hearing LG will speed up the release to get an edge over Samsung. In fact, a recent report claims the release is a month ahead of last year. If accurate, the LG G6 could go up for pre-order the same day and be released around March 10th. Stay tuned.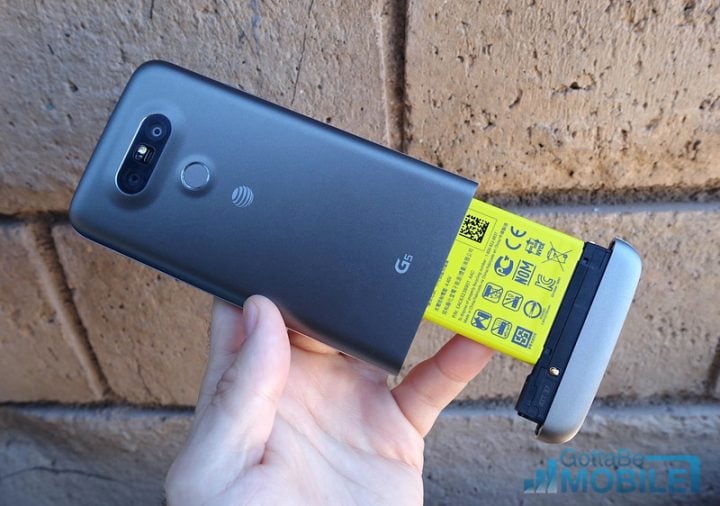 Speaking of which, a new report from ETNews says to expect the LG G6 to be available "from March 10th". That is the third leak with that date being market on the calendar. However, we have some potential bad news. It looks like the LG G6 could be released around March 10th in Korea, but not until April 7th in the United States. A whole month later, and just barely ahead of the Galaxy S8. We hope that rumor is wrong.
From everything we're hearing the LG G6 will arrive ahead of the Galaxy S8, especially now that Samsung confirmed the Galaxy S8 release has been delayed. Now though, if the day really is April 7th, LG will just barely beat Samsung to market. Many will wait two weeks and buy the Galaxy S8.
Leaked Photos Reveal All
Until just recently we've only seen concept images, renders, or fan-made images. However, The Verge acquired the photos shown below. Claiming this is the first actual image of the incoming LG G6. Then an actual prototype was leaked, with all types of wires sticking out.
Take note of the extremely small bezels around the top and sides of the new, bigger display. LG is using a new 5.7-inch Quad-HD display with a unique new 18:9 aspect ratio. Meaning it will be long and skinny. Offering a beautiful big screen with small bezels while being easy to hold. If true, it shouldn't be physically bigger than the G5, while offering a much better viewing experience.
It's also worth mentioning the screen is actually rounded on the corners, not squared. Something tipped to debut on the Galaxy S8 too. It seems silly, but looks stunning in real life. You'll have to see one to appreciate it. Then, the photo below leaked confirming the round display and new metal frame. It's a prototype that's being tested, so don't take this as what the final model will look like. Expect a premium device without all these holes and such.
And just in case we didn't have enough photos of the LG G6, the person who leaked the first real photo above is back at it. Here's the LG G6 in all its glory. This is the finished product, which we must say, looks pretty darn good.
LG G6 Features
Like mentioned earlier, rumors are rather light surrounding the LG G6. However, multiple reports have surfaced suggesting something similar. LG will completely scrap the modular design and "Friends" idea. Instead, opting to go with a sealed premium aluminum design. Similar to the Galaxy S7 and iPhone 7.
This does mean it will be one of the first flagship LG smartphones that won't have a removable battery. However, that sealed design opens up room for other must-have features. One of those being IP68 dust and water resistance. LG confirmed that and more with this image.
Other features could include a faster fingerprint scanner, better dual cameras on the back, and sleek bezels. The possibilities are endless when starting fresh. This week famous leakster @onleaks revealed his CAD renders of the LG G6. These are likely final blueprint schematics sent to case makers. He's been dead accurate in the past, with final fit and finish or coloring being the only part wrong. Essentially, if the leak below is accurate, this is the LG G6.
Based on this new information the LG G6 may be extremely similar to the G5 of 2016. At least in terms of overall looks. Furthermore, it will be a sealed metal and glass design. Finished in a glossy black elegance like the iPhone 7, and be positioned to compete directly with Samsung. Here's one more photo.
Leaks similar to the one above have been accurate in the past, but nothing is official until LG confirms it themselves. However, adding credence to those rumors is a brand new photo below of an LG G6 case. This too, shows the same overall design. Dual cameras, sleek metal finish and an unassuming front fascia. These may be wrong though, because we're hearing the top and bottom bezels will be much smaller than what's pictured below.
LG G6 Specs
Moving forward, what will complete the LG G6 remains a mystery. That said, most flagship smartphones all follow a similar pattern and offer the best specs, features, and the latest hardware. The LG G4, G5, V10 and V20 all were premium devices, and expect the LG G6 to be the same. Blending some of the G5 and V20 into one high-end device.
While we don't know anything for sure, below are some specs that will likely accompany the LG G6.
LG G6 Specifications (Rumored)
5.7-inch 2880 x 1440 QHD+ IPS Display 18:9 aspect ratio
Snapdragon 821 Processor with 4-6GB of RAM
64GB of storage and microSD card support
Android 7.1.1 Nougat with LG UI
Dual Rear Camera Setup 16MP main and wide-angle or zoom sensor
8MP Front Camera with OIS
Improved Fingerprint Scanner
3,200 mAh battery with Wireless Charging, Quick Charge, etc (or 3,500)
USB Type-C Port, Always-On Display
Better Sound similar to the LG V20
IP68 Dust & Water Resistance
More
Again, nothing is remotely official at this time. Now that invites have been sent and the event is scheduled, more details should trickle in.
A big aspect of the spec sheet above is the processor. LG is reportedly using the Snapdragon 821 from 2016, which debuted in the Google Pixel and other phones. Rumors claimed it would run the latest and greatest Snapdragon 835. However, Forbes said their sources confirmed Samsung acquired the entire initial batch for their Galaxy S8. Meaning the LG G6 and any other potential 1st quarter smartphones will have to use an older chipset. This shouldn't be too much of an issue, but is worth mentioning. It could help lower the price tag, for what it's worth.
Both major rumors floating around state LG will keep the 3.5mm headphone jack. A feature fast disappearing on smartphones from Motorola, Apple, and others. We're also hearing LG will work with Google to add their new Google Assistant into the G6, taper the back like the Pixel to hide the camera bumps, and deliver their first flagship phone that's fully IP68 dust and waterproof.
Safe LG G6
Following recent events like the exploding Galaxy Note 7, LG has doubled down to ensure their next smartphone is safe. This week the company confirmed the LG G6 is under-going the most rigorous testing yet. Not only did engineers add a heat pipe to the internal design to disperse dangerous heat, but they are testing at rates 15% higher than regulation. Meaning LG is going above and beyond to make sure the LG G6 is safe for consumers.
The application processor that powers our devices get warm. This new copper pipe will even distribute heat so it doesn't gather in one spot. In an effort to prevent a situation like Samsung and Apple are facing. Although this is sending the heat towards the battery, it's moving it around to keep the phone as a whole cool and safe.
Additionally, LG has been doing other strong testing. Like puncturing the device and battery with sharp objects and nails. Dropping heavy objects from very high places and more. Making 100% sure their next smartphone will be as safe as possible.
Basically, they don't want a Galaxy Note 7 situation on their hands. Potential buyers will be happy to know the LG G6 has been tested as much as possible.
Other Thoughts
At the end of the day anything is possible. LG did promise to continue the modular design into the next generation. Making all those Friends accessories compatible with future smartphones. If that doesn't happen with the LG G6, some G5 owners won't be happy. At this point it's pretty clear modular options will not be included, so take that for what it's worth.
As many might know, the LG G5 was not a popular device. Going back to the drawing board for a solid all-around phone may be the best move. Releasing a capable device ahead of Samsung could get them on track, even if it burns previous owners.
LG is also working hard on their own wireless mobile payment system, similar to Samsung or Apple Pay. That is one more feature that we can expect to debut on the LG G6 in early 2017. Everything is coming together nicely for LG. Add in a delayed Galaxy S8, and LG could have a winner on their hands to kickoff 2017.
Recent filings also show LG could be preparing to release a Lite and Mini version of the LG G6. Or an LG G6 Compact with a smaller screen, for those who want that.
Stay tuned for more details, and the minute additional information or rumors surface we'll be sure to update. Are you looking forward to the LG G6, or plan on going for something from the competition? Let us know in the comment section below.