LG Hints at Optimus Vu Smartphone, MWC Introduction?
LG has posted a teaser video that announces some of the basic features of the company's new LG Optimus Vu smartphone. The device, which will follow more well-known predecessors like the Dell Streak 5 and the Samsung Galaxy Note, will also have a 5-inch display. What's curious is that rather than going with a widescreen resolution like what many modern phones and tablets come with today, LG is instead opting to outfit the Optimus Vu with a 5-inch 4:3 aspect ration screen.
The aspect ratio alone makes it an interesting device as it could be more natural to view PDF files, documents, and most of all, digital content such as digital books and magazines. The 5-inch screen will have this device straddling the sphere between smartphone and tablet, like the Galaxy Note, where it would be big enough to be a tablet, but still pocketable and small enough to be considered a phone if it had built-in voice calling capabilities.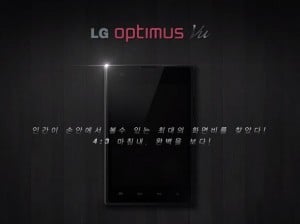 The company says that as a result of the aspect ratio, the phone is more comfortable to hold.
It's unclear when LG will officially unveil the Optimus Vu, but considering that the teaser video was released just ahead of Mobile World Congress this month, that trade show seems like a likely venue to make an announcement. Whether LG will bring the phone to the U.S. market is anyone's guess at this time.
The 4:3 aspect ratio has been experimented with by Pantech in the past with the Pantech Pocket for AT&T, a smartphone that has a wider display when held in portrait orientation than traditional phones.
Rival Samsung's Galaxy Note will soon be making a debut on AT&T's 4G LTE network in the U.S. after having been available internationally for some time now. The device packs a 5.3-inch high resolution 1280 X 800-pixel display.
Via: Engadget

As an Amazon Associate I earn from qualifying purchases.