LG Revolution Details, Review & Hands-On Video Roundup
The LG Revolution is an upcoming 4G LTE device for Verizon that was originally announced back at CES 2011 in Las Vegas. It will likely be the third 4G LTE phone to hit Verizon's network following in the footsteps of the HTC ThunderBolt and the delayed Samsung Droid Charge.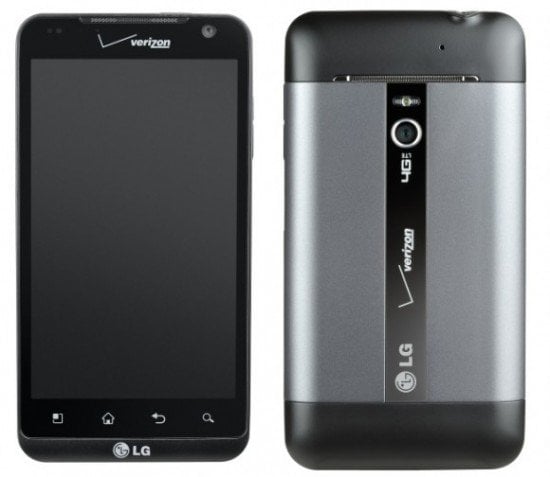 LG Revolution Release Date
Officially, the release date of the LG Revolution is unknown. Unofficially, May 25th is looking like a possible date for launch. That information comes from a leaked press shot where May 25th is the date that's on the display of the phone.
Obviously, that means that there is a good chance that May 25th might not be the release date of the LG Revolution, but stranger things have happened in the world of smartphones.
In all likelihood, whatever date that Verizon had for the LG Revolution has been pushed back because of the 4G LTE outage that happened during the last week of April that caused the launch of the Samsung Droid Charge to get delayed.
What is the LG Revolution?
The LG Revolution is a 4G LTE smartphone for Verizon and is one of four known 4G LTE smartphones, a list that includes the already released HTC ThunderBolt and the delayed Samsung Droid Charge and Motorola Droid Bionic.
It will come with a sizable 4.3 inch TFT display with 480×800 resolution which is the same screen employed by the HTC ThunderBolt.
The LG Revolution is also going to come with a single-core, second-generation 1GHz Snapdragon chip set for a processor. That's the same chip that's found in the HTC ThunderBolt and is the same speed as the 1GHz Hummingbird processor found in the Droid Charge. The Droid Bionic will be the first 4G LTE device with a 1GHz dual-core processor.
The Revolution is an Android 2.2 powered device and will support mobile hotspot support for up to 8 Wi-Fi enabled devices.
LG Revolution Hands-On Video
LG Revolution Features
4G LTE Speeds: The LG Revolution will be a 4G LTE device which means it will be capable of 5 to 12 Mbps download speeds and 2 to 5 Mbps upload speeds.
4G Hotspot: Just like the HTC ThunderBolt, the LG Revolution will be capable of acting as a mobile hotspot allowing for up to 8 Wi-Fi compatible devices to connect to it. It'll cost extra though, unless you're already on a tethering plan.
HDMI: The LG Revolution will come equipped with an HDMI out so owners can hook the device up to the television and enjoy content with ease.
Netflix: The LG Revolution is rumored to be the first Android phone to ship with full Netflix support.
LG Revolution Pricing
Like the release date, pricing of the LG Revolution is unknown although speculation points to it having a $249 price tag when it hits shelves. That would fall in line with how Verizon has priced its other 4G LTE devices so far.
LG Revolution Hands-On, Review Videos
Video of LG's Revolution announcement back at CES from our own Chuong Ngyuen.
—

Lengthy hands-on video from the folks over at PhoneScoop. This video gives you a good look at the browser, the camera interface and a brief tour of the device's form factor.
—

An HD, in-depth run through from CellPhone Trek that touches on everything from the hardware to Skype to the on board NFL application.
—

This video from iGear360 is for those who care about hardware as this is a fantastic, up close look at the LG Revolution's form factor.
LG Revolution Specs
| | |
| --- | --- |
| Networks: | CDMA 800 and 1900, LTE 700 |
| Operating system: | Android 2.2 |
| Display: | 4.3-inch TFT screen (480 x 800) |
| Camera: | 5MP rear camera, LED flash, exposure control, 1.3 MP front facing camera |
| Memory: | Unknown |
| WLAN: | 802.11b, 802.11g, 802.11n Wi-Fi |
| Bluetooth: | Bluetooth 2.1 |
| GPS: | GPS, A-GPS |
| Battery: | 1500 mAh LiIon battery |
| Special features: | DLNA support, HDMI out, 4G Mobile Hotspot |
| Chipset: | 1 GHz Snapdragon processor |
LG Revolution Photo Gallery

As an Amazon Associate I earn from qualifying purchases.