LG Revolution Starts Arriving in Stores (Photo)
Dummy units and promo materials for Verizon's next 4G LTE smartphone, the LG Revolution, have started arriving in stores ahead of a rumored launch date on May 26th.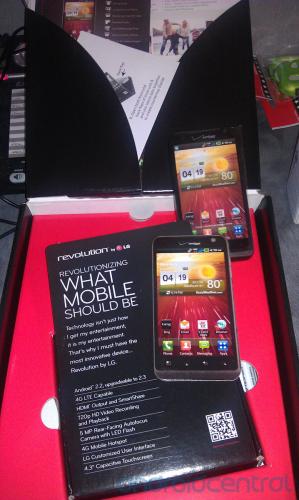 The LG Revolution will be the third 4G LTE smartphone that Verizon puts on the market after the releases of the HTC ThunderBolt back in March and the recent release of the Samsung Droid Charge. While Big Red has yet to give an official release date to the Revolution, it has become apparent that it might launch alongside the Sony Ericsson Xperia Play and the Motorola Droid X2 on the 26th.
And now units and materials have started to arrive in stores, it looks like that date is becoming a real possibility. As for the pricing, there is speculation that it will cost the same as the HTC ThunderBolt meaning it will have a $249 price tag at Verizon on a new two year contract. That would make it $50 cheaper than the Samsung Droid Charge which currently sits at $300 at the carrier's store.
For those that are having trouble recalling the LG Revolution, let's brush up a little bit. It's going to be coming with a  4.3 inch TFT display with 480×800 resolution, same screen as the HTC ThunderBolt and it's going to be coming with a single-core, second-generation 1GHz Snapdragon processor. Sorry, no dual-core here folks.
The LG Revolution has also been rumored to be the first phone coming stock with Netflix support, although that remains to be seen.  It"s also going to be powered by Android 2.2 Froyo out of the box but will of course, likely see an upgrade to Gingerbread at some point in the future.
Anyone going to be picking up Verizon's third 4G LTE phone? Or will you be waiting for the Motorola Droid Bionic?
Via: Android Central