LG Star Dual-Core Android Smartphone Launching as Optimus 2X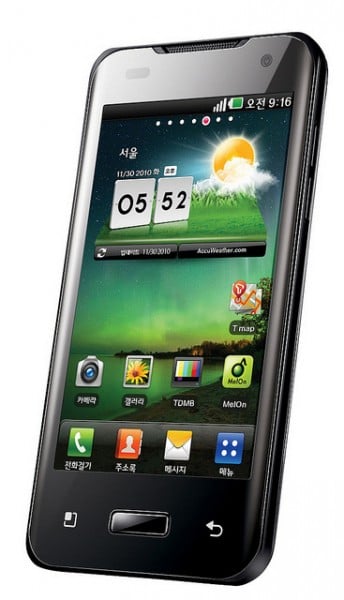 The venerably leaked LG Star Android smartphone that was shown running on a dual-core ARM Cortex A9-based NVIDIA Tegra 2 processor has been confirmed by its maker LG as the LG Optimus 2X, a nomenclature that hints at the chipset that ships inside the device.
The powerful Android smartphone is capable of encoding and decoding 1080p HD video, a boost from current smartphones that can capture HD videos at a maximum of 720p. The LG Optimus 2X also features an 8-megapixel camera and an advanced 3D engine for gaming.
The device sports a 4-inch WVGA 480 X 800 display, which is of similar size and resolution to rival Samsung's Galaxy S smartphones; however, the Galaxy S has a Super AMOLED display technology. The phone also has a front-facing 1.3-megapixel camera for video chat, along with gyroscope, DLNA technology for media sharing and streaming, and a large 1,500 mAh battery.
The LG Optimus 2X will ship with Android 2.2 Froyo, but will be upgradeable to Android 2.3 Gingerbread at a later date. It will be available initially in January through SK Telecom, with Europe and broader Asia availability to follow. It's unclear if the LG Optimus 2X will make it Stateside, but with a strong feature set and performance, LG can potentially capture market share with this device.
The phone also has approximately 8 GB of built-in storage, with the ability to augment storage with another 32 GB via a micro SDHC card to a total of 40 GB.
When released, the LG Optimus 2X will face competition from the Motorola Olympus.
Via: Electronista

As an Amazon Associate I earn from qualifying purchases.