LG V40 Release Date, News, Specs & Price
With the exciting new LG V40 now official and the release date just a few days away, potential buyers are looking for more details. In this post, we'll go over everything you need to know about the LG V40. From the specs, features, release date, price, then compare it to some of the competition.
After months of leaks and rumors, LG just confirmed the LG V40 with a huge 6.4-inch OLED display, five cameras, fast performance and premium sound. Building on the success of the V30 with improvements across the board. Now that we have official information, the release date and pricing, here's why it's worth the wait.
LG V40 Release Date: October 3rd pre-order and October 18th release date (US)
What is the LG V40?: LG's premium high-end phone built for power users. Delivering powerful audio, a huge screen and five cameras.
What to expect?: A big edge-to-edge display, familiar design like the V30, five cameras and all-day battery life
LG V40 Price: Starting at $900
Now that you know a few of the basics and we've answered some important questions, read on for more details and where you can buy one come October 18th.
LG V40 Release Date
After countless leaks and rumors suggested a super-late November release date, we're happy to confirm LG will deliver this phone to fans faster than ever before.
The LG V40 release date in the United States is October 18th or 19th depending on your carrier. The phone goes up for pre-order in select regions starting October 3rd, with carriers like Verizon offering it in just over a week.
Basically, the in-store release date is October 19th, but those who pre-order the phone online will get it delivered to their home starting October 18th in the United States. This is faster than we expected, faster than the V30, and one of the fastest product launches we've ever seen from LG Mobile.
LG V40 Pre-Order Dates & Deals
As we said above, pre-orders begin starting October 3rd in Korea, then later this week in other regions around the globe or in the United States. And while that's not super important, the deal LG has to offer is important and worth considering.
Verizon Pre-Orders begin October 11th
T-Mobile Pre-Orders begin Friday, October 12th
Similar dates expected from AT&T, Sprint and US Cellular
If you pre-order the impressive new LG V40 from LG, carriers, or almost any other retail store LG is giving buyers some exciting incentives.
Free SanDisk Ultra 256GB MicroSD Card
Free DJI OSMO Mobile 2 Gimbal (perfect for shooting 4K video)
and auto-enrollment into the LG Second Year Warranty Promise Program
Basically, LG is offering freebies similar to Samsung giving out free micro-SD cards or Gear VR headsets.
LG V40 Design & Display
Here's where things get exciting. The LG V30 last year had a big edge-to-edge display, small bezels, and looked great. This year, we're getting more of the same, only it's even bigger.
The LG V40 comes with a new and improved OLED panel from LG that's 6.4-inches big. The same size as Samsung's Galaxy Note 9 and a hair smaller than the iPhone Xs Max. You do have a notch in the screen, but the bezels on the top and bottom are smaller than the Galaxy Note 9 and smaller than most other phones on the market. Plus, you can hide the notch with software customization.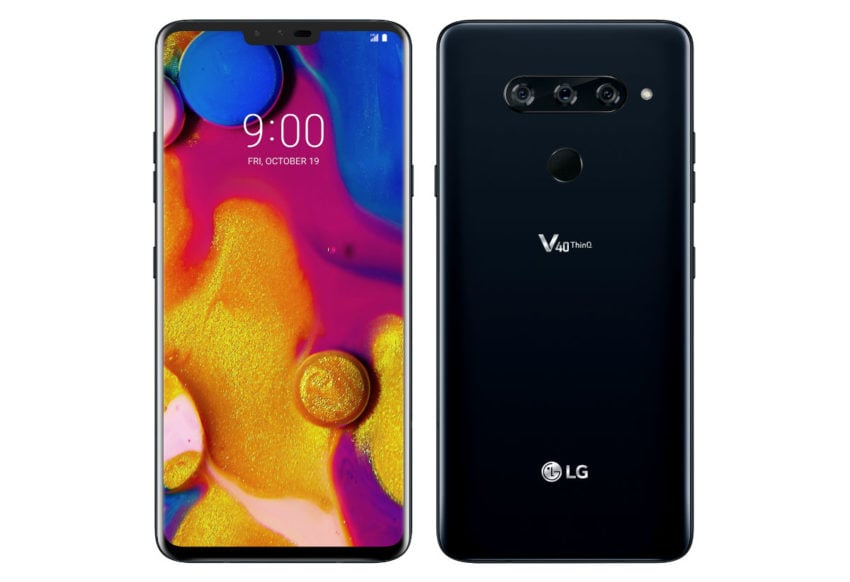 Screen aside, the LG V40 looks extremely similar to the LG V30 from 2017, and that's a good thing. The phone has a premium all-metal and glass design, rounded edges that make it easier to hold than the square Galaxy Note 9, and it's super thin.
On top of the huge screen and five cameras, LG continues to offer wireless charging, expandable storage, and an IP68 dust and water-resistant rating.
With a big 6.4-inch screen the LG V40 is bigger than any V-series before it, and will directly compete with the Galaxy Note 9, Pixel 3 XL, and a bigger Galaxy S10 coming in early 2019.
LG V40 Specs & Features
The V-series is LG's best and most expensive smartphone. Lately, the LG G phones are a great package with a few compromises, while the V is LG's "flagship" device. What that means is you can expect all the latest bells and whistles in the V40.
LG V40 Specs 
6.4-inch 3120 x 1440 Quad-HD OLED Display (532 PPI)
Snapdragon 845 Processor with 6 of RAM
64/128GB of storage with microSD expansion (only 64GB in the US)
Android 8.1 Oreo (Android Pie coming…. eventually)
Triple Cameras: 12MP main camera with OIS, 16MP wide-angle lens, and 12MP telephoto 2z optical zoom lens.
Dual Front-Facing 8 MP and 5MP wide-angle cameras
LG BoomBox bottom speaker
3,300 mAh battery with Quick Charge 3.0 and wireless charging
IP68 Dust & Water-resistance
USB Type-C, Google Assistant button
Quad-DAC, 32-bit sound, 3.5mm headphone jack, etc
Aurora Black, Moroccan Blue in the US
As expected, the LG V40 will be one powerful and capable smartphone. Delivering high-end specs across the board that can compete with anything available.
We do worry about battery life though. LG's has used the same 3,300 mAh battery in phones for years on end. All while screens get bigger and everything else is more powerful. And with a huge 6.4-inch Quad-HD OLED screen we expected something bigger. That said, initial reviews are quite positive on battery life and say it lasts just as long as competing devices with bigger batteries inside.
Seeing the Light with Five Cameras
Earlier this year Huawei released a phone with three cameras on the back. It's extremely impressive, and we're expecting others to follow suit. And of course, LG did that and then some. The LG V40 doesn't have three, or four, but five cameras total. For what it's worth, we're hearing something similar about Samsung's bigger Galaxy S10+ coming in 2019.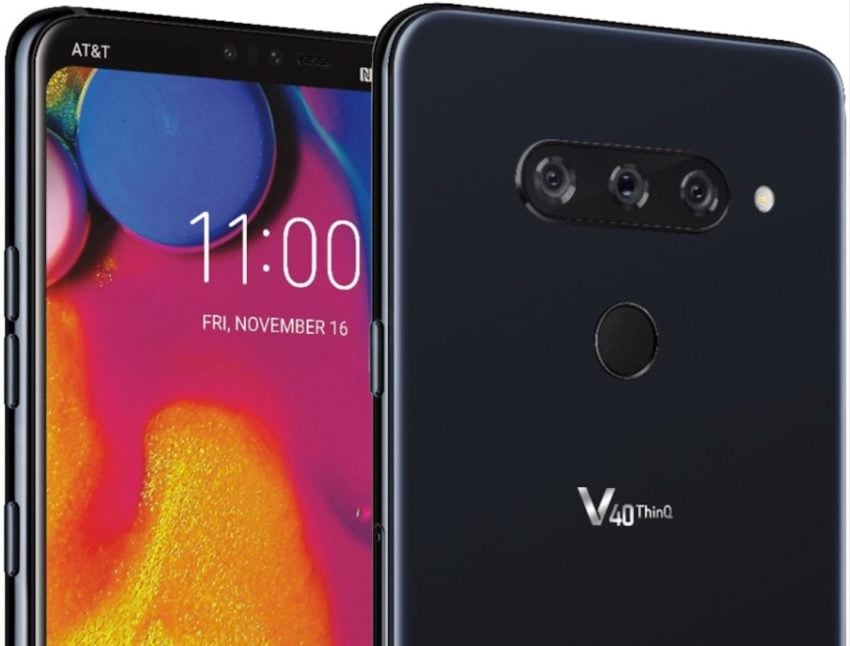 For years LG has offered dual cameras on its smartphones. One is a capable main camera, usually 16MP, while the second one is a super wide-angle lens for landscape photography and wide shots. When most other manufacturers like Apple and Samsung added a telephoto lens, they stuck to the wide-lens approach. The V30 had two 16MP cameras on the back.
In 2018 with the LG V40, the company packed five sensors inside. On the rear, you'll get a regular 12MP camera that's extremely capable. This has a fast f/1.5 aperture and OIS. Then, there's a 107 degrees wide-angle 16MP camera and a 12MP 2x optical zoom telephoto lens. They've combined the best of both worlds into one. Offering their own signature feature while stealing one from the competition at the same time.
Oh, and the Triple Shot feature stitches together the images captured with each of the three lenses into a short video file for easy sharing. That's neat.
LG V40 Price & Final Details
So, this all sounds great and the release date is earlier than we expected, but how much does one cost? Well, it's an expensive phone right up there with the Galaxy Note 9 and most other phones. It is slightly cheaper than the latest Samsung, but not by much.
Read: 5 Reasons to Wait for the V40 & 4 Reasons Not To
The LG V20 cost $830, the V30 was $800, and the newer V35 is $900. So, as expected, the all-new LG V40 costs $900 depending on where or how you buy it. In fact, each US carrier has a different price, which is frustrating. Here's the breakdown for potential buyers.
LG V40 US Carrier Pricing
US Cellular – $900
T-Mobile – $920 ($200 down and $30 a month for 24 months)
AT&T – $950
Sprint – $960
Verizon – $980 ($40.83 a month for 24 months on Verizon device payment)
That's an expensive phone but you're still saving around $100 off the $999 Galaxy Note 9. For what it's worth, this is only the 64GB model as that's the only option being sold in the United States.
When you factor in the huge screen, small bezels, five cameras, Quad-DAC and everything else, this price makes sense. It's more than some are likely willing to pay, but the phone does have plenty to offer. You might not get 128GB of storage or an S-Pen stylus, but the cameras and sound make up for those differences. LG has a strong following and offers features for niche markets, which makes this a great phone for millions of potential buyers. If you're wondering, here's our LG V40 vs Galaxy Note 9 comparison.
Are you planning on buying the LG V40 or are you holding out for no bezels with the OnePlus 6T or Galaxy S10 in 2019? Let us know in the comment section below.