Liquid Cooling Coming to Smartphones to Keep Pockets Cool
Liquid cooling is typically found on bigger rigs, like your car radiator and inside gaming PCs to keep those hot engines cool. Given the increasing power of mobile processors–which means that more heat would be generated–Japanese phone-maker NEC is looking to cool down the hot swelters with liquid cooling.
Liquid cooling will be coming to the Medias X06E, according to a report on Mashable. Though the phone is Japan-bound for NTT DoCoMo network, the technology could potentially expand to other markets.
We've heard of reports of phones spontaneously catching fire because of heat, or people getting burned and branded by the very handset that's supposed to help them look up information quickly and easily, so there may be a market or niche for this technology.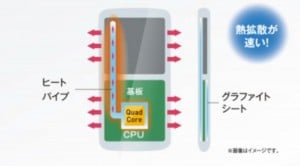 Unlike complicated liquid cooling systems on gaming PCs, the system employed by NEC is more simple. The device has a tube to conduct liquid behind the display and adjacent to the CPU to transfer heat away from the processor using repeated condensation and evaporation processes.
NEC still hasn't provided statistics on how much cooler the Medias X06E runs with this liquid cooling technique versus without. I do know that with multiple radios, 4G LTE, and a powerful quad-core Snapdragon 600 processor on my HTC One and Galaxy S4 in the U.S., both phones can run hot when they're taxed with heavy workloads, like continuous game playing, video streaming over a 4G LTE network, or heavy use with the display on.
Time will tell if liquid cooling will help keep your phones, and your pockets, cooler, or if it's another gimmick like 3D tech on a phone.

As an Amazon Associate I earn from qualifying purchases.