Lutron Aurora Review: The Hue Light Switch You Need in Your Life
The Lutron Aurora is a smart light switch for Phillips Hue lights that you've been waiting for. If you own Hue lights, you need the Aurora in your life. This handy little gadget snaps onto your light switch and turns it into a smart switch that can turn your Hue lights on and off as well as dim them.
This solves the biggest issue with Hue lights for most people. If you have Hue lights someone in your house has inevitably turned off the switch, which means no smart controls from your phone. Yes, you can put a switch blocker on, the switch, but that's not elegant and it doesn't add physical controls that guests and other people in your house need.
[letsreview]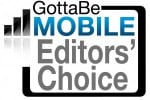 For the ease of use, smart controls and for solving a major problem with Hue lights the Lutron Aurora Smart Bulb Dimmer Switch earns a Gotta Be Mobile Editor's Choice award.
The Lutron Aurora Smart Dimmer looks and works just like a normal dimmer knob, so guests and family members that simply put up with your smart lights can easily use it.
You can buy a cheaper Hue dimmer switch, but that option only works when the light switch is turned on, and it doesn't look in place next to other lights. The familiar knob design matches perfectly in with traditional lever or paddle switches.
Installing the Lutron Aurora takes about a minute. The back clamps onto the light switch, locking it in the on position and then the knob snaps on. From there the Hue app connects it to your bridge and you can tell the app which room it controls.
I installed this in my basement, where I have 7 Hue lights and a Hue Light strip. The Aurora controls all of those lights, letting anyone quickly turn the lights on, off and dim them.
The system is powered by a small CR2032 battery that Lutron says will last around three years. When the battery is drained, you can replace it.
This switch is genius in its simplicity. I've installed Lutron smart switches in many rooms of my house because they allow anyone to control the lights while still offering voice control and app control. The downside to using smart switches is that you miss out on the Hue colors, which are perfect in a basement media room. With the Lutron Aurora Smart Dimmer, I get the best of both worlds.
Right now the Aurora only comes in white, but we should see other colors at some point. This worked out well since all my faceplates are already white, but you may need to replace your faceplate to match the color. Switching a faceplate takes seconds and doesn't require touching any wires.
The only other catch is that this only controls Hue lights. It is rated to control Zigbee 3.0 certified lights, but for now, Hue is the only real option.
The Lutron Aurora Smart Dimmer Switch is $39.99, which is expensive for a single switch. That said, it is an easy DIY install that works directly with Hue lights in a better manner than the Hue Dimmer. I'd love to see this at $29.99 and a two pack for $50, but even at the current price, it's worth it if you have a room full of Hue lights that you need to add physical controls to.

As an Amazon Associate I earn from qualifying purchases.