MadCatz GameSmart Will Make Controllers Work Across Multiple Devices
At CES 2013 MadCatz will unveil its first GameSmart devices, which will help bring universal controls to a number of different platforms.
The idea behind MadCatz GameSmart is to make it easier for the company's Bluetooth peripherals to work across devices. For example, a GameSmart Bluetooth controller will work across multiple devices and apps. Controllers currently only work with selected devices and specific apps.
MadCatz uses the Bluetooth Smart stack to make its GameSmart devices universal. By using Bluetooth Smart, devices will have simplified setups, longer battery life and universal compatibility. For developers GameStack offers a universal control scheme to implement in their games.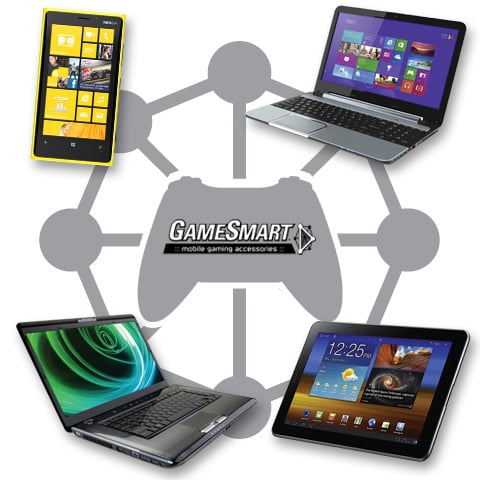 The first devices to use GameStack will debut next week at CES 2013. MadCatz won't say what devices it will announce first, but said that GameStack will eventually include game controllers, gaming mice, gaming keyboards, headsets and specialty controllers.
MadCats will release an app to add GameStack compatibility to devices. It's not clear which platforms the service will support, but based on the graphic for the service it appears Android, Windows 7, WIndows 8 and WIndows Phone 8 will all be supported. It doesn't appear that iOS is included in the initiative.
There are currently a number of Bluetooth controllers for smartphones and tablets, but no universal standard for them. Popular devices like the iCade and MOGA controllers support a large number of games and apps, but no one device works with every game. GameStack may help bring about that universal standard, or may just introduce another collection of controllers that only work with select games.
As some mobile games like Modern Combat 4 approach the complexity of console and PC games, controllers are necessary. Virtual buttons make controlling some games more difficult than their console counterparts. Though some games, like Angry Birds and Rayman Jungle Run, provide fun experiences while working within the limitation of touchscreens and other sensors in smartphones.

As an Amazon Associate I earn from qualifying purchases.