March Star Wars Battlefront Update: 5 Things to Know
EA and DICE are cooking up another free Star Wars Battlefront update for PS4, Xbox One and PC. The next upgrade will arrive next month and today we want to take a look at the most important things to know, right now, about the March Star Wars Battlefront update.
In January, EA and DICE finally laid out an update and DLC roadmap for Star Wars Battlefront. The announcement went into detail about upcoming DLC expansion packs and it also went into detail about two free updates that should improve the game.
The first free update arrived earlier this month. The February Star Wars Battlefront update delivers a mixture of bug fixes, enhancements and features to the Xbox One, PS4 and the PC.
The other free Star Wars Battlefront update in the pipeline is an update that's slated to arrive sometime next month.
Details are still pretty vague but this roundup will take a look at the most important things you need to know ahead of its release.
March Star Wars Battlefront Update Release Date
EA and DICE have confirmed a free Star Wars Battlefront update for the month of March but they haven't provided a specific date. This isn't unusual.
The companies didn't confirm the January update's release date until just before the release. They did the same with the February update. We wouldn't be surprised if the companies stuck to their guns with the March update.
We could see a leak but there's a good chance we'll heard about the March Star Wars Battlefront update's release date from EA and DICE themselves.
It's still early but you'll want to keep an eye on EA's Star Wars Twitter account, this page dedicated to game update's, and EA's Battlefront news feed.
Now that the February update is out, EA is telling gamers that it's now shifting focus to the March update and it's first DLC release, Outer Rim.
You Can Help Make the Update Better
Earlier this month, EA and DICE setup a new way for gamers to provide them with feedback for upcoming updates like the March release.
Instead of a free-for-all on the EA Technical Forums, the companies have put together a forum that provides Star Wars Battlefront users with a platform for specific feedback.
To help improve the content of the March update, you'll want to supply to the companies with feedback about balance issues, bugs, and more.
The March update is still a blank canvas (publicly, at least) so you'll want to offer suggestions in the weeks leading up to its release. EA and DICE implemented a number of user suggestions into the February update so they are just blowing smoke.
New Map Confirmed
The March Star Wars Battlefront update's final change log is still in the shadows but the companies have promised one big change.
The March update is set to deliver an "exciting new multiplayer map on Endor that will support Walker Assault, Supremacy, and Turning Point, and an additional Tatooine Survival map."
This will add much-needed depth to these popular modes.
Bug Fixes for Battlefront Problems
The February Star Wars Battlefront update delivered a number of fixes for problems on the Xbox One, PS4 and PC.
It wiped out some of the biggest complaints about the A-Wing, balanced several guns, and delivered a fix for the Playing the Objective trophy on Blast. There's still work to be done though.
EA has trimmed the list of issues it's investigating. Engineers are investigating the PS4 White Pixel issue and users are hopeful that a fix emerges next month though nothing is confirmed. It's also looking at:
PC static sound or missing sounds completely
Misc connectivity issues
Reticle for Ion Torpedo and Homing Shot not properly appearing
Partner pairing and un-pairing mid match
There's a chance the March update will bring fixes for those issues and more. This is why you'll want to report bugs on the Technical Forums in the weeks leading up to the final release.
Outer Rim DLC
The free March update won't be the only update that arrives for Star Wars Battlefront next month.
In January, EA and DICE confirmed plans to release the first paid Star Wars Battlefront DLC in March. That expansion will be called Outer Rim and it will take gamers to the factories of Sullust and Jabba the Hutt's palace on Tatooine.
The Outer Rim DLC release date will land in March but the exact date remains a mystery. What we do know is that those who have the Season Pass will get access to the new content two weeks before everyone else.
If you haven't picked up the Season Pass yet, you'll want to keep an eye out for deals as we push closer to the release.
Star Wars February Battlefront Update: What's New
February Star Wars Battlefront Update Size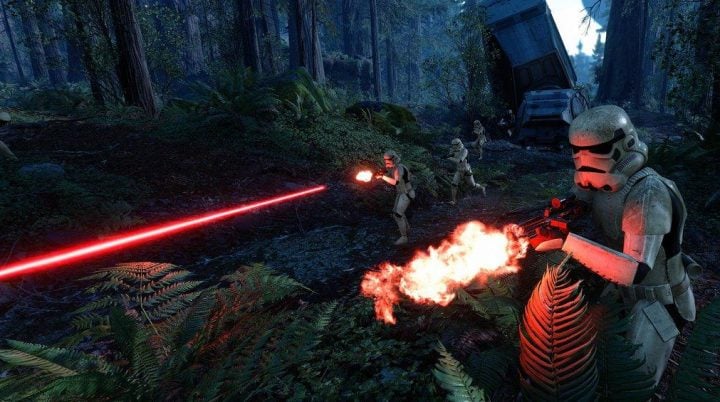 Let's start out with some basics.
Now that the update is rolling out, we know what you can expect from the February Star Wars Battlefront update's size. As expected, this is a gargantuan update for the PC and console and it requires a hefty amount of hard drive space.
On the PC, you can expect the new update is 4.5GB in size. On the PlayStation 4, it's 4.4GB. The Xbox One update is a similar size. This is absolutely huge for a point update but it was expected given the changes on board.
With all of that in mind, we recommend doing some hard drive clean up right now if you think you're going to be cutting it close.
If you're using a slow connection or an unreliable wireless connection, now would also be a great time to figure out a way to plug your ethernet cable into your system. This could help speed up the download and installation process.
You might also consider flipping on Instant On (Xbox One) and automatic updates if you're fine with the update installing without your supervision.

This article may contain affiliate links. Click here for more details.