MLB The Show 16 Problems: 5 Things to Know
The MLB The Show 16 release date is here and gamers are already running into a small selection of MLB The Show 16 problems that hampered the release. Some of these are already under control with fixes from developers rolling out overnight. Here is what you need to know about MLB The Show 16 problems and where to look for fixes.
Every time we see a new game go to the release stage with millions of gamers playing, there are bound to be some new problems appear. These are often connected to online play, but we are seeing more and more game problems and bugs linked to redeeming packs and bonus items.
This is a quick look at the MLB The Show 16 problems that you need to know about, where to look for help and what to do if you run into these issues and bugs.
MLB 16 The Show Problems
Alright guys, sorry for the less than smooth launch night. We fixed as much as we could tonight. We'll start again in the am and…..

— Ramone Russell (@Ramone_Russell) March 29, 2016
There are already a collection of MLB The Show 16 problems frustrating gamers. This started with packs and continues with a collection of other issues. If you run into any of the MLB The Show 16 problems or bugs listed below you are not alone.
The team working on the game is aware of some of these issues and they are working to fix them. Keep reading for two ways to open pack vouchers that were initially missing.
How to Redeem Missing MLB 16 the Show Packs
There are two ways that you can redeem your missing MLB 16 The Show packs that came with your orders. The good news is that these are connected to your PSN name and they are not lost, there was an issue with redeeming them.
At roughly 5 AM Eastern Ramone Russell, Community Manager and Game Designer for MLB The Show, shared the following updates.
..everyone will get all their pre-order/bonus packs/items it's attached to your PSN name we can see all the content just need to fix it now.

— Ramone Russell (@Ramone_Russell) March 29, 2016
Pack vouchers should now be redeemable in game. My Locker > Show Shop > Open Packs' to acquire your items.

— Ramone Russell (@Ramone_Russell) March 29, 2016
If you cannot find them in the game, you can go to the website to try to redeem these packs. If you go to The Show Nation Shop and login with your PSN ID and then click on Stubs then the blue redeem button you should be able to collect your packs.
In the game, you should find them under Inventory -> Open Packs -> which is where the different items you redeemed should be.
Missing MLB The Show 16 Pre-order Codes
If you don't have the pre-order codes that you should get with your purchase then you will need to contact the place you ordered from.
In many cases this is an issue with Best Buy. We see this with many game codes at Best Buy. Your local store cannot likely help you with this.
In the past we had good luck using the Best Buy Support Forums and asking Mike-BBY for help. Do not post it publicly, but if you send a message you will need to provide an order number and email for your account.
How to Report MLB The Show 16 Problems
There is a section of the developer website set up to allow you to report MLB The Show 16 problems. You can also see the current problems that other users are having, and add your consensus to the issue to bring more attention to it.
Go to the Bug Reports section of The Show Nation to see the current bugs and report a new MLB The Show 16 problem.
Where to Find Help
There are three places to look for help with MLB The Show 16 problems and bugs. You may not find all your answers, but this will help you get started on a fix, even if it is a temporary one.
Follow Ramone Russell on Twitter for updates on issues and bugs. You can share problems with him, but use the bug report method above. Be civil if asking for help with a problem. We've already seen him Tweet a workaround for missing packs.
Talk to users in The Show Nation Community Forums. This is where you can ask for help with your issues and see what other users are experiencing. There is already a discussion about freezing games that count as losses, which you may want to read.
Finally, use the MLB The Show subreddit to learn about issues and bugs that other users are experiencing and how the community is working around limitations until the next patch arrives.
MLB The Show 16 vs MLB The Show 15: What's New
MLB The Show 16 Gameplay Improvements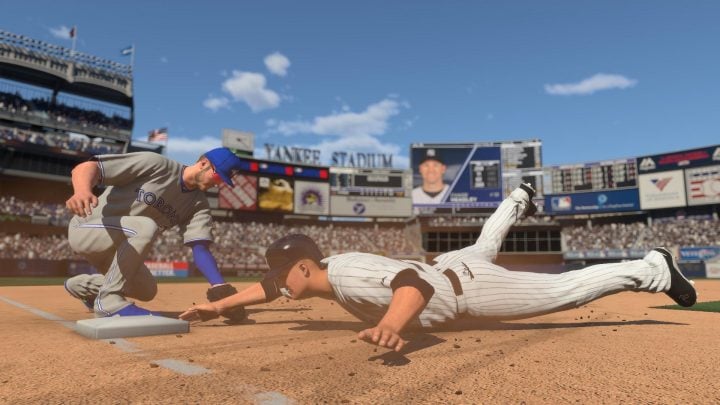 At the core of this baseball experience is the actual gameplay. GameStop outlines 40 new MLB The Show 16 gameplay changes in the four-minute video below.
If you want to quickly see where the biggest changes are in the real gameplay from MLB The Show 15 to MLB The Show 16, watch this video. This will explain how the many changes to gameplay impact you, which will also flow into the new game modes.
Some of the most interesting new MLB The Show 16 gameplay features include;

Outfielders routes vary based on the direction, height and speed of the hit. This results in more over the head catches and more opportunities for extra base hits.
Out of Position Logic and Animation - When you play someone out of position their fielding skills take a 5% hit for fielding.
New Presentation animations for home runs, on base animations and player - team specific post game animations.
50 new "No Doubt" home run swings.
Over 400 new fielding, catching, double play, relay throws, force out and other animations.
Four new swing types
Three new running animations tied to athleticism.
Improved Pitcher vs Runner gameplay with two pickoff options. Quick Pick and Deceptive Pickoff.
New bunt logic and more bunt types to separate the best and the worst.
Revamped umpires with a bias type and accuracy type to deliver 12 different umps.
Precision input with better input from skilled players for pitching and hitting. If you are inaccurate, the issues will be bigger than ever.

The video rounds out with a collection of changes to help explain how this is a new game from MLB The Show 15.