Monitoring Election Coverage Using Social Media
One of the benefits of blogging for a site like GBM is that we get to test out equipment. So, occasionally I have multiple devices that I'm evaluating at my disposal. That is coming in handy today. You see in addition to being a gadget junkie, I'm also a politics and news junkie as well. I have a keen interest in the US election for president happening today and I'm using various social media tools as well as a Slingbox to monitor what is happening as the election moves through the day.
I'm monitoring these on two devices. On the HP2730p Elitebook Tablet PC I'm got windows up for GTalk and Friendfeed's real time feed. GTalk is pulling in from my Twitter feed. On the iMac on one screen I've got Twhirl running which is pulling in from my Twitter feed and Identi.ca feed, as well as Twitter's Election 2008 feed which scrolls by constantly. I've also got a Slingbox window open to keep an eye on what's happening on the TV.  
On another screen for the Mac I'm actually getting some real work done for the theatre with all of this humming along in the background, and I'm using the Lenovo ThinkPad X200 Tablet PC to write this blog post.  
So, as I sit here feeding multiple addictions, I hope that I'll actually get some real work done.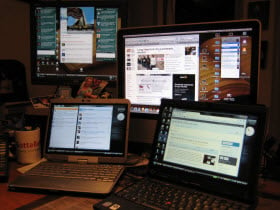 As an Amazon Associate I earn from qualifying purchases.