Monochromatic Android 4.4 KitKat UI Teased As Apple Plays With Color?
A screenshot posted by Google on its Play Store for a Korean language keyboard for Android reveals what appears to be footprints for new design changes in the upcoming Android 4.4 KitKat operating system. Though Google has officially announced KitKat as the name for the Android 4.4 revision, it so far has not outlined any new features that the OS will bring. Now, we're seeing that Google may be playing around with some of the design aspects.
Gone from the current vanilla, pure Google version of the Android OS are blue highlights that indicate wireless signal strength. Instead, we're met with a more monochromatic look that has grey accents on a dark background instead.

This comes just as Apple had released its iOS 7 operating system for consumer download earlier this week and its latest iPhone 5s and iPhone 5c models that became available today are coming out with a more colorful iOS software with bright, lively colors throughout the OS. Apple had switched to a flatter, minimalist design for the icons in iOS 7 rather than the skeuomorphism design that was employed in the past.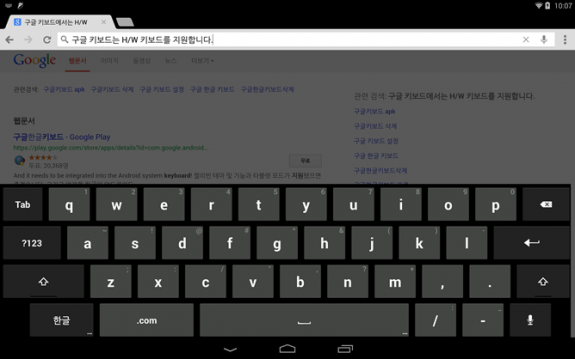 It's unclear what other changes Google has made to the aesthetics of the KitKat operating system at this time, and the screenshot of the Android navigation bar at the top discovered by Android Police on Google Play may serve as an early indicator that Google may be looking at more changes.
KitKat may be showcased in greater detail when Google announces its Nexus 5 smartphone, which is rumored to debut in October. The company has sold out of inventories of its Nexus 4 phone currently and the Nexus 5 has been frequently leaked in recent weeks.