Mophie iPhone 6 Case Release Details
The Mophie iPhone 6 case release is in the works, but a source tells us you won't be able to buy one in time for the holidays, but you won't need to wait much longer than that.
A Mophie iPhone 6 case is in the works with a built-in battery that will help the iPhone 6 last longer during heavy use. Mophie is the most recognizable name in iPhone battery cases and there is a lot of interest in the Mophie iPhone 6 case release.
So far Mophie allows users to sign up for information on new products, but the company is quiet on any official plans. A source shared an important detail about the Mophie iPhone 6 case to Gotta Be Mobile about when you can buy the Mophie iPhone 6 battery case.
The iPhone 6 Mophie battery case release is currently planned for Q1 2015 according to a source who recently learned of Mophie's plans. This lines up with the length of time between the iPhone 5 announcement and the Mophie iPhone 5 case release.
Unless Mophie is able to change plans there is little chance of a Mophie iPhone 6 case release this year, and we may not even see it make an official appearance at CES in early January. In early 2013 we shared details about the new Mophie iPhone battery case and it looks the iPhone 6 case will follow the same basic plan.
Read: Get Better iPhone 6 Battery Life
The last time Apple introduced a new iPhone design the new Mophie iPhone case arrived roughly five months later in Q1 2013. The Mophie iPhone 6 case release is planned for a similar time frame, which means we could see the announcement come in February 2015.
It's very likely that the Mophie iPhone 6 case release will come before the end of February 2015 in limited colors and sizes. Mophie needs time to find the right fit and style for the new iPhone 6 design. You can expect to see other Mophie iPhone 6 cases arrive after the initial launch with bigger batteries and possibly with a Micro SD card like the Mophie Space Pack.
Mophie does not need to spend the same amount of time figuring out the lightning connector that held up many iPhone battery cases after Apple announced it, but there are important details about the thickness of the iPhone 6, speaker grill and headphone extender that need worked out.
These cases include a Micro USB port on the outside that allows users to charge the iPhone and the battery case at the same time. The battery size on current cases range from 1,500 mAh to 2,100 mAh which can add 50 to 120% more battery life to the iPhone 5 or iPhone 5s.
Although our source did not share any specific iPhone 6 Mophie battery case details regarding the size of the battery or thickness of the case you can count on similar battery configurations. It's possible that the new iPhone 6 Mophie cases may be thinner thanks to the larger screen and size of the iPhone 6.
We don't have any information about Mophie iPhone 6 Plus cases. Mophie currently makes a Galaxy S5 case that fits on a device with a screen larger than 5-inches, but there is nothing for the Galaxy Note 3. The upside is the Mophie iPhone 6 page also mentions the iPhone 6 Plus. Currently the only options are external iPhone 6 batteries, without a case.
There are already some iPhone 6 battery cases on the market, like those shown below, but many users will wait for the iPhone 6 Mophie case release.
6 Great iPhone 6 Battery Cases
i-Blason External Battery Case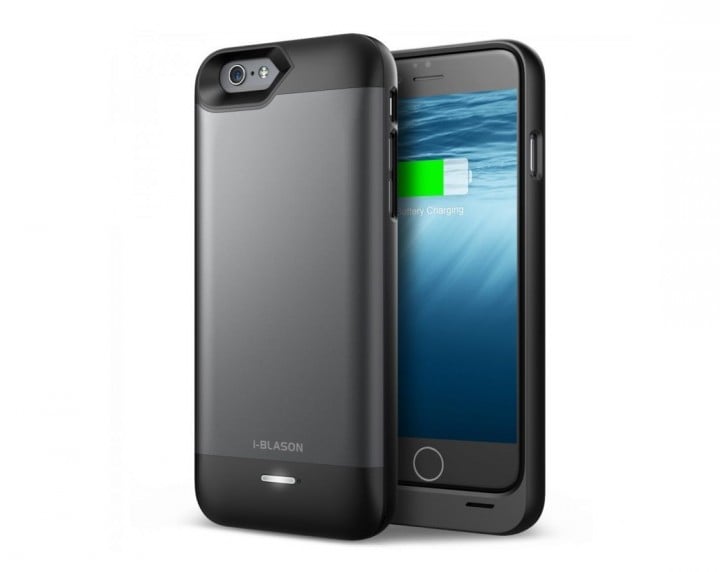 Only a few popular brands have a battery case for the iPhone 6 at the moment, and the first one you should look at is the i-Blason Unity Power Battery Case. This ultra-sleek and flexible case will add valuable protection, and 3,200 mAh of battery life to your new iPhone 6. It features a soft inner case, and a hard polycarbonate shell on the outer front and back for durability, yet remains somewhat thin given the massive increase in battery life.
3,200 mAh should give users a good 3 days of usage out of their smartphone. It won't ship until a little later this month and is priced quite high at $79.99, but is certainly for it for those in need.
i-Blason iPhone 6 Battery Case - Order for $79.99