Mophie Juice Pack H2Pro Review: iPhone 6s Plus Waterproof Battery Case
The Mophie Juice Pack H2Pro is a waterproof iPhone 6s Plus battery case that also works great with the iPhone 6 Plus. If you need to greatly increase your iPhone 6s Plus battery life and you want a case that can handle summer vacation, the pool or your clumsy hands, this is an option you cannot pass up.
You've likely seen Mophie cases for the iPhone before, but this is a newer option that adds in water protection and the ability to stand up to drops as well. If you know you will be away from power for a long time and you will be near water this is an excellent option. It goes well with waterproof Bluetooth speakers.
Mophie sells the Juice Pack H2Pro for iPhone 6s Plus and iPhone 6 Plus for $129.99 and it is only available in black.
Unlike a traditional Mophie case the Mophie Juice Pack H2Pro wraps your iPhone 6s Plus in an IP68 rated shell that also exceeds military standards for drop, dust and vibration.
This iPhone 6s Plus case does add a decent amount of bulk to your iPhone, but that's to be expected for something that delivers 70% extra battery life and protects against water and drops.
We could still use the iPhone 6s Plus inside the Mophie Juice Pack H2Pro case without any issues and the screen protector did not hinder our use of 3D Touch. The total package is larger but it still fit in our pocket and we could hold it easily enough. You may want to upgrade to two handed use for most tasks.
Specifically this makes your iPhone 6s Plus waterproof to 1.2 meters for 30 minutes. You can take this into the shallow end of the pool and you can use it for some photos in the lake or ocean, but you do not want to go too deep with it or keep it underwater for too long. The main idea with cases like this is that you are safe for short periods of time or accidental exposure.
In addition to the waterproof capabilities the Mophie Juice Pack H2Pro for iPhone 6 Plus and iPhone 6s Plus is rated to keep your iPhone safe from drops of 1.2 meters.
We tested the Waterproof iPhone 6s Plus case out in a hot tub and a drop from the edge of the tub to the deck and the iPhone performed perfectly after both tests.
While most waterproof iPhone cases leave you with only protection, there is a 2,950mAh battery inside this case as well. That delivers basically a 70% battery boost to the iPhone 6s Plus.
With this case we could use the iPhone 6s Plus for basically a full weekend without running out of juice. The iPhone 6s Plus already lasts a full day without much trouble with a few calls, a lot of various app usage and plenty of web browsing.
The great part about a case like this is that you could go on a weekend camping trip and likely have enough power to go from Friday night to Sunday evening with only a little bit of change in how you use the phone.
There is a small seal over the Micro USB charger that you need to keep closed. The headphone jack is covered with a small plug as well. Mophie includes a headphone adapter so you can listen to music while the phone is exposed to water. The speakers work well even when completely sealed thanks to small forward facing openings.
A screen protector covers the front of the phone and there is also a second protector included that you can install before putting your iPhone 6s Plus into the case. Touch ID works with the case installed. If you have any issues, re-train the iPhone with the case on and it will work better.
Power and volume buttons work great and there is a small switch for the vibrate switch that works good. Make sure you line up the switch with the switch on the iPhone when installing. Small buttons on the back let you see how much power is left and turn the charging on and off.
The Mophie Juice Pack H2Pro is a great iPhone 6s Plus case for anyone that needs to protect the iPhone from water and drops while hiking, on vacation or working outdoors. You can buy it at Mophie and there is an optional belt clip available.
11 Best iPhone 6s Plus Cases
Tech21 Evo Elite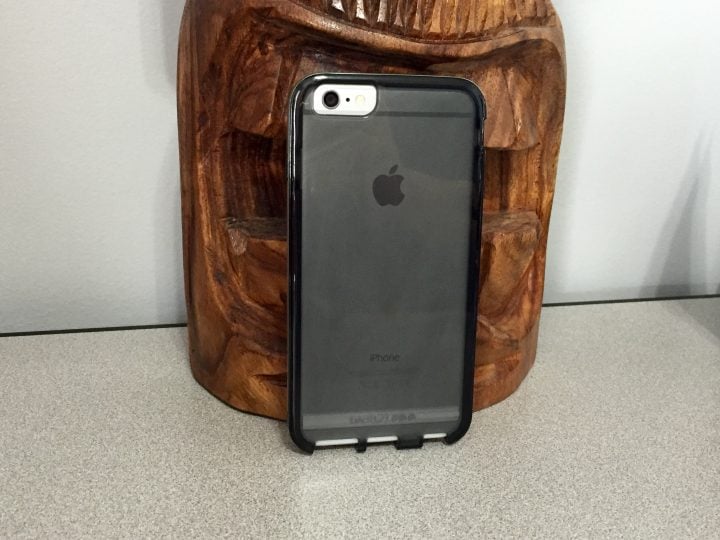 After using the Tech21 Evo Elite iPhone 6s Plus case for a month it is one of our favorites due to the nice style and the thin design. Add in the fact that the FlexShock material on the edges is capable of delivering more protection than you'd expect from a slim case and it's a clear winner.
A slim and light case is even more important with the larger iPhone 6s Plus, and Tech21 delivers on all counts with a great iPhone 6s Plus case option.
$49.95 at Apple

As an Amazon Associate I earn from qualifying purchases.