Most Exciting Tech & Gadgets of 2020
The most exciting tech of 2020 is making waves at CES 2020 where companies are showing off the latest and greatest phones, laptops, tablets, smart home gadgets, accessories, and TVs.
We've been scouring the halls of CES 2020 to find the coolest tech of the year, including some that are on sale right now and more that are coming very soon.
We'll be updating this page with more items as we see more of CES 2020.
2020 Vizio M Series
The 2020 Vizio M Series TVs feature a new IQ processor for better image quality, a ProGaming Engine that delivers better motion clarity, and a new Auto Game Mode that switches to the best gaming performance when you start a game on PS4 or Xbox One and then switches back to the best mode for watching when you want to kick back and watch a movie or TV show.
The M series offers a ton of value and is consistently one of the best values for new TV buyers.
Vizio OLED TV
In addition to these updates, Vizio's also confirmed its first TV with an OLED panel.
The company's OLED-powered TV is available in two sizes, 55-inches and 65-inches, and comes with the perks you'd expect from a flagship OLED television: vibrant colors and true blacks.
These TVs will also get VRR (Variable Refresh Rate) and 4K at 120Hz making it the ideal choice for those who want outstanding performance.
Lenovo ThinkPad X1 Fold
The future is here and you can now buy a folding laptop with a 13.3-inch display.
The Lenovo ThinkPad X1 Fold closes to the size of a hardback book, and unfolds to a super portable laptop, or all the way to a 13.3-inch tablet that stands up with the built-in kickstand. The included keyboard and you can connect it to an external display in your office.
Arlo Pro 3 Floodlight
The Arlo Pro 3 Floodlight is the first wire-free floodlight camera on the market. It's especially exciting for people who aren't replacing a traditional floodlight.
The LED panel offers a bright floodlight and you get a camera that can record in 2K with HDR. There's color night vision, 160-degree field of view and you also get a siren as well as two-way audio.
There's also a rechargeable battery so you can easily keep your floodlight charged up.
Speck Presidio2
The new Presidio2 Armor Cloud Technology iPhone cases use air capsules throughout the edge of the case to flex and suspend the phone when you drop it, keeping the phone safe. Even with a slim design, it's rated for 13 feet of drop protection.
Lenovo Smart Frame
The Lenovo Smart Frame is an amazing new smart picture frame that can show your photos or artwork. You can also switch through the photos with gestures.
The frame is beautiful, works in landscape or portrait and uses a handy mounting system. It's only $399, which is an impressive price point.
Jabra Elite 75t Active
The Jabra Elite 75t Active is a smaller, longer-lasting true wireless earbud that replaces the Elite 65t Active with a new design.
These are rated IP57 waterproof and they come with a two-year warranty that includes water protection. You can also block the noise out or turn on HearThrough to hear what is going on around you.
They're coming February 2020 for $199.
TCL Mini LED TV
TCL showed off the Vidrian Mini-LED TVs at CES 2020 with thousands of LEDs in a clear glass that uses advanced backlighting to deliver the more immersive viewing experiences.
This setup should deliver an impressive contrast and brightness. TCL also promises accurate colors and profiles for movie watching and fast-responsive modes for gamers.
Samsung Galaxy Chromebook
The Chromebook announcements keep coming at CES 2020 and Samsung's joined the party with an all-new Galaxy Chromebook.
The Samsung Galaxy Chromebook, which arrives sometime in the first quarter of 2020, comes with everything you'd expect from a high-end laptop in 2020.
The device features a beautiful 13.3-inch 4K AMOLED display that rotates 360 degrees, Intel's 10th Gen Core-i5 Processor, expandable storage, a fingerprint sensor, S Pen stylus, and two USB-C ports.
It's not cheap, it starts at $999, but you'll certainly want to keep tabs on it if you'll be in the market for a new laptop in early 2020.
Lenovo IdeaPad Duet Chromebook
Lenovo's also debuted a Chromebook of its own and the IdeaPad Duet is also worth a look if you're thinking about ditching MacOS or Windows for Chrome OS.
The IdeaPad Duet Chromebook features a detachable 10.1-inch display (with a keyboard base in the box, we might add),  a USB-C port, MediaTek Helio P60T processor, 7,180 mAh battery, and plenty of RAM and internal storage.
Perhaps the most appealing aspect of this device is the price point. Lenovo's new Chromebook starts at just $279, much cheaper than many of its rivals.
It launches in May.
Mophie Powerstation Go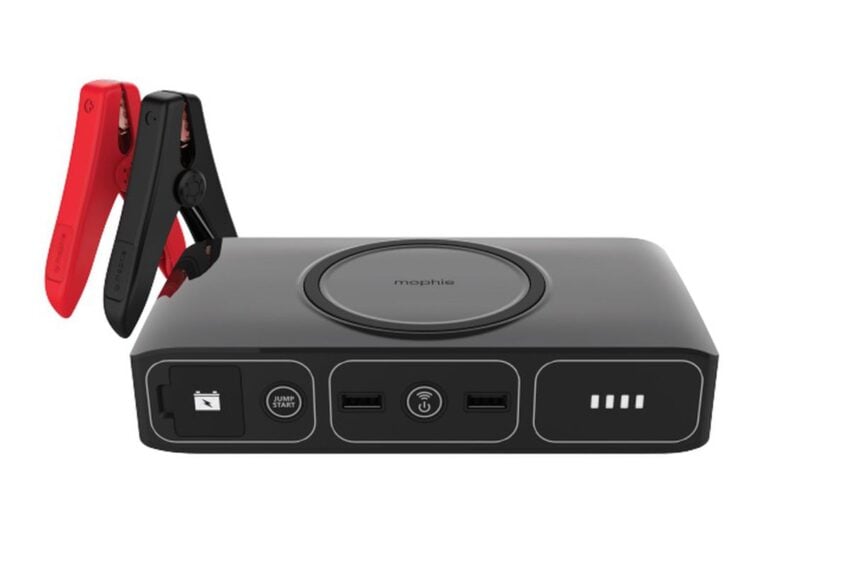 Mophie's revealed a brand new powerbank at CES 2020. Dubbed Powerstation Go, it can charge your gadgets and it can also serve as a portable jump starter for an SUV or full-sized car.
The Powerstation Go provides a whopping 44,000mWh of power and includes mini jumper cables that will come in handy if your car requires a jump.
In addition, it comes with a built-in flashlight, a wireless charging surface for Qi-based devices like iPhones, AirPods and other gadgets, dual 2.4A USB-A ports, and a a 115V AC output port.
The new powerbank comes in several colors including black, blue, blue/purple, gold, rose gold, and camo and retails for $160.
You can buy the Powerstation Go through ZAGG's website starting on January 9th.
Brydge Pro+ Keyboard with TrackPad
Brydge has announced a long-awaited update to its popular Brydge Pro keyboard for iPad Pro.
The Brydge Pro is one of our favorite iPad Pro accessories, so we're extremely excited about its upcoming successor (dubbed Brydge Pro+).
The new Brydge Pro+ delivers the same impressive build quality, Bluetooth connectivity, zero to 180 degree viewing angle, and backlit keys, but you also get some upgrades including a new multi-touch trackpad that works in conjunction with iPadOS 13's Assistive Touch features.
Bridge Pro+ will launch for the 11-inch and 12.9-inch iPad Pro and comes in Space Gray. As for the price, the Brydge Pro+ retails for $199.99 for the 11-inch model and $229.99 for the larger 12.9-inch iPad Pro.
Otterbox Anti-microbial Screen Protector
Otterbox has announced a brand new screen protector, with a twist, at CES 2020.
The company's new screen protector will help prevent scratches and it will also (here's the twist) help prevent the spread of germs. It's the first iPhone screen protector with integrated antimicrobial technology registered at the EPA.
We don't have a release date or pricing yet, but the company says it will arrive "soon."

As an Amazon Associate I earn from qualifying purchases.