33 Exciting New iPadOS 13 Features
This is a look at the new iPadOS 13 features coming to your iPad today. Apple split off iPadOS from iOS 13 so that they can deliver a more focused set of tablet features that allows you to do more on your iPad.
So far this looks like a good step into delivering features that make sense on a tablet, but not as much on an iPhone and hopefully this change will bring about better overall productivity support for people looking to replace their Mac with an iPad. Time will tell if Apple moves the needle enough, but it is a good start.
iPadOS 13 arrives alongside iOS 13 a free update. One of the biggest features is using the iPad as a display for the Mac, but you'll need to wait another week for macOS Catalina to arrive before you can use that feature.
Now that you know the key details, here's a look at the new iPadOS features that are coming to your iPad this fall.
Safari Upgrades – Desktop versions of webpages and a Download Manager.
Dark Mode – The same Dark Mode from iOS is here for iPad OS with a cool look and loads of app support.
Photos Upgrades – See your best photos faster with new smart features that highlight your best shots and memories.
Video Editing – You can edit videos with almost all the same tools as the Photo Editor.
Use Your iPad With Your Mac – With Sidecar you can now use your iPad as a remote display and you can use your Apple Pencil on some Mac apps.
Slide Over Upgrades – You can now keep multiple apps in Slide Over.
One App Open Twice – You can open an app on both sides of Split view to use the same app or keep an app open in multiple workspaces.
New iPad Home Screen – See more apps at once and pin widgets.
Full Page Screenshot and Markup – Capture a full webpage as. PDF and mark it up with the Apple Pencil.
Mouse Support – You can use a mouse with accessibility settings. It's not as full featured as a Mac, but it's a step forward.
New Editing Gestures – Copy, Paste and Undo with gestures.
Text Selection Upgrades – Smart tap selection, easy cursor movement and drag to select.
Keyboard Upgrades – New floating keyboard with QuickPath swipe to type.
New Keyboard Shortcuts – More keyboard shortcuts when using physical keyboards.
Files Upgrades – iCloud Folder Sharing, File Servers and External Drives
Privacy Upgrades – Apple is adding in Sign in with Apple as well as other upgrades to protect your information.
Performance Upgrades – FaceID is 30% faster, Apps launch up to 2X as fast and downloads are smaller.
Voice Control – Do practically anything on your iPad with your Voice.
New Siri Voice – There is a new Siri voice that should sound more natural.
New Share Options – When you share something you'll see suggestions for who to share with and which app is the best to use.
ARKit 3 – The new AR apps will be able to detect people and movement in new ways — opening up AR experiences.
Maps Upgrades – See around you with Apple's version of Street View.
Apple Arcade – Over 100 new games to play with Apple's subscription service.
Custom Memoji in Messages – Your Memoji can now become a sticker pack to use in Messages.
New Reminders App – Smart lists, better tracking, Siri Suggestions and more.
New Notes App – The Notes app has a new gallery view so you can see the notes easier and better checklist management.
Share Audio with AirPods – If you both have AirPods you can share your music or movie from one iPad to two sets of AirPods.
Apple Pencil Screenshots –  Drag the Apple Pencil Up from a bottom corner to take a screenshot.
Automatic Language Detection in Dictation –  When you switch languages while dictating the iPad will automatically switch as well.
Custom Fonts – Install and use custom fonts in your favorite apps. Including downloading fonts from the App Store.
AirPods Can Read You Messages – If you have AirPods 2, you can set the iPad up to read your messages using Siri.
Attachments in Calendar – You can add an attachment to a calendar event in iPadOS13.
Use a PS4 or Xbox One Controller – You can use a PS4 or Xbox One Controller for gaming on the iPad.
There are many other small iPadOS features that we are adding into this list as we use iPadOS more. Expect to see these features grow as Apple builds on this new branch of iOS and brings iPadOS into it's own.
10 Things to Do Before Installing iPadOS 13 Beta
Go Over Apple's Beta Rules & Conditions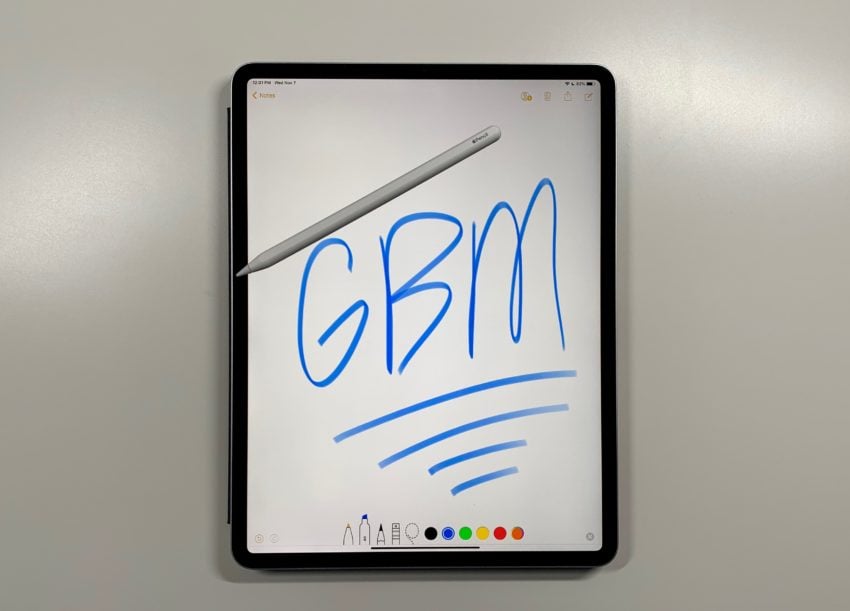 If this is your first time trying a beta on your iPad, make sure you go over Apple's rules before you download the software.
If you want to download the iPadOS 13 beta right now you need a developer account. If you decide to go with the developer version of the beta, make sure you look at Apple's beta website for developers and get familiar with all of the do's and don'ts.
If you don't want to pay to try the beta on your device, you'll want to install the public iPadOS 13 beta.
If you want to do that, you need to join the Beta Software Program. Like the developer beta program, the public beta program has some rules you'll need to adhere to.
If you aren't familiar, look over Apple's FAQ on the Beta Software Program.