Moto G 2015 Features Confirmed Ahead of Release
All summer long reports and rumors have been emerging about the all-new Moto G for 2015, and the smartphone is set to be officially announced on July 28th. However, as the release date nears more and more details continue to arrive, and new leaks this week are revealing some final details ahead of the launch.
The upcoming brand new Moto G 3rd Gen for 2015 has leaked enough times that we have a pretty good idea of what's coming later this month, but some of the details have yet to be confirmed, until today.
Read: 2015 Moto G vs Moto G 2nd Gen: What to Expect
Earlier this month a new set of leaks surfaced suggesting some impressive specs and options for the new Moto G. Claiming this year Motorola would deliver a few neat features typically reserved for high end devices, and offer it on the budget-friendly Moto G.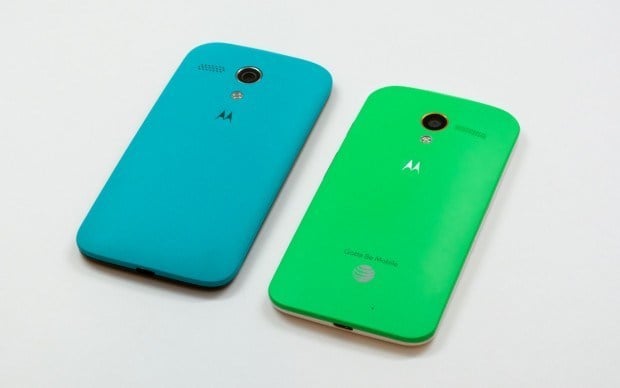 On July 15th another leak revealed some key details about the new Moto G for 2015. Claiming that this year Motorola would offer the budget device on MotoMaker.com, which allows buyers to completely customize the device. Letting owners choose the backplate color, accent color, wallpaper and more, then ship it right to their door.
This has only been available to the Moto X and the Moto 360, but in 2015 the cheap Moto G will enjoy the same great level of customization. The leaks stated this new phone would have an improved 13 megapixel camera, and ended by stating Motorola would make the Moto G water-resistant.
That was the first time we've heard anything about a water-resistant Moto G, and rumors have been back and forth regarding the camera Motorola will use in this cheap budget handset. Today though, another photo has emerged from Mobile Syrup, which is reportedly a dummy unit inside a retail store in Canada. While the leak didn't confirm the Moto G price or release date, it does confirm all the specs and previous leaks.
As you can see above the dummy unit displayed in retail stores highlights some key Moto G features right on the display. Confirming it will have 4G LTE, a 13 megapixel rear and impressive 5 megapixel front camera, micro-SD support for storage expansion, a quad-core processor and a much bigger 2,470 mAh battery. Then, in the top corner we clearly see the new 2015 Moto G will be water-resistant with an IPx7 rating.
This means it will be water-resistant to splashes and spills, but it isn't waterproof. The smartphone can't be completely submerged in water, but will probably be able to survive a drop in the pool if the event does occur.
What all this means is the new Moto G will be faster, customizable, run the latest version of Android, have a bigger battery and a better camera, and finally, be water resistant. All of this is rumored to arrive in early August for the same extremely impressive $179 price point Motorola has offered it for over the past two years.
On July 28th Motorola will be announcing the new Moto G in New York City along with at least one new Moto X smartphone, and possible more. We only have a few more days to wait, and now all we need to know is the price and an actual release date. We'll update as soon as more details emerge.