Moto G 2015 Review: The Best Budget Phone
The new Moto G for 2015 is on a platform all by itself. Costing just $179 many will assume this is a cheap phone, but it's far from it. In fact, the Moto G delivers an excellent Android smartphone experience that covers all the essentials, has a big 5-inch HD display, and most importantly it doesn't feel like a cheap device, but like a premium smartphone. This is our Moto G 2015 review.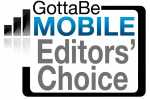 For the past two years Motorola has been on a mission to deliver the best phone possible for under $200. The result of that effort is the Moto G. A phone that is the best-selling smartphone in Motorola history. That says a lot, but guess what, the new 2015 Moto G is even better for the same low price. Due to the cost and great build quality, customization, excellent 5-inch 720p HD display, overall experience, and adding in 4G LTE and a micro-SD slot earned this phone a Gotta Be Mobile Editors' Choice Award.
Read: Moto G Hands-on Video
This phone retails for $179 or $229 depending on the model, and gives buyers everything they'll need from a smartphone. While users won't get the latest 8-core processor or Quad-HD display, the Moto G still brings more than enough to the table. Buyers get a 5-inch 720p HD display, a quad-core processor with 2GB of RAM, a decent 13 megapixel camera, 4G LTE, customization options, and a micro-SD slot to expand storage. This phone truly is one-of-a-kind, and below we'll explain why we'd highly recommend the Moto G to anyone.
What We Like:
Great Build Quality (Water Resistant too)
Nearly Stock Android 5.1.1 Lollipop software with no bloatware
Excellent Performance
10 Custom Colors, Accent Colors & Customization
Battery Life
The Price
What We Don't Like:
Still not a 1080p HD Display
Reverted back to a single front-facing speaker
No NFC or Quick Charging
Bottom Line:
In case no one didn't noticed, there was a lot we liked, and very few things we didn't. This is a great phone. When it comes to an Android smartphone the Moto G (2015) is the best bang for your buck. It's as well-rounded as it gets in this price range. This year Motorola improved every aspect of the Moto G compared to the prior model, made it customizable on MotoMaker.com, added 4G LTE, a micro-SD slot, IPx7 water-resistance, tossed in a better 13 megapixel camera, and did all of this without increasing the price. The weakest link is the 720p HD display, but it's still pretty great considering the price. This is a phone anyone on a budget should seriously consider, or even someone that's just sick of spending $500+ or signing 2-year contracts.
Moto G Design
The Moto G is designed very similar to the original Moto G or even the Moto X. If it isn't broke, don't fix it. Owners will appreciate the perfect 5-inch screen that isn't too big, but not too small. The comfortable curved back is removable so owners can add a micro-SD card to expand storage, and they've finally added customization options. Buyers can go to Motorola.com and choose from two colors (White or Black) for the front fascia and 10 colors for the back, then customize the accents and faux-aluminum strip down the back with 10 more metallic colors. Owners can then buy any of the 10 different colored "Moto G Shells" or back covers for only $14.99 to match any occasion or outfit.
It still has that familiar Motorola style, but it's been refined. We'll say it one more time, this doesn't feel like a cheap smartphone. It might cost $179, but no one would guess that by holding or using it. We still have the same plastic on the front and back, but like the Moto X last year there's what looks like an aluminum ring around the frame. Yes this adds to the durability and may look like metal, but it's plastic on the G. Remember, this phone is only $179.
Motorola added some software features like Moto Display, so users get quick notifications that pulse on the display in a low-power black and white mode. As a result, there's no LED notification light on the device. Not even while recharging. This isn't a big deal, but worth mentioning. One of the best aspects of this device is the design.
Moto G Display
We can't really call it a con, but the weakest link of this phone is the 5-inch 1280 x 720p HD display. It's still HD, but in a market full of 1080p and now 2560 x 1440 Quad-HD (2k) screens, we were hoping for a 1080p display.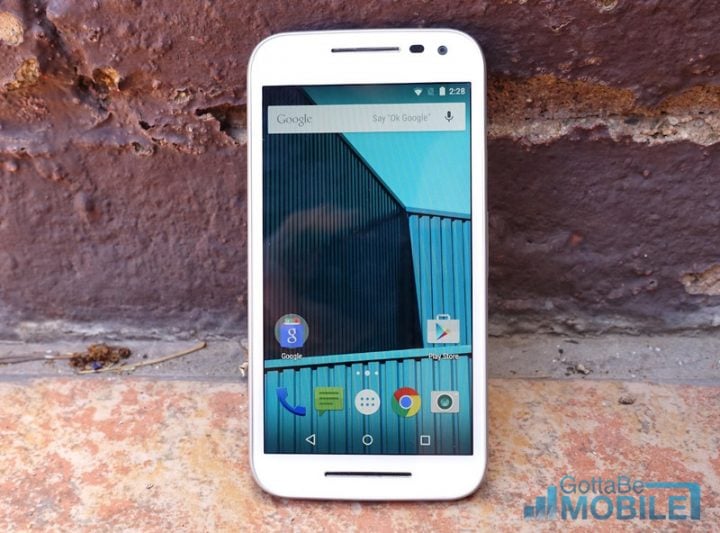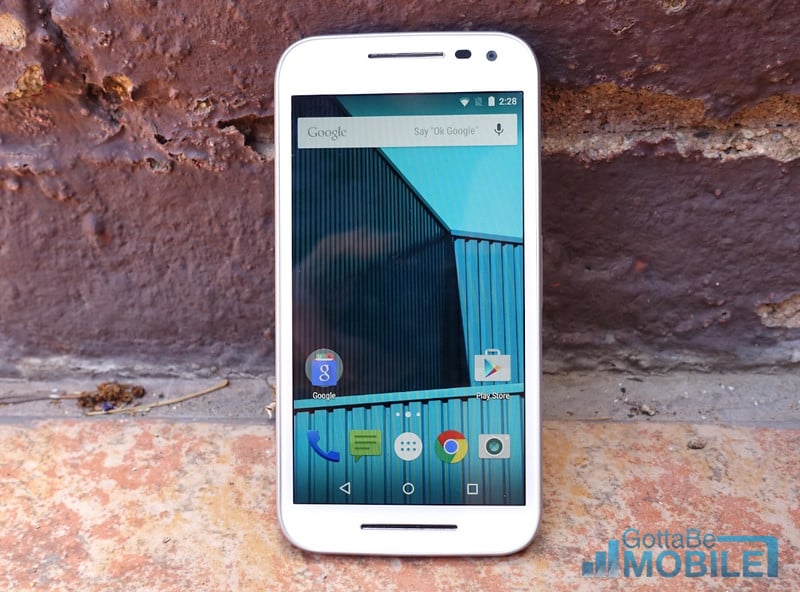 The new 2015 Moto G has the same 5-inch 720p screen as last years model, but it does seem to be better. It's a little brighter, viewing angles are improved, and colors have more vibrancy and accuracy. That said, for $179 they had to cut back in some areas, and the screen is one of them. It's hard to knock Motorola at all given the price, but the screen is one area we wish was slightly better.
Read: Moto G 2015 vs Moto G 2014: What's New
Browsing the web, reading emails, and even playing games all look pretty good on the Moto G. Yes the lower resolution may be noticeable in some instances, especially if you've been using something like the Galaxy S6, but it's still pretty darn good. If this is someones first smartphone, or an upgrade over a free or cheap on-contract phone, it will make almost everyone happy.
Moto G Specs (Two Versions)
Before we continue, it's worth noting that there are two versions of the Moto G. We have the $220 model with 2GB of RAM, which we'd highly suggest buyers choose simply to future-proof their purchase.
5-inch 720p HD Display
Quad-core Snapdragon 410 (64-bit) Processor
8GB of Storage and 1GB of RAM ($179)
16GB of Storage and 2GB of RAM ($219)
4G LTE and Micro-SD support for storage expansion
13 Megapixel camera (LED flash), 5 megapixel front selfie camera
Moto Maker customization
Front Facing Speaker
IPX7 Water-resistance
2,470 mAh Battery
One huge aspect of the new Moto G for 2015 is the micro-SD slot. This means that 16GB of storage (or even 8GB) isn't an issue. Buy a 64GB micro-SD card and you're all set. Motorola lists it as only capable of using 32GB micro-SD cards, but I have the fastest 64GB micro-SD card available in mine, with all 64GB readily available for apps, games, photos, movies, music and more.
Moto G Software & Performance
The Moto G runs what many would still call stock Android 5.1.1 Lollipop. It's the same operating system Google uses for Nexus devices, and it isn't covered in a custom skin like Samsung, HTC, or LG. Instead, it looks like pure vanilla Android, only Motorola has added a few additional features to improve the experience. The "Moto" app on the device lets you set up Moto Assist, Moto Actions for hands-free gestures and controls, as well as Moto Display, which is the neat low-power on-screen notifications we mentioned above.
A double-twist of the wrist instantly launches the camera app for quick and instant photos, and other small improvements to the software make for a smarter device. Moto Assist will learn users habits and go into silent mode when you go to sleep, turn on notifications during the day, and keep things silent or on vibrate while at work. It's all about keeping things smooth, fast, stable and simple, without making drastic changes to stock Android. Moto Display is neat too. This works very similar to Moto Display on the Moto X, and more details can be found here.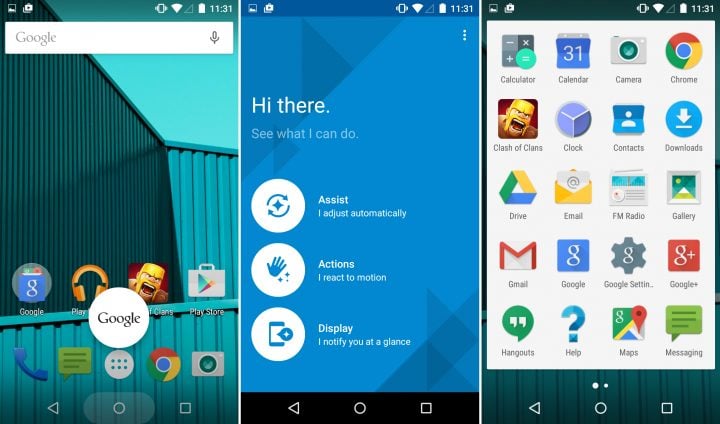 Just like all Moto phones released over the last few years, it works, and works really well. The Moto G is nearly just as fast as any other flagship smartphone around. Even sitting next to the 8-core Galaxy Note 5 it's smooth and runs great. What we're trying to say here is buyers get an excellent pure Android experience with a few additions and improvements, fast performance like high-end phones, yet spend 1/4th the money. It's a win-win.
Moto G Camera
These last two categories are two major areas that have been improved. Those being the camera and battery life. This year Motorola tossed the same 13 megapixel camera from last years flagship Moto X and Nexus 6 into the budget Moto G. This means that while it may not take photos like an iPhone 6, it still puts out excellent results.
Low light photos may struggle a little bit, and the focus isn't as fast as we'd like, but it's more than capable. Especially if you'll only be taking photos for social networks. Motorola also improved the front camera to 5 megapixels, so selfies will look good too. Here's a small gallery of samples:
Colors are bright and accurate, images are crisp, but without enough natural light or taking photos indoors the quality will start to drop off. This happens with all smartphones, it's just more noticeable on the Moto G. The 1080p video or front facing photos are average at best, but forgivable at $179. It's still good enough for most users.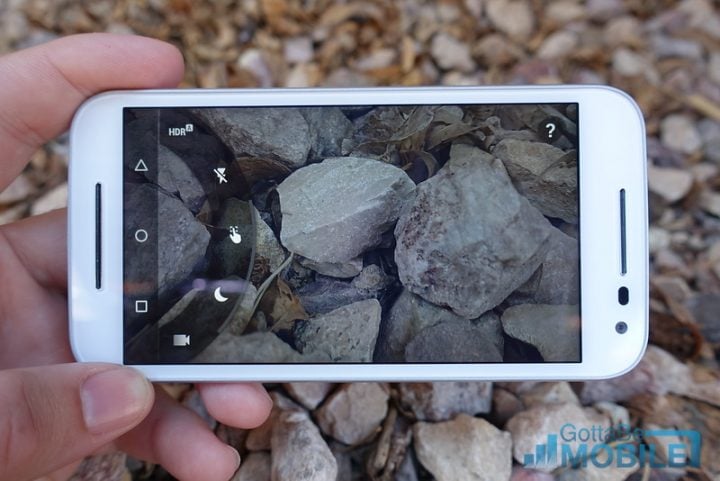 Moto G Battery Life
The Moto G uses an efficient and low-power quad-core processor, so battery life has never been a huge concern while we've been testing it. However, it can always be improved. The new Moto G received a huge jump here and where the 2014 Moto G had a small 2,000 mAh battery, this year we received a bigger 2,470 mAh battery that will last more than a full day, or more with light usage.
Considering that's nearly the same size battery as the bigger, powerful, flagship Galaxy S6 from Samsung, all users really need to know is the Moto G will handle almost everything they do, and still have battery at the end of the day. Unless of course, you're streaming YouTube for 5 hours straight, then you'll need a recharge.
Our only complaint here is regarding charging. Quick Charge is a new technology that lets devices go from 0-50% in less than 30 minutes. That isn't present here, and a feature reserved for high-end devices. That said, it still recharges fast enough, and the bigger battery means owners won't be reaching for a charger very often. I was able to make it through an entire average day of calls, texts, emails, social media, some photos, and light gaming, and still have enough battery for the rest of the night and recharge in the morning. Stand-by battery is great too. If it doesn't get used much, it will last for over two days.
Final Thoughts (Is the Moto G Worth It?)
In short, YES! The Moto G is absolutely one of the best smartphones I've ever used that costs under $400. See what we did there? The Moto G is a excellent all-around smartphone that has enough to compete with higher cost devices. It's only $179, but we'd gladly compare it to or recommend it over some more expensive devices.
Many manufacturers are trying to do what Motorola has done with the Moto G, and there are a lot of great cheap Android smartphones. At the end of the day though, the Moto G still takes the crown as the best budget smartphone.
It might not deliver everything the Galaxy Note 5 has to offer, feature leather backs like the LG G4 or Moto X, or take great photos like the Galaxy S6, but for $179 it absolutely delivers everything one would need in a smartphone. The Moto G is still the best budget Android smartphone on the market, one I'd recommend without hesitation. 

As an Amazon Associate I earn from qualifying purchases.