Moto G 2015 vs Moto X 2014: 5 Key Differences
The new Moto G for 2015 is better and faster while offering lots of customization all for the same wallet-friendly $179 price point we've seen over the last few years. As the Moto G continues to improve, it has become a good alternative to the flagship Moto X, and here we'll be comparing the new Moto G to last years Moto X for those weighing all their options.
The 3rd Gen Moto G for 2015 has big shoes to fill, and so far with our limited hands-on time with it, the phone is doing an excellent job. It isn't easy to improve a smartphone that already costs under $200, but this year Motorola did exactly that, while making it good enough some might consider it over the aging Moto X.
Read: Moto G 2015 Hands On: Budget Price, Premium Phone
On July 28th the new Moto G was announced along with a new Moto X Pure Edition, also known as the Moto X Style, and the Moto X Play for regions outside of the United States. The new G has a lot to offer, and has a few parts from last years Moto X, so we'll be comparing the two below.
In 2014 the Moto X 2nd Gen was released in September, and was extremely popular for having an excellent 5.2-inch screen, loads of customization, and nearly stock Android. Last year Motorola added leather customization to the Moto X. Allowing buyers to not only choose the color, accents or wood backs, but also leather materials. It was a popular change, one that many have enjoyed.
Over the past few months we've seen the price of the 2014 Moto X drop in what's likely an attempt to sell some inventory before the new model arrives this year, and now the phone is down to $299, making it a pretty good deal. However, is that price worth it compared to this years $179 Moto G 2015?
The Moto G is still a budget smartphone that has a few cutbacks in order to meet a lower price point, but it isn't enough to sway buyers from choosing the phone. The screen is slightly smaller than the Moto X, it doesn't have quite as much customization, and the specs are a bit lower too, but not as low as many would think.
Below are 5 key differences between the new Moto G 2015 and last years Moto X for those considering one or the other. And a few reasons why we'd suggest considering the G over last years older Moto X.
Display & Design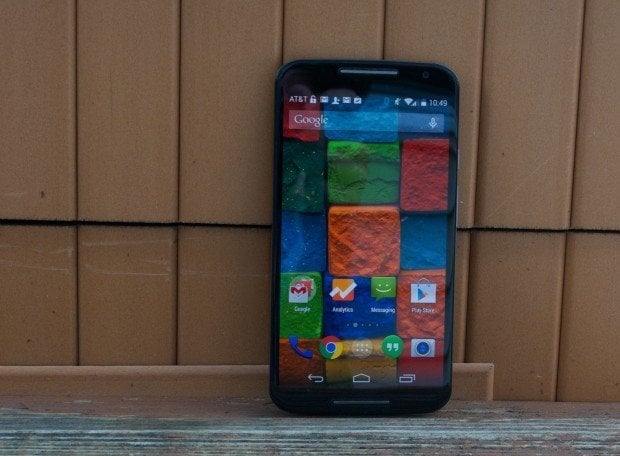 This year the new Moto G gets a lot of its traits from the Moto X last year. The company added the device to MotoMaker.com allowing buyers to customize parts of the phone, and the Moto G has an aluminum ring around the device for an improved look and feel, and to be more durable. This is the first Moto G that doesn't feel like a cheap plastic phone.
The Moto G has a 5-inch 1280 x 720p HD display that's bright and crisp, which looks good for the price. It isn't the highest resolution display ever, but is good enough. The Moto X has a 5.2-inch 1920 x 1080p HD display though. Meaning it's slightly bigger but much higher resolution.
This will be better for watching movies, playing games, and just generally look better for most things. That said, the difference isn't nearly as noticeable as one would expect, and the Moto G is still more than capable enough to satisfy almost all owners.
It doesn't look, feel, or perform like a cheap phone. For $179, it's much better than last years model, and almost as good as the Moto X from 2014.