Moto X4 Release Date, Features, Specs & Rumors
The Moto X4 release date is coming up quick and will be the first Moto X since the company stopped making it in 2015. Now that we know it's coming soon, here's what you need to know about the Moto X4 release date, features, specs, rumors, and the latest news.
Recent leaks point to some big changes to the Moto X lineup. The phone won't feature tons of customization like earlier years and instead, could end up being a good all around mid-range smartphone with some neat new camera tricks.
Read: Moto X Pure Edition Review
This isn't the Moto X you're all familiar with. The Moto Z is Motorola's new high-end smartphone lineup, which means the new X4 will have something else to offer buyers. Don't worry though, as it will still come with a big 5.2-inch HD display, a fingerprint scanner and two cameras on the back. Here is everything we know so far.
Moto X4 Release Date: September or October (Rumored)
How Much Will the Moto X4 Cost?: A budget phone between $400-$500
What is the Moto X4?: A phone for those on a budget that delivers nearly the same experience as high-end $800 phones, but at a wallet friendly price point. Once Motorola's best smartphone but now we're not sure of its position until it's released.
Now that we've gone over the basics and answered some important questions, read on for the latest news and rumors.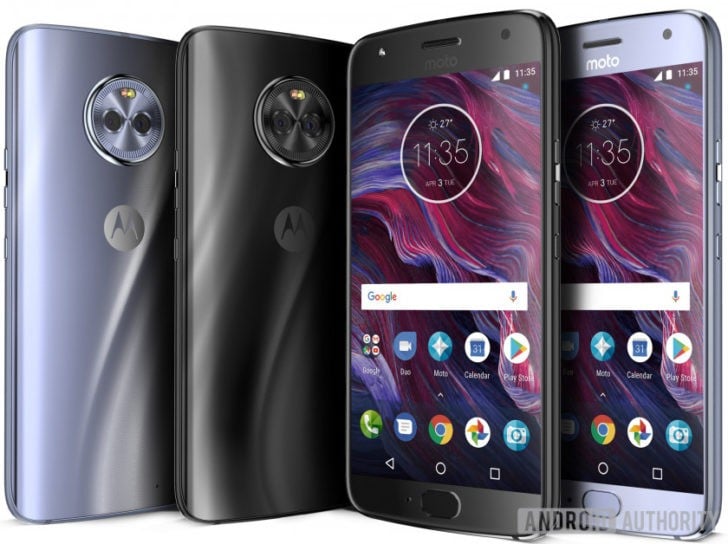 Moto X4 Release Date
Most Moto X smartphones arrived in August or September, and we're expecting a similar release date for the new Moto X4 in 2017. That said, the last Moto X in 2015 didn't arrive until nearly October. Meaning we could see an announcement in August, but don't be surprised if it's not available until late September.
We've seen real images of the phone surface more and more lately, meaning a release date is coming soon. However, until Motorola and Lenovo make an announcement the release date is still a complete mystery. We'll update as soon as we know more for potential buyers.
Moto X4 Display & Design
From everything we've seen so far, the new Moto X4 will look like a mix of old and new. Keeping some of the design elements and styling of old Moto X phones, while moving towards the Moto Z design at the same time. This means a big display, premium metal design, and a big camera sensor on the back. Here are the latest real photos of Motorola's upcoming smartphone.
The Moto X4 should feature a 5.2-inch 1080p Full HD display. This is about the same size as old Moto X devices, but far smaller than the last phone released in 2015. Which, for those curious, had a 5.7-inch Quad-HD display. You'll also notice the oval fingerprint scanner under the screen and a big new set of two camera sensors on the back.
Basically, this tells us a few things. Motorola wants to position the new Moto X4 under the Moto Z lineup, but above the extremely affordable $200 Moto G5.
Moto X4 Specifications
As we've said a few times here, this looks like it will end up being a budget-friendly device once it's finally released. That's because Motorola isn't using the latest processors, or adding tons of RAM or storage like most phones released in 2017. That doesn't mean this isn't a good phone, it just isn't at the top of the spec list.
Moto X4 Specs (Rumored)
5.2-inch 1080p Full HD Display
Quad-core Snapdragon 630 processor with 3GB of RAM
32GB of internal storage and microSD expansion
Android 7.0 Nougat
Dual Rear Cameras: 12 Megapixel f/2.0 main and an 8MP f/2.4 wide-angle lens (similar to LG phones)
16 Megapixel front-facing selfie camera with front LED flash
IP68 Dust & Water Resistance up to 5ft
Fast charging, USB Type-C, 3.5mm headphone jack
3,000 mAh battery
more
From everything we've seen above, the Moto X4 sounds like a pretty well-rounded smartphone. It doesn't have the best of everything but it's not bad either. We'll have to wait and see if these rumors are accurate, and how much it costs when it arrives.
Moto X4 Cameras
The camera setup in the new Moto X4, if rumors are accurate, is pretty interesting. The biggest camera is actually the front-facing camera aimed at those taking selfies or using Snapchat.
If exclusive information shared with AndroidAuthority is right, here's what will complete the cameras on Motorola's next smartphone. The front uses a 16 megapixel camera with a dedicated LED flash. It has a large f/2.0 aperture and should take pretty decent photos.
However, on the back, the setup is even more interesting. The main camera is a 12 Megapixel f/2.0 sensor with a large 1.4 um. This essentially means the sensor is bigger than most and captures more light and detail faster. The result is crisp and clear photos more often than not. Something we've seen all major smartphones offer in the past few years.
And finally, there is a second camera on the back. This is only 8 Megapixels, but offers a 120 degrees wide-angle lens. Instead of a zoom or telephoto lens like Samsung and Apple, Motorola is offering wide-angles similar to the LG G5 and the newer LG G6. It's all a personal preference, but just know this phone should have pretty good cameras for the price.
Moto X4 Price
Last but not least is the price of the new Moto X4. Sadly, we don't have any information regarding the actual release date or price. That being said, Motorola phones typically cost less than the competition. The Moto X always came in less than the latest Samsung Galaxy or LG device, and we expect that trend to continue.
However, with budget devices like the OnePlus 5 and others costing under $500 with dual cameras, Motorola will need to do something similar. For now, the release date and price is a complete mystery, but don't be surprised if this phone arrives for around $399 in the next few months.
As soon as we know more about the return of the Moto X we'll update with all the details.

This article may contain affiliate links. Click here for more details.