Moto Z2 Force Release Date Breakdown
The new Moto Z2 Force with dual cameras is finally official and available from all major US carriers starting August 10th. Motorola's nearly indestructible smartphone is the successor to last years Moto Z, but a lot has changed. Here is everything you need to know about the Moto Z2 Force release date, pricing, specs and Moto Mods.
For the first time in years, Motorola's latest flagship smartphone isn't exclusive to Verizon. Instead, you can buy one from Verizon, AT&T, T-Mobile, Sprint, US Cellular, Best Buy or from Motorola.com.
Read: 21 Best Official Moto Mods for the Moto Z2
The Moto Z2 Force looks nearly identical to last years model, with the same design and 5.5-inch screen. This allows the new phone to work with all the existing Moto Mods. Magnetically attachable accessories that transform the phone into something far more capable than most phones. It has some advantages, but also plenty of disadvantages we'll discuss below.
Here, in an effort to help buyers find what's right for them, we break down the Moto Z2 Force release for the US and around the globe.
Moto Z2 Force Release Date
The all-new Moto Z2 Force release date is officially set for August 10th in the United States and around the globe. This is for all US carriers, with no limited early release on Verizon or T-Mobile. This is the first flagship phone from Motorola sold on carriers other than Verizon in a long time.
Pre-orders are no longer available as the phone is for sale in most carrier stores around the globe. Those who pre-ordered should receive the phone starting August 10th. Keep in mind that each carrier has a different price they're asking, so look around before you buy one. To be more specific, T-Mobile is offering a buy one get one free, Verizon is asking $749, while AT&T wants $810 for this smartphone. Read on for more details and to see if that price is even worth it.
Moto Z2 Force Specifications
While Motorola releases a lot of budget smartphones each year, the Moto Z line is their flagship aimed at competing with the Galaxy S8, iPhone 7, LG G6 and others. Meaning you can expect a high-end smartphone across the board with the Moto Z2 Force. Well, except for maybe the smaller battery.
Here's what it has to offer for potential buyers.
Moto Z2 Force Specs
5.5-inch Quad-HD 2560 x 1440 ShatterShield AMOLED Display
Qualcomm Snapdragon 835 Processor with 4GB of RAM (same as Galaxy S8)
64GB of storage with a micro-SD slot for storage expansion
Dual 12 Megapixel f/2.0 rear cameras, no optical image stabilization, one sensor shoots in Monochrome
5MP front selfie camera with an LED flash
Android 7.0 Nougat (Android 8.0 coming soon)
Front fingerprint scanner
2,730 mAh battery (compared to 3,500 mAh last year) with Turbo Charging
USB Type-C port, no 3.5mm headphone jack, no IP68 water resistance rating
Moto Mod Accessories and a new 360-degrees Moto Mod Camera
So what's new and different compared to the Moto Z or Moto Z Force released in 2016? Well, it has dual cameras, a slim design, new Moto Mod options, and a smaller battery. Motorola sacrificed battery life in favor of a razor-thin profile and will be more than happy to sell you a Mod to extend battery life.
The three most important aspects of this phone are the Moto Mods, dual cameras, and the shatter-proof display. The screen won't shatter or crack from daily abuse, but it isn't an edge-to-edge screen like Samsung, LG or what we expect to see from Apple. Instead, it's as tough as nails.
However, there is a downside to the unique ShatterShield display. While it won't break easily, early reports suggest it scratches extremely easy. That's because the screen is covered in plastic, not glass. Motorola doesn't sell replacement plastic screens either, like they have in the past. So, buy a screen protector from our roundup below.
Read: Best Moto Z2 Force Screen Protectors 
Perhaps the worst part of the new Moto Z2 Force is battery life. The company went backwards and added the smallest battery we've seen in any flagship smartphone released in 2017. It also doesn't feature water-resistance, something most high-end phones offer. Instead, the company has a water-repellant coating that might save it from a splash, but that's about it.
Moto Z2 Force Cameras
A highlight of this new phone is the dual cameras on the back. Motorola followed a similar path as Apple, LG, OnePlus, Huawei and others and added a second lens to deliver more features. Both are 12 megapixels, but there's no mention of optical image stabilization even though there's a big camera hump on the back.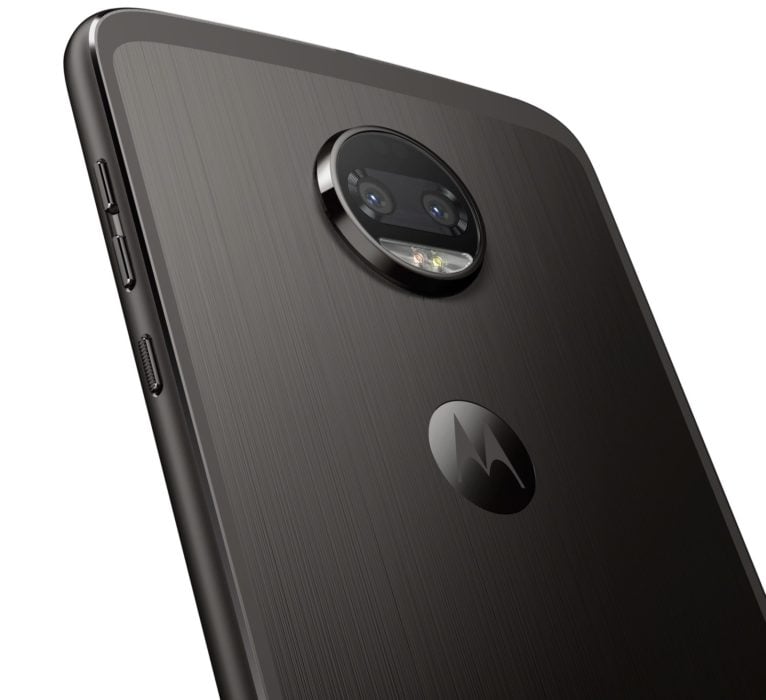 One camera shoots in monochrome, and the other shoots in color. Allowing the phone to capture more color and light, whites and shadows with every photo you take. An idea we've seen before from Huawei. Then, those dual cameras allow for neat depth-of-field effects like blurring the background of subjects. Essentially offering beautiful portrait photography like the iPhone 7 Plus.
The Moto Z2 Force camera setup sounds promising, but we'll have to try it ourselves to see if it can compete with Samsung, Google or Apple.
Moto Z2 Force Price
Now for the bad news, this phone is pretty expensive. The Moto Z2 Force is between $749 and $810 depending on the carrier. That's a high price to pay for a phone that looks just like last years model, lost features like a headphone jack, and comes with a smaller battery than older models. It's like a sidegrade, not an upgrade.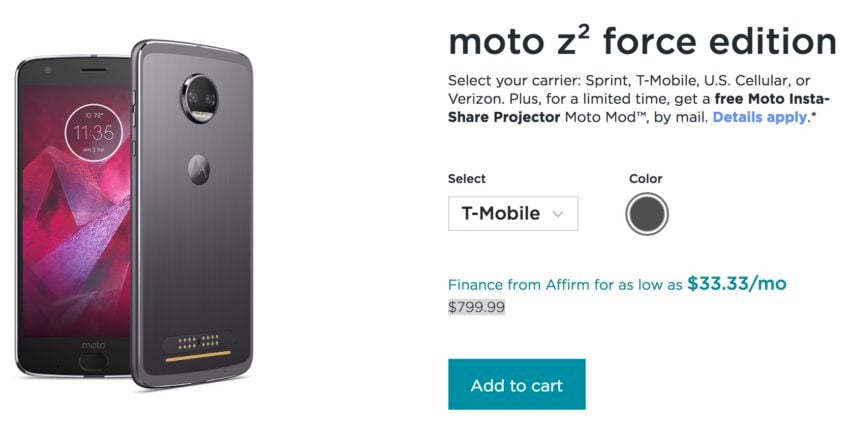 It's worth stating that for a limited time most buyers will get a free Moto Mod or two, and T-Mobile is offering the Z2 Force as buy one get one free. Still, compared to phones like the OnePlus 5 for $479, it feels very expensive for 2017's standards.
Potential buyers can get the new Z2 Force on a monthly payment plan that makes it easier to swallow, and the new Turbo Power Moto Mod battery pack should help in the battery life department.
Other Details
In closing, the Moto Z2 Force comes in Black, or a White and Gold color option. T-Mobile has a limited edition Lunar Gray, and we could see other colors at a later date. It's also worth mentioning that the Moto Z2 Force sold outside of the United States has better specs.
The international model has 128GB of storage and 6GB of RAM, instead of 64GB and 4GB of RAM like the model US carriers are offering.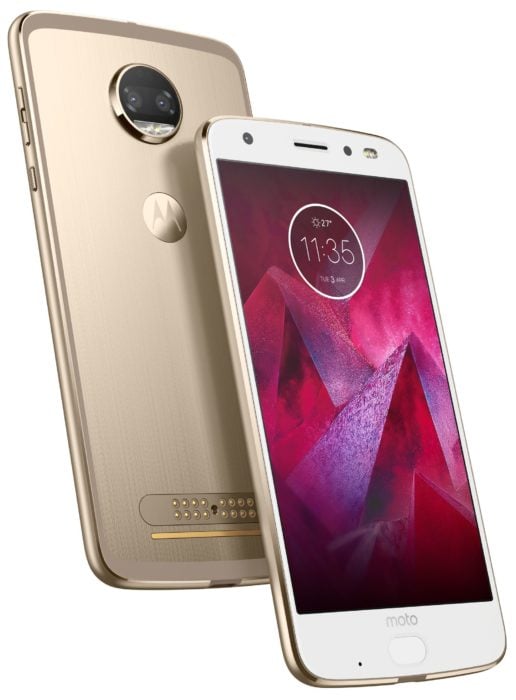 All said and done the Moto Z2 Force is an odd release. It's almost a flagship smartphone, but missing a few key aspects while retaining the high price tag. If there's any reason to buy one, it's for Moto Mods. With over 20 awesome accessories available you can do a lot with this phone. Turn it into a projector for movie night, attack the JBL Soundboost 2 speakers for better sound, or take stunning photos with the HasselBlad camera mod. Here's more information on all the Moto Mods available.
Now that the phone is available go buy one today. While you're here, take a look at these 15 Best Moto Z2 Force cases.

As an Amazon Associate I earn from qualifying purchases.