Motorola Atrix 2 Hitting AT&T with 4G LTE?
Just a couple of days ago, we were excited to learn that Motorola was likely prepping a phone dubbed the 'Atrix HD' for AT&T. The device was said to have a 720p HD display with a 720 X 1280 resolution, a new version of MotoBlur, an 8-megapixel 1080p HD digital and video camera, and an HDMI port. Intriguing, right? Well, today, the phone known as the MB865 (the original Atrix was MB860) has popped up again only this time it has popped up in AT&T's XDM system which points to the possibility of this, Motorola Atrix 2, possibly being one of AT&T's first 4G LTE devices.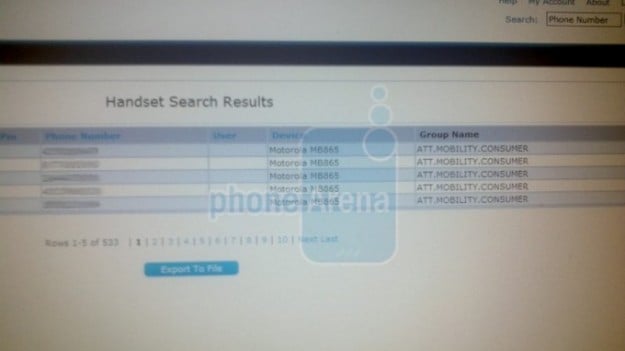 So, what you see here is a screen shot from AT&T's XDM system and the phone numbers that you see there blurred out, all are attached to places where AT&T is apparently going to roll out its 4G LTE network first. If true, that means that this device is out there being tested in Atlanta, Chicago, Dallas, Houston, and San Antonio. So, it has an LTE tracking code inside the billing system AND it's being tested in places where AT&T is going to be putting up 4G LTE?
That sounds like a device that's likely going to be one of the, if not the first AT&T 4G LTE smartphones on the market. As for specifications, it again, sounds like it's going to be Atrix in design but Droid Bionic in hardware.
Exciting stuff, except we'd love to know the answer to two questions: Is it going to be available at launch? Or will we have to wait a few months for it to arrive?
Via: PhoneArena

As an Amazon Associate I earn from qualifying purchases.