Motorola Droid 4 Release Date Might Be February 10th
Well, we had thought that the Motorola Droid 4 release date was going to be February 9th but it appears that that's not the case. Instead, it looks like Verizon is going to be launching the Droid 4 in all channels a day later on February 10th, a Friday. Normally, we'd say that this is odd because Big Red loves to launch phones on Thursday's, but Star Wars: The Phantom Menace hits theaters in 3D on Friday so Verizon might be tying this launch in with that one.
And yes, we're more excited about the launch of the Droid 4.
Sadly, the document does not clear up anything in regards to the Droid 4's pricing which is currently rumored to be $199 on-contract. For now, that's what you should assume the price of Verizon's latest Droid is going to be.
Obviously, nothing is set in stone until Verizon makes an announcement but we know that that announcement should be fairly close now that the Droid 4 has made an official appearance on Verizon's DroidDoes website.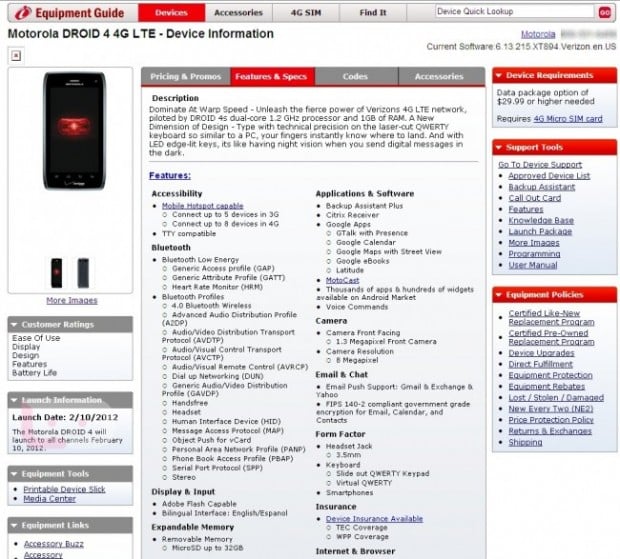 Like we said, we're extremely excited about the release of the Droid 4.
We were so impressed with the device, that we gave it our Best Smartphone award for CES 2012. Why? Well, besides having one of the best keyboards of all time, it has a solid design paired with a speedy processor and high-resolution screen to go along with its 4G LTE data speeds.
It does have some competition though in the Motorola Droid RAZR MAXX, check out a comparison of the two here, but those looking for a phone with a solid QWERTY keyboard will want to look no further.
So, next week appears to be the week barring any unforeseen setbacks.
Via: Droid-Life

This article may contain affiliate links. Click here for more details.