Motorola DROID Turbo 2 Teased Ahead of Release
At this point it's no secret that Motorola and Verizon are working on at least one new smartphone to be a part of its annual DROID lineup, and today we received our first official image of the new Verizon DROID Turbo 2.
Last week Motorola and Verizon confirmed the two companies will jointly announce at least one new Motorola DROID smartphone for Verizon Wireless on October 27th, and today Verizon revealed the phone a week ahead of the announcement. Those considering the new DROID Turbo 2, read on for more details and a quick video of the next DROID.
Read: DROID Turbo 2 Release: What We Know So Far
For months we've been hearing rumors about what Verizon and Motorola could have planned, but last week almost all the details were revealed in a slew of leaks. Then this weekend, Droid-Life learned everything there is to know about Motorola's next smartphone. Read on past the break for all the details.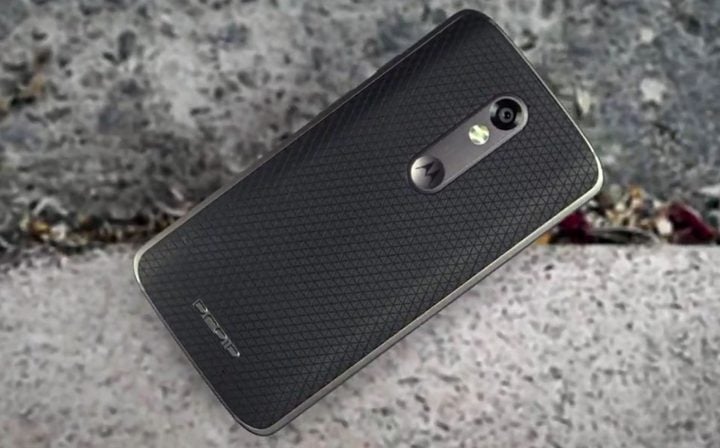 This morning HTC announced a new phone called the HTC One A9, which is a mid-range $399 smartphone coming to a few carriers in early November. Just moments after it ended, Verizon revealed the new DROID Turbo 2 for the first time, ahead of the October 27th announcement.
Right now we know that on October 27th Motorola and Verizon will announce two new smartphones, which should be released sometime in November. Those phones are almost certainly the DROID Turbo 2, and a new DROID MAXX 2 to replace the original DROID MAXX from 2013. Below is a tweet right from Verizon, spoiling HTC's event and teasing a new phone of their own.
Introducing the perfect phone for imperfect people. pic.twitter.com/OzeiE2znP3

— Verizon (@verizon) October 20, 2015
From everything we've heard over the past few weeks, the new DROID Turbo 2 will be one of the fastest, most powerful, and most durable smartphones on the planet. Not to mention will be customizable on MotoMaker.com similar to the Moto X.
The teaser above calls it the perfect phone for imperfect people, hinting at the "shatterproof display" we've heard so much about. And it goes as far as dropping the phone face-down right onto bricks and concrete, but tells viewers that a new DROID is dropping soon. Here's what we're hearing will complete the DROID Turbo 2, and the MAXX 2.
DROID Turbo 2 Specs (Rumored)
5.5-inch 2560 x 1440 Quad-HD "Shatter-proof display" (last year was 5.2″)
8-core Snapdragon 810 Processor with 3GB of RAM (Faster than the Moto X)
32 and 64GB storage options, micro-SD slot unknown
Android 5.1 Lollipop, but could debut with Android 6.0 Marshmallow
21 Megapixel rear and 5 megapixel front camera
3,760 mAh Battery with TurboPower & Fast Wireless Charging
Dual front-facing speakers
Re-enforced metal frame around the display
Plastic-OLED display tech so display can't break if dropped
more
We've actually heard it will have a 5.43-inch display, to be exact, but until Motorola confirms it all, these are only rumors. Those specs line up with the video above about a shatterproof display, and we've been told the re-enforced metal frame around the device will offer extra protection unlike any other phone. We're not sure how, but Verizon will surely tell the world on October 27th.
In a surprise move though, the new DROID Turbo 2 and possible the DROID MAXX 2, will both be customizable on Motorola.com similar to the new Moto X Pure Edition. That means buyers can customize it with nearly 1000 different options. Everything from plastic backs, genuine leather, wood, and even ballistic nylon, which was an option on last years Turbo. As an added bonus, those who buy a customized 64GB Turbo 2 can change it out for a different design or color option, if they don't like the first one. That's impressive, and has been confirmed in a recent leak of Verizon documents.
However, that isn't the only DROID coming to Verizon. The press release last week confirmed they'll be announcing DROIDs with an "s", suggesting another is coming, and we're hearing that will be return of the all-mighty and long lasting DROID MAXX. It was also spotted in a recent Moto app update, and in the leaked press materials mentioned above.
DROID MAXX 2
According to a few sources and recent rumors, the DROID MAXX 2 will be a smartphone very similar to the Moto X Play announced earlier this year, only with some small changes and Verizon DROID logos everywhere. Here's what it could have to offer.
DROID MAXX 2 Specs (Rumored)
5.5-inch 1920 x 1080p HD Display (not Quad HD)
6-core Snapdragon 615 Processor with 2 GB of RAM
32 and 64GB storage options (micro-SD unknown)
21 Megapixel rear and 5MP front cameras
Android 5.1.1 Lollipop, but could debut with Android 6.0 Marshmallow
3,630 mAh Battery (or bigger) with Fast & Wireless Charger
Dual front-facing speakers (could have one, but be ported to second)
Possible MotoMaker customization
more
We don't have too many details about the new DROID MAXX 2, as all the latest rumors have been about the DROID Turbo. In previous years Motorola and Verizon released two or three DROID phones, but last year only released one, the DROID Turbo.
This year it looks like a bigger, better, faster and more capable DROID Turbo 2 is coming, along with a battery-champ in the DROID MAXX 2, which promise 48 hours of battery life. Stay tuned for more details, as we'll know everything come October 27th.

As an Amazon Associate I earn from qualifying purchases.