Motorola Prepping Atrix HD for AT&T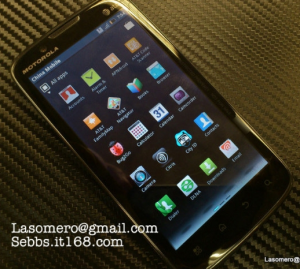 It looks like Motorola may be working on a successor the the Motorola Atrix 4G Android smartphone for U.S. wireless carrier AT&T. In addition to the speculated GSM variant of the Droid Bionic for AT&T, a new Motorola device was posted on Flickr with very similar aesthetics to the current-generation Atrix 4G. The device was referred to as the Droid HD, but as Verizon Wireless currently owns the Droid brand license for smartphones, AT&T's device may be released under a different moniker.
The device is said to have a 720p HD display with a 720 X 1280 resolution. The screen size is currently not known at this point. The screen itself appears to have a curved glass surface.
Gone from the original Atrix 4G is the fingerprint scanner for biometrics security. However, what's been improved is the 8-megapixel 1080p HD digital and video camera, which is up from the 5-megapixel on the Atrix, along with a new version of MOTO BLUR. There will also be an HDMI output port.
The device will most likely compete in the same category with the HTC Vigor with its 720p HD display.
Via: Droid-Life