Motorola Triumph Hitting Virgin Mobile in July with Android, Super Slim Design
In addition to the Motorola Photon 4G for Sprint, Motorola also announced their first handset for Virgin Mobile, an Android 2.2 powered smartphone called the Motorola Triumph.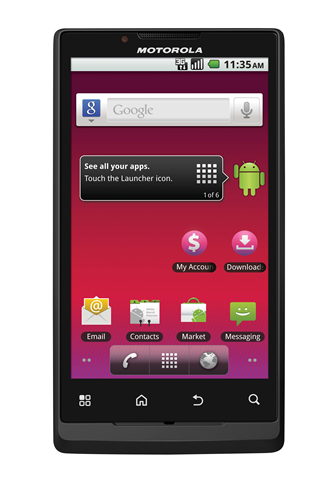 The Triumph boasts some pretty specifications but that's not the only thing that makes it attractive. It also is available without a contract meaning those of you that don't like signing your life over for two years now have another Android phone to consider.
As for those specs, here is a look at what the Triumph will be bringing to the table when it is release next month in July.
KEY FEATURES:
· 5MP back-facing camera and VGA front-facing camera
· HD video capture and playback in 720p, both on device or over HDMI
· Massive 4.1″ display (800×480 WVGA) and ultra-thin at .0.4″
· 1400 mAh battery
· 512MB RAM with 2GB ROM and SD card slot for extended
· Froyo (Android 2.2) with Flash support for enhanced browsing (download from Android Market)
· Soft touch design for comfort in hand

SPECIFICATIONS:
· Software Platform: Android – Froyo
· Messaging/web/apps: MMS, SMS, email
· Camera: 5MP AF with flash, VGA front facing
· Video: 30 fps @ 720 p decode
30 fps @ 720 p 14 Mbps encode
· Connectivity: microUSB, 3.5mm , HDMI port
· Browser: Android Webkit Browser
· Bluetooth: BT V2.1 + EDR
· Memory: 512MB RAM/ 2GB ROM, uSD Slot
· Location Services: aGPS
· Form Factor: Tablet
· Experience Category: Media Centric
· Baseband: Qualcomm MSM8655
· Weight: 143g
· Dimensions: 4.8″ x 2.5″ x 0.4″Display: 4.1″ 800 x 480 WVGA
· Battery: 1400 mAh
· Bands/Modes: CDMA 1900 MHz EVDO RevA, 802.11 b/g/n
Highlights include the tweener 4.1 inch screen as well as an extremely thin design that checks in at a mere .4 inches at its thinnest point. This is a great looking mid-level phone and is especially appealing again because it's doesn't require a contract.
It should be noted that Motorola and Virgin did not offer any specifics in regards to pricing so that remains a mystery along with its specific launch date.

As an Amazon Associate I earn from qualifying purchases.