Motorola Working on Successor to Original CLIQ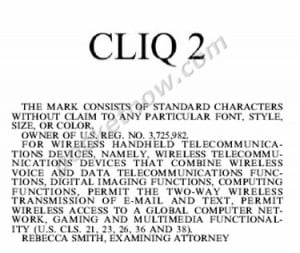 The Motorola CLIQ was launched as Motorola's first Android device and was seen as the device that marked the beginning of the company's turn-around since declining sales since the days of the RAZR. Since the CLIQ, Motorola has launched devices on all four major U.S. carriers and has worked with Motorola to help create the Droid lineup. It seems now that Motorola is working, presumably with T-Mobile which had launched the original CLIQ, to launch a successor called the CLIQ 2.
Not a lot of details are available about the CLIQ 2. Speculation has it that the device will retain a sliding QWERTY keyboard, like the original, though improved with "no gaps between the keys." WiFi calling and hotspot feature are included.
When the device launches, it is said to be running on Android 2.2 Froyo. With Google having just announced Android 2.3 Gingerbread, an Android 2.2 CLIQ 2 would make the device dated by the time it launches, though most of Gingerbread's changes are really under the hood as it is more of an evolutionary upgrade.

The device may also run Motorola's proprietary user interface called MOTO BLUR, which adds deep social network integration and useful home screen widgets.
Via: AndroidSPIN

This article may contain affiliate links. Click here for more details.