Mozzie Review: A Smarter Hoverboard
The Mozzie Hoverboard is a self balancing hoverboard with a UL listed safe battery, built-in Bluetooth speakers and controllable LED lights.
One of the best features is the app that lets you control stability, agility and balancing. This makes it easy to get started even if you've never ridden a Hoverboard before and then adjust up the speed and agility as you get a feel for the device.
I tested the Mozzie Hoverboard as a beginner, and with the help of neighbors and kids who showed off the speed and abilities of this version. By changing the settings with the app, we could all ride the same board to different abilities. As I become more comfortable, I was able to dial-up the settings to get more speed.
The Mozzie Hoverboard is available directly from the manufacturer for $449 in Black, Blue and Red.
[letsreview]
The app that controls your Mozzie Hoverboard is what really sets this one apart. With the app you can control the entire ride experience, which means it grows with you as you learn how to ride better.
In the app you can set the max speed for the hoverboard, which is handy if younger kids are trying it out. You can also choose how much the board balances for you. With it more stable, you can stay on it easier, but you move slower. You can also change the steering from Agile to Stable. It also lets you turn Auto-Leveling on and off.
I started with a very stable ride and left Auto Leveling on. Over time I change the ride to be more agile. The 15-year old neighbor kid was ready to rock and roll with very agile settings and actually liked having Auto Leveling off, as it added to the responsiveness.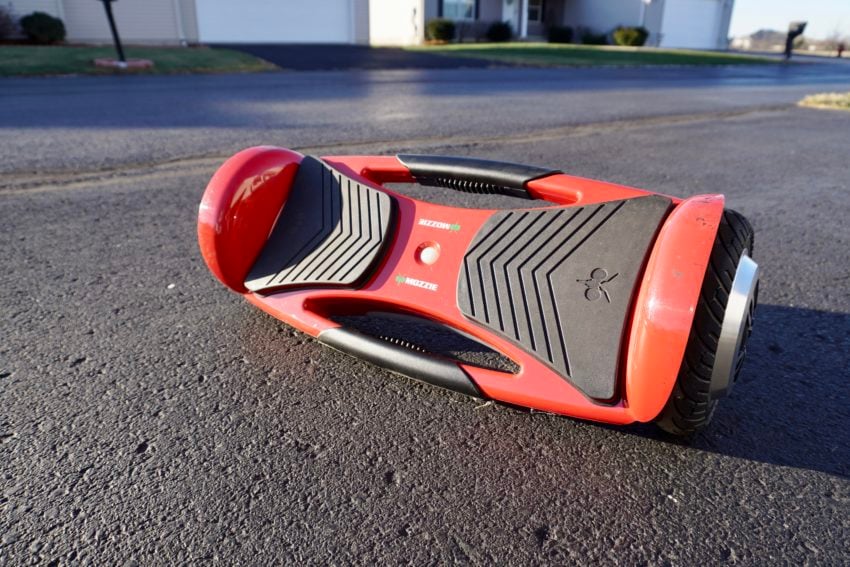 You won't find a more customizable hoverboard, or one that you can control in this way. You can even use the app to install updates for your Hoverboard.
I used the app to control the light color and the mode, making them flash to the music I streamed to the built-in Bluetooth speakers. You pair the Mozzie Hoverboard to your phone like a Bluetooth speaker so you can stream from any source, including Spotify or Apple Music.
From a safety standpoint the Mozzie app shows you the speed, battery level, battery temperature and motor temperature so you can easily see if anything is getting too hot.
I felt in control while riding the Hoverboard and through multiple runs with multiple riders, we only experienced one issue, which we later found out was likely due to a rider being over the recommended 220 load maximum. At just under 230 pounds I had no trouble riding it, but if you go closer to 250 pounds you may run into issues.
The hoverboard has big wheels that help avoid losing control over even noticeable bumps and the built-in handles make it easy to pick up and carry when you are done or need to take it inside.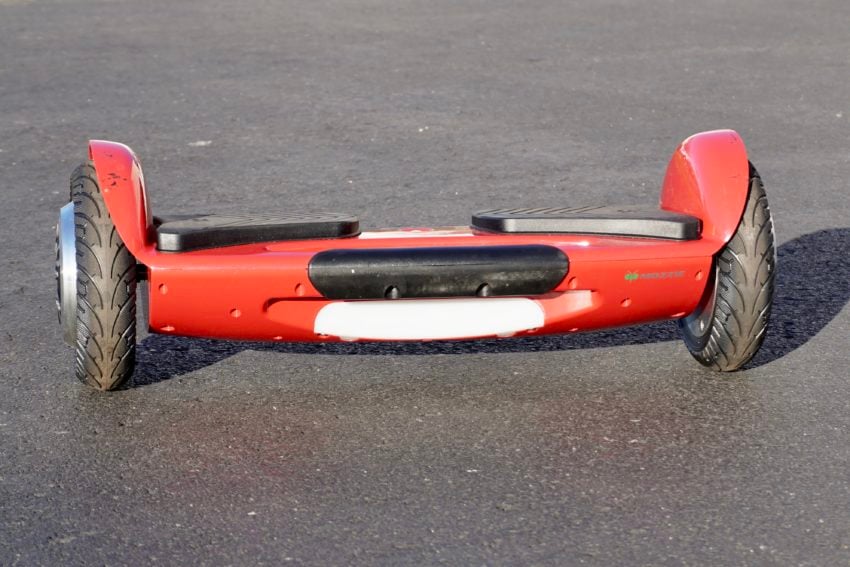 Mozzie includes a charger that shows you the battery level while it is charging and it lasts a long time. The official range is about 8-10 miles depending on load and speed. I didn't use it to commute, just to roll around the neighborhood or while downtown and I never ran out of battery before I was finished with a session — even when sharing it with several neighbors for over an hour.
The battery is what Mozzie calls SafeEdge, which they say is a completely safe power source than conventional Lithium Ion. The board is UL certified in US and Canada, so you can charge it without worrying about a fire.
The Mozzie Hoverboard is more expensive than some of the budget models you'll find at local retailers or on eBay, but for the price you get a Hoverboard with a lot of customization. I loved that the Mozzie grew with my skill level, allowing me to learn without as much fear of falling and then let me go faster and do more when I became comfortable.
You can buy the Mozzie Hoverboard from Mozzie for $449.