Myriad Alien Dalvik Allows Android Apps to Run on Maemo, Symbian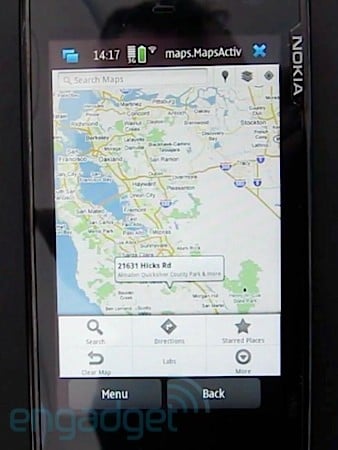 Myriad's Alien Dalvik is a Java virtual machine that allows Android apps to run on a foreign platform. Similar to virtualization technology that doesn't require the native environment, like Wine which allows Windows programs to run on Linux and OS X sans a virtualized copy of the Windows operating system, Alien Dalvik will allow Android apps to run on a foreign platform without needing to virtualize the entire Android OS.
At Mobile World Congress, Myriad was demoing its Alien Dalvik virtual machine to run native Android apps on the Nokia N900, a Maemo 5-powered handset. Since the Alien Dalvik was compiled using Qt code from Nokia, it could easily be re-compiled to operate in the Symbian environment as well, giving handsets like the Nokia N8 the same ease of running Android apps.
Google Maps, an Android chess app, and IMDb for Android were all shown running with ease on the Nokia N900–you can visit Engadget to see video of the action.
Though Myriad is not looking to make its solution available to consumers and end-users, but will focus its efforts on carriers, Research in Motion is evaluating the strategy with its PlayBook. As Google uses the open-source Dalvik Java virtual machine on Android, the same Dalvik engine can be used on other platforms to run native Android apps, and this is a solution that RIM is reportedly looking into.
Will Myriad's solution be the closest thing for those who have hoped Nokia would ink a deal with Google to put Android on its hardware? Before Nokia signed a partnership with Microsoft to build handsets that will run the Windows Phone 7 operating system, the company had entertained Google's offers to bring Android to its platform, but has instead chosen to move ahead of Windows Phone 7.
Via: Engadget