NBA 2K17 MyTeam Explained: What You Need to Know
NBA 2K17's MyTeam has fascinated fans and perplexed casual lovers of the basketball simulation franchise for years. MyCareer lures gamers in with its narrative, but it is MyTeam that gives them the raw ingredients to create the player matchups they've always dreamed of. MyTeam always feels new and exciting because its up to you to make the most of it.
MyTeam is a digital trading card game. Each of the digital cards includes a member from a real NBA team. By building out their deck of MyTeam Cards, players of NBA 2K17 are able to put together their favorite players across the league and create their own squads. They can take their custom squad and play basketball against the MyTeam squads of their friends in online modes like MyTeam Blacktop.
Read: NBA 2K17 Problems: Issues & Fixes
Here's everything that you need to know about NBA 2K17 MyTeam.
NBA 2K17 MyTeam: Cards Explained
The MyTeam Cards themselves are straight forward. A picture of the athlete dominates each MyTeam Card. Along the bottom are some basic identifiers that help you figure out what player you have and what era they are from. This area includes their position on the team they played for and their number.
It's the left edge that you really want to pay attention to. Each card has an overall rating score that lets you keep the relative quality of your MyTeam Cards in perspective. Below that number is a gem that lets you know just how rare that MyTeam card is.
Visual Concepts releases new MyTeam Cards celebrating specific moments in a player's career regularly. Usually, these releases happen once the real-life basketball season starts. Sometimes these moments are fun breakout games in which the player did well. Other Moments Cards span entire seasons of play.
Card Gems & Levels

To help you gauge how great a card is at a glance, each card has a color and level. Benchwarmers that hardly see any playtime have Bronze cards. From there, Silver, Gold, Emerald, Onyx, Sapphire, Ruby, Amethyst, Diamond and Pink Diamond are available. Pink Diamond cards are the rarest and most coveted of all MyTeam Cards. Ideally, you want your MyTeam Card deck filled with players from the higher tiers just as you'd want your wallet filled with $20 bills instead of $1 bills.
NBA 2K17 MyTeam: Duos & Free Agent Trials
New for NBA 2K17 MyTeam are two advancements. First, there's that special symbol that sometimes appears just below a player's gem. That symbol is to help you identify Dynamic Duos. Trial Cards are new too.
Dynamic Duos signify a player that works well with another player. Some Dynamic Duos are real-life player pairings. Others Dynamic Duos are theoretical pairings that could be massively successful if they ever got the chance to play together. Dynamic Duos can have a devastating effect on rival teams. Gamers should notice a boost in performance as they play online with both members of a Dynamic Duo in the same squad. Look for cards with a two-person symbol along their left edge. You can have two sets of NBA 2K17 MyTeam Dynamic Duos on the court at the same time.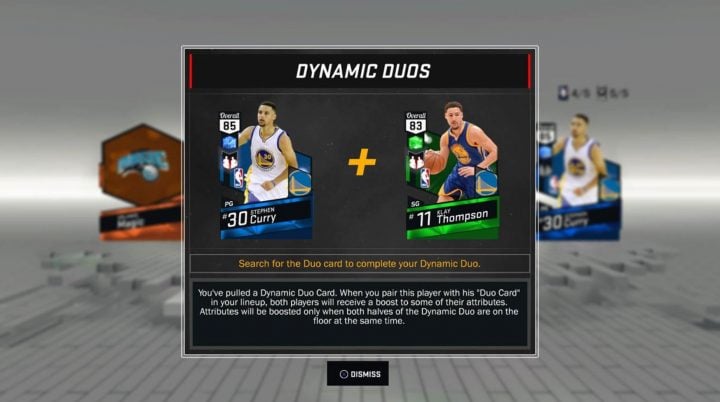 Trial cards allow you to get a feel for a player before you spend time and resources trying to acquire them. Everyone gets 1 of 5 different high-profile Free Agents to use initially.
Games can't have more than one card from a specific player active in their MyTeam line-up officially. For example, you can't make an entire team out of Michael Jordan MyTeam Cards. That being said, workarounds have allowed some gamers to do exactly that in the past through cheating. Attempting that somehow might get you banned from online play by Visual Concepts.
NBA 2K17 MyTeam: Black Top & Challenges
Challenges let you take your favorite MyTeam cards and complete activities for prizes. You get these prizes by redeeming enough Challenge Tokens. Completion rewards get NBA 2K17 MyTeam collectors in-game rewards for putting together entire teams of players. Think of it as a bonus for putting in the work it takes to complete a good squad.
NBA 2K17 MyTeam: How to Get New Cards
The rarer a MyTeam Card is, the harder it is to get your hands on it. To be successful, you'll need to use every resource you can to get your hands on new cards and new card packs. Some MyTeam cards come as rewards for completing specific challenges in the game. MyTeam Cards can come as rewards for the game's MyCareer and as bonuses when you purchase a copy of the game too.
Those that don't have time to grind for new MyTeam Cards individually can purchase VC. VC is the Virtual Currency that NBA 2K17 uses to let gamers buy items in its many stores. You get Virtual Currency for endorsement deals and playing MyCareer season after season too.
Good luck mastering NBA 2K17 MyTeam. The mode is daunting at first, but you could find yourself with a great team with just a little work.

As an Amazon Associate I earn from qualifying purchases.