Real Galaxy S10+ Photos Answer Key Questions
We know Samsung's new Galaxy S10 and Galaxy S10+ will get unveiled on February 20th, but ahead of schedule, we've received several real images of the S10 and the bigger Galaxy S10+ in the wild. Spoiling any surprises weeks in advanced.
Following months of leaks, rumors, and fan-made renders, this is the Galaxy S10+ with its dual camera cutout in the screen. Plus, a Reddit user who leaked another photo and other Samsung employees share key details and answered some important questions we'll detail below.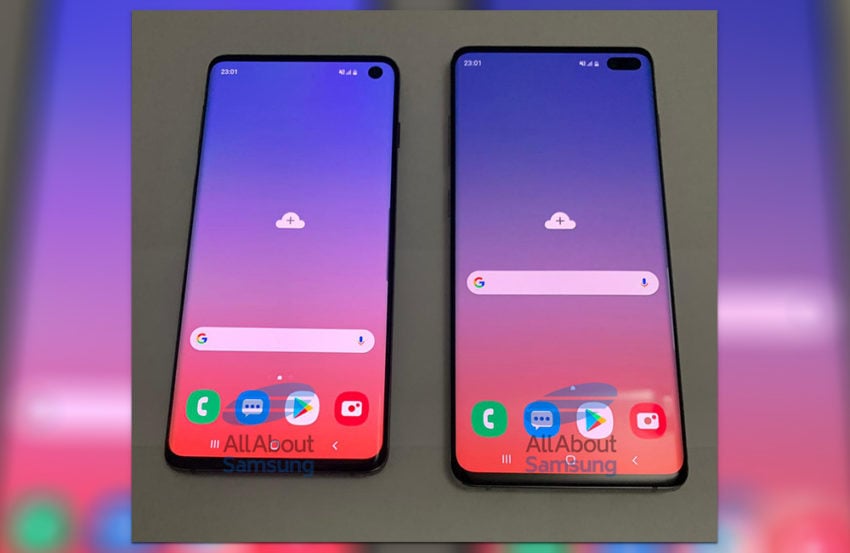 First things first, don't these phones look gorgeous? While some will hate the cutout and think it's worse than the notch, the math suggests it's a more efficient use of the screen than Apple's iPhone Xs. This is a great shot of the phone, but below we've found something even better showcasing the dual front-facing cameras.
Here we can clearly see the dual front cameras, a tiny top bezel that looks even smaller in real life, and the speaker grill above the screen barely squeezed into the frame. Renders and even the image above made the bezels look big, but this photo paints a different picture, which should make potential buyers happy.
Furthermore, in mid-January, this blurry image leaked of the Galaxy S10+. It was the first real photo we received, and along with it came several key details we'll highlight in a bullet-point list below.
The photo appeared on Reddit from a user traveling to Samsung's headquarters in Korea. Based on the fact that the Galaxy S10 launch event is only a few weeks away, and these images match every leak we've seen so far, we're almost 100% positive these are the real deal.
Galaxy S10+ Key Details
Additionally, an employee who works at the Samsung Suwon campus where some of these photos came from had some important things to say about the Galaxy S10 Plus. His account was recently deleted from Reddit, but here are the key details shared.
This user said he/she doesn't notice the dual-camera cutout in the screen at all. Not anymore
Fingerprint ID works great, although face recognition is usually a little faster (on S10+)
There's a setting to increase screen sensitivity for screen protectors, contradicting this statement
Samsung's Android 9 Pie (One UI) is "pretty darn fast" on the Galaxy S10+
Face Unlock doesn't use an Iris scanner, but he/she is unsure if the S10+ uses something like Apple's Face ID or just better software to be faster and more secure — but it works great
User reports the Galaxy S10+ "feels great and is lighter than Note 9 but about the same size"
Icons in photo: Clock is on the left, while on the right you see Bluetooth, ringer, WiFi, Network signal, battery percentage and icon, ending with the camera hole punches to the right
Those are some pretty exciting comments from someone who apparently has used and enjoyed the Galaxy S10+ for quite some time. That said, it's not all good news. The Samsung employee who shared all this information (then deleted all comments and their Reddit account) had a few bad things to say also. Suggesting the Galaxy S10 and S10+ feel like another small incremental update over the S9. Stating that the differences aren't HUGE.
Read: Galaxy S10 Release Date, Specs, Price, Facts & More
In closing, it's hard to really get a feel for the Galaxy S10+ and it's beautiful design until we get it in our hands. That said, it's nice to finally see multiple real photos, not renders.
Overall, it looks like the Galaxy S10+ will without a doubt have two camera cutouts in the screen for dual front-facing cameras, which is essentially just a smaller and fancier notch as we've seen from other phones. Expect to see more leaks ahead of the February 20th launch event, and stay tuned for more details as the rumored March 8th release date nears.

This article may contain affiliate links. Click here for more details.