New iPhone 6 Videos Reveal 6 Exciting Details
The iPhone 6 release is less than two weeks away based on the best estimates and it looks like Apple's secret is out even before the iPhone 6 event scheduled for Tuesday September 9th.
Six new iPhone 6 videos appear to show the new iPhone completely, including what may be the first iPhone 6 review. The videos appear to show a real iPhone 6 with new Passbook icon indicating credit cards with NFC support, iOS 8 details and much more.
Unlike previous leaks which featured an iPhone 6 clone running a modified version of Android that looks like iOS 8 these videos show a much more refined experience that includes working Touch ID and other items that appear to show a fully functioning iPhone 6.
This is either an astounding find by the individuals who appear to be in possession of the iPhone 6 days ahead of Apple's Special Event, or it is the best fake we've seen to date.
Here are six iPhone 6 videos that seem to show a working iPhone 6 days ahead of the iPhone 6 event, and weeks before the official iPhone 6 release date.
iPhone 6 vs iPhone 5s Video Review
The most interesting iPhone 6 video is what may be the first iPhone 6 review with comparisons to the iPhone 5s. if you are thinking of buying the iPhone 6 this video offers a collection of interesting observations from the user who is holding and iPhone 5s and what is likely an iPhone 6. Although we won't know if this is the real deal until Tuesday afternoon, the use of Touch ID and other evidence suggests this could be the real iPhone 6.
https://www.youtube.com/watch?feature=player_embedded&v=eQopSbASO40
A 9to5Mac reader translates the video from Mandarin, so we can get a better idea of what this individual thinks about the iPhone 6 and how it compares to the iPhone 5s. The most interesting details are;
iPhone 6 feels faster than the iPhone 5s – Likely thanks to the new Apple A8 processor.
iPhone 6 feels lighter than the iPhone 5s.
iPhone 6 with a larger screen still makes one-handed use still possible.
2.5D Glass – The Galaxy Note 4 uses this for the curved edges that make swiping easier.
iPhone 6 Camera – This sticks out the back some, but there is no information about the megapixel rating.
The rest of the iPhone 6 videos appear to show the same device, a 4.7-inch iPhone 6 in closer detail revealing some important information about the new iPhone.
iPhone 6 With NFC & Mobile Payments
Rumors indicate the iPhone 6 will feature NFC that will enable credit card payments by tapping the iPhone to the credit card reader at a variety of stores. We've heard that retailers from Disney to Walgreens are prepared to accept NFC payments with upgrades to new hardware that supports NFC and iBeacon.
The iPhone 6 in these videos show a new Passbook icon with a credit card logo that is not on the iPhone 5s running iOS 8.
Refined iPhone 6 Design
The iPhone 6 design is not a surprise to many thanks to numerous leaks, but in the iPhone 6 video above we see a refined design. The lines on the back are still there, but match the color better than on mock-ups. There is also a recessed area around the new volume buttons.
iPhone 6 Camera Sticks Out
We also see that the iPhone 6 camera sticks out slightly. It's not clear if this is to support optical image stabilization or if it is simply a design choice Apple made to keep the overall iPhone 6 thickness down.
iOS 8 on iPhone 6 Adds a Row
This iPhone 6 appears to be running a special version of iOS 8 that adds support for another row of icons on the iOS 8 home screen. This bumps the number of apps on the home screen up to 28 including the dock.
Same Camera Options as iPhone 5s on iOS 8
In the final iPhone 6 video we get a look at the camera app on the new iPhone. This app shows the same number of options as the iPhone 5s running iOS 8. It's possible that Apple will add something special, but with NFC and other items the new iPhone may not get an exclusive camera mode this year.
We'll find out if this is a legitimate iPhone 6 on Tuesday when the iPhone 6 event takes place. We expect to see two new iPhones, an iWatch and possibly and iPad Air 2 in addition to new iOS 8 details.
iPhone 6 Release Date & Feature Video Roundup
iPhone 6 Release Date Rumors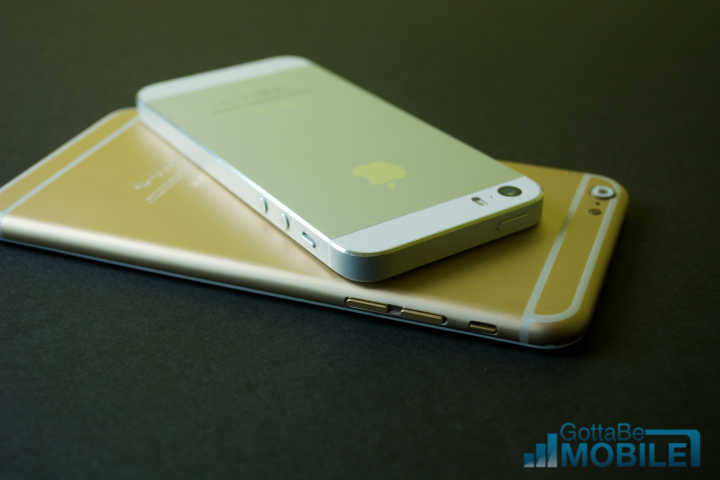 The iPhone 6 release date is September 19th according to Apple's traditional timeline and our best prediction based on current rumors and plans. This may change and there is a chance that we will see two iPhone 6 release dates thanks to a slower start for the 5.5-inch iPhone 6.
Here's how we get to an iPhone 6 release date on Friday September 19th.
Re/Code and The Wall Street Journal report Apple's plans to hold an iPhone 6 event on September 9th.
From this date we can work out that the iPhone 6 release date is roughly a week and a half later, on September 19th. This is the timing Apple used for the last several iPhone releases.
If Apple decides to offer iPhone 6 pre-orders expect them to go live at midnight Pacific on September 12th, but this is not a given.
The larger 5.5-inch iPhone 6 release date may arrive later on the last Friday in September or even in October.
Expect to see Apple Stores and carriers open early on the iPhone 6 release date with lines around the store to get an iPhone 6 right away, even in small towns.

This article may contain affiliate links. Click here for more details.